All too often, fans of the Nashville Predators found themselves shrugging their shoulders when Craig Smith had the puck last season. Whether he was wide open for a one-timer, on a breakaway with nobody in sight, or staring down a wide open net – he just couldn't put the puck in the back of the net even when it was almost impossible for him to miss.
After a paltry 2016-17 season, Smith has breathed new life into his play, making his struggles last season seem like a distant memory. Maybe Smith keeps a lucky rabbit's foot in his pads when he is out on the ice, but the more likely explanation is simply that a new season means a fresh start and a chance to write a new narrative.
We take a look back at his success early on, his season filled with no luck, and why things have turned around for the 28-year-old Madison, WI native.
From the Badgers to Broadway
Before attending the University of Wisconsin, Smith skated in the USHL with the Waterloo Black Hawks for three years amassing 117 total points (49 goals and 68 assists). Most importantly, every year his goal count continued to increase, showing his progression as an offensive talent. This success caught the eyes of the Nashville Predators who selected Smith 98th overall in the 2009 draft.
The Predators weren't the only one keep tabs on Smith as the University of Wisconsin also wanted his services. While with the Badgers, he accumulated 33 points in his first season (eight goals and 25 assists) and bumped up his numbers during his sophomore season totaling 43 points (19 goals and 24 assists). Not too long after, Smith found himself heading to warmer weather in Nashville.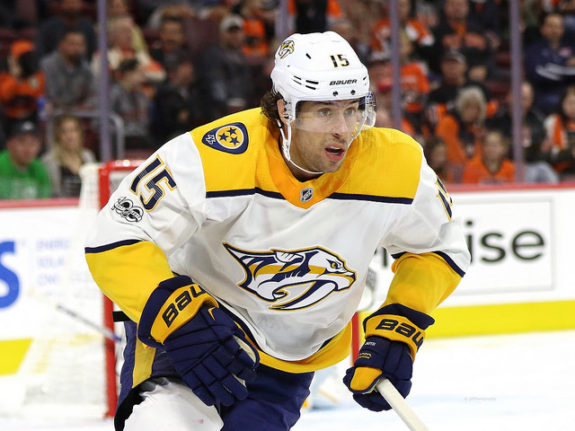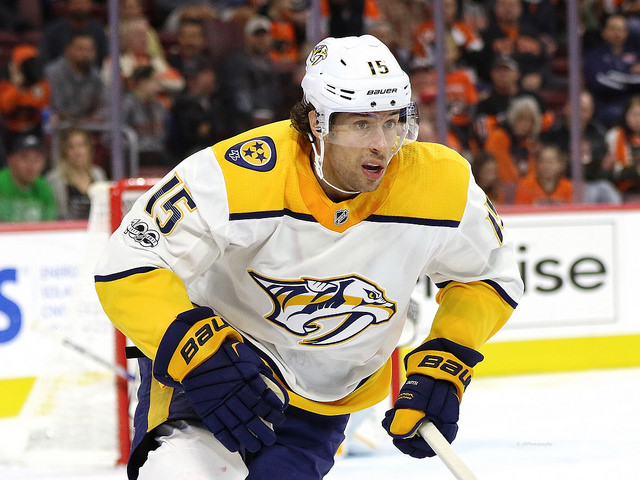 Smith's talents were obvious as he was one of the few players who skipped the farm system in Milwaukee and went straight to the big leagues. He started off quickly in his first season with the Predators scoring 14 goals and tallying 22 assists – not bad for a rookie. Things only continued to trend upward for Smith as he would go on to score 20+ goals in each of the following three seasons following the 2012 lockout.
Being billed as having "excellent skating ability, so he can be used in a variety of game situations," Smith's biggest flaw was that he lacked game-to-game consistency. While he has put up points for Nashville over the years, they have been sprinkled sporadically throughout the season in between large chunks of lackluster play. This was no more evident than during the 2016-17 season.
 Not Many Biscuits in the Basket
After a solid 2015-16 campaign where Smith scored 21 goals and totaled 37 points, the 2016 season came along and number 15 just wasn't looking like himself. Despite scoring five goals in during the first ten games of the season, things just weren't clicking for a guy who was averaging 44 points over the last three seasons.
Let's be clear – it wasn't like Smith just couldn't get any separation from opposing players to generate scoring opportunities. Given that he has such good skating ability he would continuously find himself on a breakaway opportunity or sneak into empty space only to put the puck wide of the net or have it sail over the crossbar.
Craig Smith wide open in the slot andddddd he misses everything. #Preds pic.twitter.com/RbraMuOdeW

— Mark Harris (@itismarkharris) March 28, 2017
No matter what he tried, it just continued to happen over and over again. The most startling statistic from Smith's snake-bitten season is that half of his 12 goals came within the first 20 games of the season meaning that he added a meager six goals over the next 58 games – that's a lot of zeroes in the 'G' column over the course of the season.
In an article in the Tennessean, Smith commented on his frustrations associated with his lackluster play saying "I'm still the same player…  I haven't changed anything. Still wear my hair the same way, still drive the same route on the way to the rink. I really haven't changed anything." After suffering through a career-worst season, Smith was ready for a fresh start.
New Season Breeds New Life
It would have been easy for a player to fold under the pressure of a disappointing year and let the lack of puck luck trickle over to the following season. Thing started off a little slow for Smith as he only tallied two goals in his first ten games, but the following seven games saw him burst on to the scene four goals.
When examining the Predators players trending upward this season, Smith wasn't on that list for obvious reasons. However, given his fast start thus far, Smith is trending upward and out of this world. Not only his he scoring goals, but he is doing it against top-tier teams, with goals in games against Chicago, Los Angeles, Pittsburgh, and Washington.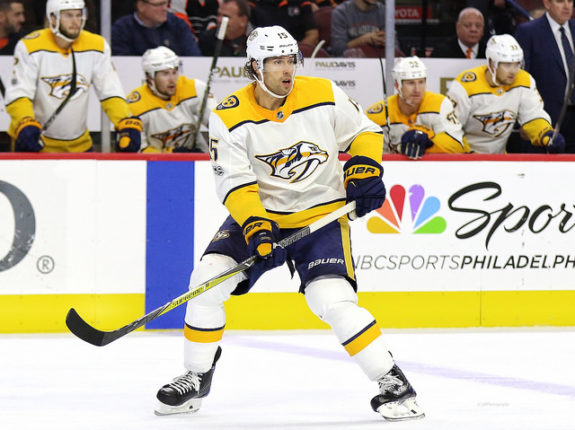 When watching Smith on the ice this season, there are a couple of things one can see. The first is that his speed is as better than ever, as he easily blows past opposing players down the wing to generate scoring opportunities. The second noticeable attribute is that he is able to quickly snap off a shot, catching an unsuspecting goaltender by surprise and actually get it in the net.
Smith is already benefiting from the blockbuster trade that saw Kyle Turris come to Nashville. The second line for the Predators consists of Smith, Turris, and Kevin Fiala (the SmurrF line?) and has been paying dividends immediately. Since the arrival of Turris, Smith has three points (two goals and one assist) in two games and there is more likely to come in number 15's turnaround season.
Ben is an Ohio State alum born and raised in south Jersey. Currently calling Nashville home, he has been covering the Nashville Predators since 2014. Initially drawn to hockey as a kid by the FoxTrax puck, he now despises the idea of such a thing.