Ironhook is headed to Nashville.
Predators forward prospect Calle Jarnkrok, whose last name literally means "Ironhook" (thereby making him the coolest of Preds prospects by default), has been called up and is expected to make his NHL debut tomorrow against the Calgary Flames. Given that he's the new guy, he's not overly familiar to most Predators fans, so here's a little Calle Crash Course.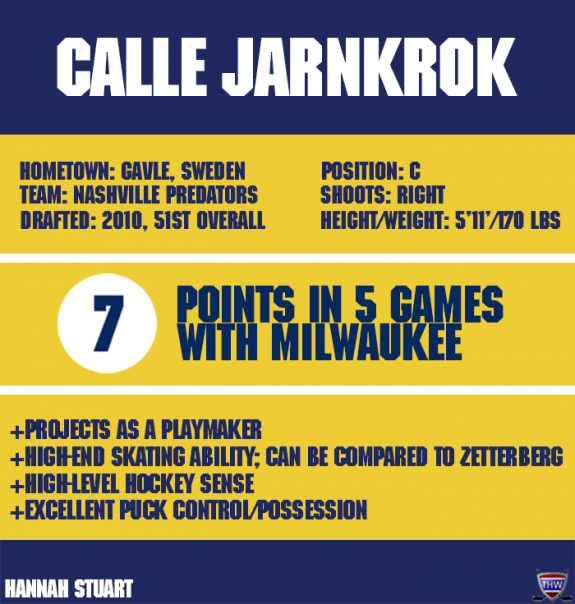 Jarnkrok is a playmaker, capable of amazing puck control and able to hang on to the puck for extended periods of time, even when he shouldn't rightfully still have it. His skating ability has drawn comparisons to Red Wing Henrik Zetterberg; although Jarnkrok doesn't have Zetterberg's size, their styles are similar, and that should excite Predators fans. He's had issues with consistency – he has yet to become a point per game player in the AHL – & the decision to leave him with first Grand Rapids and now Milwaukee to develop his game on the North American ice has been a good one. 
"I'm not going to make any promises," head coach Barry Trotz said recently. "But what I saw of him, and if he continues to play like he has been, I would say that from my standpoint, if we had some injuries I'd like to take a look at him."
Trotz is going to get that look tomorrow night.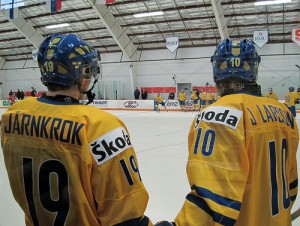 Scoring goals, particularly consistently, has been a problem in Nashville for a while. Scoring begins with getting pucks to the net; getting pucks to the net begins with puck possession. Not exactly deep analysis there. If Jarnkrok can keep up his puck control, he could quickly find himself an asset to the Predators. He's already started helping improve his teammates – linemate Filip Forsberg also has 7 points in Jarnkrok's 5 games with Milwaukee. He had 5 in all of February.
I'm not suggesting that Jarnkrok is going to come in and save the day. Patience with prospects is important, particularly at this point in the season when Nashville's playoff hopes are dwindling rapidly. But Jarnkrok getting his shot to make an impression with the Preds could be coming at the right time. In his first game with Milwaukee, with a depleted roster, coach Dean Evason trusted him enough to play him as a defensemen in the final seconds of the game. His development is moving in the right direction, and Predators management and fans alike can only hope that continues in Nashville.