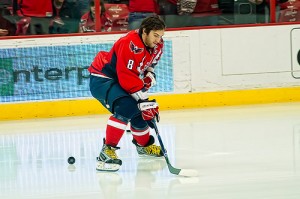 It was a common sight, Alex Ovechkin streaking down the left wing, taking a pass in stride and ripping a shot through a hapless defenseman and past a goalie who saw nothing more than a lightning-quick blur. That was 2009. Now it's 2011, in the playoffs, and that strategy is no longer effective.
Ovechkin has taken 24 shots in 7 playoff games this year. Fifteen times (62.5%) that shot has come from beyond the faceoff dot and he has yet to score on any of them. Compare that to the nine shots (37.5%) he has taken from right on the doorstep where he has all four goals (44.4 shooting %) and it makes you wonder why he keeps trying to snipe every goal.
At 6-foot-2, 233 pounds, Ovechkin is one of the strongest players in the league. He is one of the few players capable of putting up a point per game while also being able to deliver a punishing bodycheck. Just look at the goals he scored in the playoffs this year. He tied Game 1 against the Rangers with just over six minutes remaining by crashing the crease and forcing the puck under Henrik Lundqvist's right pad. In Game 3 he deflected a point shot in from just outside the crease. Game 5 saw him use his outside speed to score a goal for the only time in the playoffs, but he still made a power move around Marc Staal before pulling to his backhand. And in Game 2 against the Lightning, he again tied up a game late by banging home a pass from behind the net. He was no more than a foot away from the crease on any of those goals.
With a wrist shot harder than most slap shots, Ovechkin used to surprise many goalies with his velocity. But now, with that shot expected, goalies are ready for it and are easily able tp make the save. It also hurts him that he seemingly always tries to pick the corners, sending many shots high and wide.
Most of the time, he really has no choice but to shoot. That's what happens when he is always going into the zone at full speed, leaving his teammates behind. The toe-drags through his legs just aren't working anymore and defensemen have learned how to cut down the angle and get in front of his shots, blocking many before they even get close to the net.
He is one of the most enthusiastic players and that makes it great to watch. But he needs to slow down, allow other teammates to gain the zone with him and dish off the puck occasionally. He isn't taking as many shots as he used to. This season he had 11 games of eight shots or more in 79 games, which is once every seven games. This was down from last season when he did it 11 times in 72 games (once every six) and a far cry from the 2008-09 season when he recorded at least eight shots in 25 of 79 games (once every three games). He has yet to reach that mark in the playoffs after averaging that total twice per series in the three previous playoff seasons.
And yet, he still needs to shoot less. By actually passing the puck and being a little less predictable, he  gives opposing defenses more options to think about. He can then crash the net where few defensemen would be able to easily handle him. When he stops gliding around, waiting for a pass so he can try another shot from the perimeter, and makes a beeline for the net, he will be back near a goal per game. And that is exactly what the Capitals need if they wish to avoid going down three games to none to Tampa Bay on Tuesday and coming up far too short in the playoffs once again.