The slow start to the Avalanche season took a potentially disastrous turn Thursday night when both Semyon Varlamov & Reto Berra sustained injuries that could see them miss significant time. While it is too early to panic until more information is released, the nature of each injury is worrisome and could single-handedly derail Colorado`s season. Varlamov, who has a history of groin injuries, has been placed on injured reserved and will miss at least a week due to his most recent set back. This comes on the heels of a Vezina-calibre season from the Russian netminder who has picked up where he left off this season; even looking good in a 5-0 drubbing against the Minnesota Wild. Varlamov was easily Colorado's MVP last season and if he misses any prolonged stretch the Avs' playoff hopes could be in jeopardy – especially in a highly competitive Western Conference.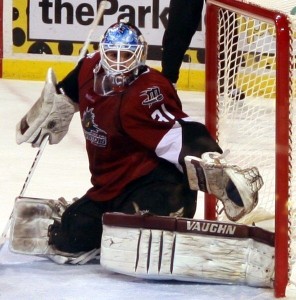 When this news broke early Thursday morning, 3rd string goalie Calvin Pickard jumped on the earliest flight and arrived in Ottawa after 4:00pm EST. He was barely able to get comfortably into his equipment when Avs' backkup Reto Berra got bowled over by a heap of humanity containing John Mitchell & Kyle Turris. There was no call on the play, and it appeared that Berra has suffered a head and/or neck injury. With the game only minutes in, it was time for the rookie Pickard to make his first NHL start. As if chemistry and discipline issues weren't enough, the Avalanche blew a 3-1 lead on route to a 5-3 loss due to sloppy play and inexperienced goaltending in the 3rd period. Unlike this time last year it seems that nothing is going right for the Avs early on.
Possible Solutions
There is no chance the Avalanche will move forward with Pickard as their number one goalie if both Varlamov & Berra miss significant time – even a Berra/Pickard tandem is insufficient to keep up with the playoff race in the West. So if the worst case scenario were to happen, who is out there? The first and most obvious name that pops into mind is Martin Brodeur. The future Hall-of-Famer is still looking for a home and could be a good fit with fellow Quebecois Francois Allaire and former rival Patrick Roy. But Brodeur in an Avs jersey might be too NHL bizarro world to happen.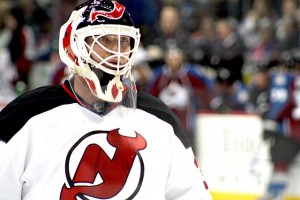 If not Brodeur, there are still several veteran goaltenders available to choose from. Bryzgalov, a former student of Allaire, was recently let go of a professional tryout with the Wild and could be the perfect fit for a temporary role. Vokoun, Thomas and former Av Peter Budaj are all veterans who also fit the bill. Or, if management wants a familiar face they could always coax J.S. Giguere out of retirement for a few months. Until we learn more about the severity of each injury, let's pray to the hockey gods it won't come to that.