Rankings:
Minnesota
Boston College
Boston University
Wisconsin
Harvard
North Dakota
Clarkson
Cornell
Minnesota Duluth
Quinnipiac
Game of the Week
#1 Minnesota (3-0-1) at #4 Wisconsin (6-0-0), Fri. 10/17 at 7 p.m. CST & Sat. 10/18 at 3 p.m. CST
Wisconsin overtook the Gophers in both the USCHO.com and USA Today polls this week thanks to a red-hot start, marking the first time since March 5, 2012 that someone other than Minnesota has occupied the No. 1 spot. The Badgers have lost their last 11 games against the Gophers, so they'll have something to prove heading into this series. They've gotten excellent goaltending from Ann-Renée Desbiens, and their defense has been up to task, giving up just four goals in six total games so far. Wisconsin shouldn't have a problem generating offense against Minnesota for stretches, but this will be a big test for that defense. It'll also be interesting to see how the Badgers' penalty kill holds up against the Gophers' power play; Wisconsin is currently 28-for-28 on the PK, while Minnesota's power play is clicking at a 53.3% rate.
.@adesbiens30 has a 15-1 career record in net for the #Badgers and a career GAA of 0.98 pic.twitter.com/T3Ia1868Hl

— Wisconsin Hockey (@BadgerWHockey) October 17, 2014
The Gophers tied Minnesota Duluth in their last outing, 3-3, and lost the extra WCHA point in the shootout. They didn't start off looking like their best, and fell behind 3-1 in the third period before making a comeback. They'll need a better start and a full 60-minute effort against a Badgers squad that has been all business so far this season. Wisconsin has plenty of players to rely on for offense, and are capable of matching Minnesota's lines, so the Gophers will need a sound defensive effort. They'll also be relying on the goaltending of Amanda Leveille, who will more than likely need to withstand some pressure from the Badgers throughout the series.
Top-10 Teams in Action
#2 Boston College at New Hampshire, Sun. 10/19 @ 2 p.m. EST
#3 Boston University at #7 Clarkson, Fri. 10/17 @ 3 p.m. EST & Sat. 10/18 @ 3 p.m. EST
#9 Minnesota Duluth at #6 North Dakota, Fri. 10/17 @ 7 p.m. CST & Sat. 10/18 @ 4 p.m. CST
Maine at #10 Quinnipiac, Fri. 10/17 @ 3 p.m. EST & Sat. 10/18 @ 2 p.m. EST
What to Watch For
Boston University and Clarkson will square off for a two-game series in the weekend's biggest non-conference match-up. The Golden Knights and goaltender Shea Tiley earned two shutouts in a sweep of Providence last week, but they'll be facing a much more capable offense in the Terriers this week. BU hasn't seen NCAA action since losing 5-2 to Minnesota two weeks ago, and they'll be looking for a more focused offensive effort against Clarkson. The Terriers have been really good in spurts but need to show more sustained pressure; they'll also need some better goaltending. Victoria Hanson and Erin O'Neil split the first two games, but Boston University needs one of them to step up and prove they can be counted on to make necessary saves at crucial moments in a game.
After earning the shootout win over the Gophers last week, Minnesota Duluth heads to North Dakota looking for its first win since defeating Connecticut 3-0 on Sept. 27. The Bulldogs have yet to put it all together this year but they've got the talent to be very competitive, as they showed last week. UND swept Minnesota State last week with two very dominant efforts on the road, and will be looking for more of the same against a stronger Minnesota Duluth club. They'll need some consistency when it comes to finishing off their chances, as well as a strong defensive effort to limit the Bulldogs' high-quality chances.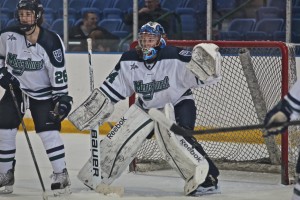 Northeastern heads to Erie, Pa., for a series against Mercyhurst after starting off the season 0-0-2. Both of those ties came last week, one against RIT and the other against Syracuse, so the Huskies will be looking for better results against another College Hockey America opponent. The Lakers could not get a win against Maine last week, settling for a tie despite a solid offensive effort. Both teams are good to go in goal, with Chloe Desjardins in net for Northeastern and Amanda Makela between the pipes for Mercyhurst, but both are still looking for really strong offensive outings. There's probably more pressure there on the Huskies in that regard, with the likes of Kendall Coyne and Paige Savage in the line-up. The Lakers are still searching for a true go-to scorer in the wake of Christine Bestland, though there are certainly some possibilities.
Vermont plays host to non-conference opponent RIT for two games, with the Tigers coming off that notable 2-2 against Northeastern. UVM earned a big 3-1 win against North Dakota to start the season, but fell to Bemidji State, 4-0, in the following game. They then played to a tie against Rensselaer last week after defeating the Engineers 4-2. The Catamounts will be looking for some consistency throughout the whole weekend when it comes to both offense and goaltending as they aim for their first sweep of the year. RIT has been locked into all low-scoring games so far this season, but Vermont's top players will try to break these contests wide open, so the Tigers will need to match the offensive effort.