Now that the Stanley Cup finals are over, teams are in full off-season mode to try to compose a winner themselves for the 2016-2017 season. Now this begs the question, which Montreal Canadiens team will we see next season? Will we see an average team that's just going to squeak into the playoffs, or a team that's ready to blow the doors off and finally contend?
Now, I think we can all chalk this season up as a full-blown disaster. From injuries to more injuries and underperformance from key players, we all expected the Canadiens to be better. At the beginning of the season with a healthy roster they set records believe it or not. And as the season progressed, the Canadiens collapsed and ended on record-setting lows.
Taking last season as a fluke we can say that without the injuries, the Canadiens are a playoff team. With a healthy roster including Carey Price, in addition to some scoring upfront, this could be a dangerous team.
However, that all depends on what offseason the Canadiens have. Could Bergevin be conventional and stay status quo as he has done the past few seasons and make moves such as signing his bottom six forwards and trying to win games 2-1, or could he step up and make bold moves to improve his top six. Within these next three to four weeks, Habs fans will know what team they'll be sitting down to watch next season.
So what team will we see, who do the Montreal Canadiens want to be? Once the dust settles in mid-July, we'll find out.
Status Quo
I understand that I may question Marc Bergevin's methods a bit but how can I not? At this point the Canadiens should be considered an annual contender for the Stanly Cup. Instead, they are sitting in the 9th draft slot with a lack of offensive firepower. You can't predict injuries but you can evenly disperse talent on your roster so when a player of importance (Carey Price) does get hurt, your team can still function.
Look at it this way, on most of the teams in the National Hockey League, Mike Condon is a starting goalie. He proved that when he won a roster spot and played well throughout the season for the Canadiens. That's more than you can say about the goaltending for some teams in the League (Calgary and Dallas to name a few). The fact that the Canadiens couldn't provide enough offence for an average starter throughout the year to squeak into the playoffs after starting 9-0 is a reflection on the management team. You can't use Carey Price to cover up or minimize the gigantic offensive problems the Canadiens have.
Let's say Bergevin and Co. continue on the path they have since the new regime took over. History indicates they'll stay put in the draft and sign depth players once the market opens on July 1. The management team hasn't done anything in the past to direct us any different then that. The result will be a team that makes the playoffs, dependent on the health of Carey Price, but won't make the finals as we have seen in the recent years. It keeps me coming back to this question; is this how the great Montreal Canadiens organization operates now?
As far as I'm concerned teams measure success by Stanley Cup's. The 1970's Canadiens would have never settled for just a playoff appearance. Now, it seems that making the playoffs is more of a milestone than it should be, like we should all just be happy our team made it to the dance. Sure you make the playoffs congratulations, but that doesn't put your name on the Cup, not even close.
If the Canadiens want to return back to the days where they measured success by those high standards, they can't go down this road. If Canadiens Brass decides that depth is the answer this offseason, the Habs will continue to be the team that knocks but never busts open the door.
In my opinion if you have Carey Price in your net you go for it every year, a goalie that caliber doesn't come around too often. I understand contracts of players like Galchenyuk and even Price in the not so distant future are coming up and cap space needs to be allocated for those transactions, but a smart management team can make moves to free up the necessary money. We see general managers around the league every offseason make those adjustments in order to stay competitive. Chicago and Los Angeles are prime examples of teams that can manipulate the cap to stay a contender year in and year out.
As much as it may seem impossible the Canadiens do have the cap space to make a move of importance, even two. The question is do the Canadiens have the guts to do it.
Aggressive Approach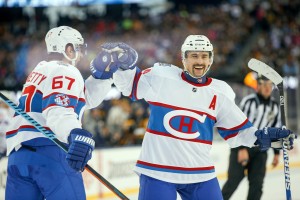 In a perfect world the Canadiens trade their first pick for immediate help, trade players (Pleckanec, Emelin) to free up cap space to go after a big fish (Stamkos), and then we're in business. These moves are impact moves, a sign to the fans that, "yes Montreal, we're going for it". Moves like this are made every offseason by teams like Los Angeles, Pittsburgh, and Chicago just to name a few. What do these teams have in common? Stanley Cups in the last ten years and annual contending hockey teams. Out of the group, you can say that the Canadiens have the best goaltending, a comparable defence core but an overall disadvantaged group of forwards.
This drives Habs fans crazy. It's like they can see success ahead but the management team refuses to go that extra mile, refuses to make that impact move such as acquiring a player like Phil Kessel, which ultimately helped the Penguins win the Stanley Cup. If some miracle happens over the next week or two and the Canadiens come to this very simple realization that the Habs are only two offensive forwards away from being a contender then we might see a different hockey team next season. However as I stated above, it's all up to the management team.
Not That Far Off
As much as it may seem, it's not a farfetched idea; it's actually very simple and doable despite how complicated Marc Bergevin makes it sound when he takes the podium for a press conference. By signing an impact forward or two in free agency or even via trade, the Canadiens have a whole different look, a different feel. The core of the Canadiens that includes Price, Subban, Galchenyuk, Gallagher and Pacioretty are all still young, but that shouldn't be an excuse about why Bergevin and Co. are in no rush to push this team over the top. They should be taking advantage of the talented young core they have on the roster and trying their best each year to put a team out there to win the Stanley Cup while the window is open.
So Habs fans, by July 10th once the rush of free agency is over you should know what team you're going to see next season. Let's hope the light bulbs turn on upstairs at the Bell Centre, and management takes the 2016-2017 Montreal Canadiens to the next level.