If you didn't have an opinion on Pittsburgh Penguins captain Sidney Crosby before this week, chances are you have one now. He's under everyone's microscope for a slash to the hand of Ottawa Senator Marc Methot on Thursday that left the big defenceman's fingertip bloodied and dangling.
The gruesome injury created the argument over whether or not he deserved a suspension. Cries of favoritism from the NHL Department of Player Safety for the Penguins toward Crosby in particular, are still echoing from the proverbial rooftop.
Should have Tavares put a Crosby nameplate on his back so he can get away with that stuff #Isles

— Scott Clinco (@ScottClinco) March 23, 2017
https://twitter.com/crunchrulz/status/845440387011547136
The case against Crosby is further compounded by what happened during a contest between Pittsburgh and Buffalo on Tuesday night, just two days before the slash.
Notorious S.I.D.
In a game that featured an incredible one-handed back hand goal by Crosby, as well as a hit on Penguins forward Jake Guentzel that ended in a three-game suspension to Sabre Rasmus Ristolainen for interference, Crosby managed to steal the headlines for the wrong reasons again.
The Cole Harbour native snuck up on Buffalo's Ryan O'Reilly and lifted his stick between O'Reilly's legs from behind, using a distinct upward motion. If he did target the groin by all accounts the target was acquired. There was no penalty called on the play. If there had been, what would have been the appropriate call?
https://twitter.com/mitch_kerner/status/844617729038598153
Re: the Crosby spear…I didn't like the hit either, but why he did it? The puck was on its way to O'Reilly.

— 2021 Jim (@SportsingJim) March 22, 2017
Spearing by Any Other Name
Because of the body part impacted, it's natural to refer to this as a spear. Whenever the word "spear" is mentioned, one automatically thinks about a dirty, intentional attempt to injure. What's important is how the NHL defines a spear.
Section 8, 62.1 of the NHL rule book describes spearing like this:
Spearing shall mean stabbing an opponent with the point of the stick blade, whether contact is made or not.
Crosby clearly held his stick sideways and made contact with the flat part of his blade, and more toward the heel. There was no stab, and he didn't use the point of the stick. There is zero evidence to support a spearing penalty. It appears to be more of a slash.
Return to Innocence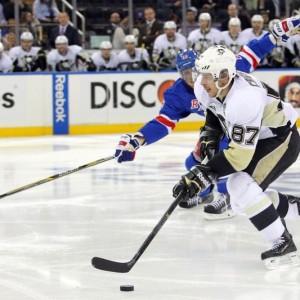 Focusing on this as a slash, there wasn't much force behind it. There wasn't much malice. You can tell by the way he's holding his stick there's no intent to injure. According to this Sportsnet article, O'Reilly himself doesn't think there was much to it, and it quotes Crosby as saying he was trying to get O'Reilly's stick.
Crosby's viewpoint makes sense when you see the build up to the incident, with O'Reilly in a prime scoring area and the puck coming toward him. By that explanation and the upward stick movement, there's a case to be made for a hooking penalty as well.
This kind of slash or hook doesn't make him a dirty player. It certainly doesn't lend any supporting evidence for the case against Crosby in the alleged Methot massacre. It makes him the same as everyone else in the league and whoever used their stick to stop someone from getting a shot on goal.