The time has finally come: Sidney Crosby has lost his place on the NHL.com Leaders page. His smiling face has been replaced with Brad Marchand's, who tied Crosby's number of goals on the season after Crosby suffered a seven-game scoring drought leading up to the Pittsburgh Penguins' loss to the Calgary Flames on Monday.
The longest Crosby had gone without putting a puck in the net prior to this slump had been four games. The goal that snapped the streak wasn't highlight reel material and faced a challenge on the ice for goaltender interference. Nevertheless, a goal is a goal, and with that tally, Crosby ended the longest scoring drought he'd seen since Dec. 2015.

Don't Worry About the Slump
Crosby hasn't been slumping in his overall level of play. He's still one of the Penguins' most reliable players to have on the ice, able to muscle the puck into the zone in order to set up plays for the two young skaters on his wings. He's tallied five assists in this seven-game scoreless streak. And perhaps most importantly, he's started to shoot. A lot. Before these past two weeks, his shooting peak this season had been nine shots in one game. He tied that twice in this seven-game scoreless streak, with nine shots against the Buffalo Sabres in the Penguins' win on Mar. 5th and another nine against the Vancouver Canucks in a win this past Saturday.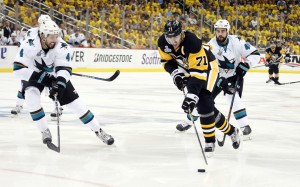 In summary, he's shooting (a lot) and assisting (five in seven games.) With all those pucks on net, something's got to go in eventually.
Although he doesn't lead in goals or points overall, Crosby maintains the highest points per game rate in the NHL (although Evgeni Malkin lurks just 0.01 points per game behind). He also leads the Penguins in shots per game at a rate that has only picked up over his drought. Lastly, his Corsi percentage remains higher than 50%. That means that when Crosby is on the ice, the Penguins are controlling the puck more often than not.
His play is strong. He's keeping possession. He's taking shots. Even if he trails away from the scoring lead, the Penguins don't need to worry too much, they have another Penguin climbing towards claiming that title for himself. Malkin currently sits two goals behind Crosby and Marchand's 35 goal total, and he's as hot as it gets with seven goals in his past six games.
Can Crosby Retain the Scoring Lead?
So, the question is: is the scoring slump over?
Crosby's goal against the Flames wasn't his prettiest. Will it be enough to get him scoring regularly again? I would predict, with the way his shots have been picking up over this drought and his play has remained strong, that he will soon be scoring regularly again. He may not finish the season with the most goals in the League, but he'll at least remain in contention.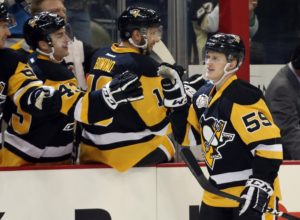 The Penguins aren't worried about Crosby's relative scoring slump right now; even with the captain not producing, and the many other injuries on the roster, the Penguins are winning. They won five of those seven games that Crosby didn't score in, thanks to other players (namely Malkin, Nick Bonino and even rookie Jake Guentzel) stepping up.
Perhaps the most notable result of this slump is that Crosby managed to hang onto his lead for a whopping seven scoreless games. It took that long for Marchand to match Crosby's 35 goals, and even now Crosby remains tied for first. That's why this slump should get the modifier "relative" put in front of it.