The Czech Republic for years have been pumping out talented goaltenders with the likes of Dominik Hasek, Roman Turek, and Roman Cechmánek. However, for the upcoming Winter Olympics, the Czech Republic is facing a problem that they haven't seen in many years: lack of solid goaltending.
The Pittsburgh Penguins' Tomas Vokoun is out with a blood clot in his pelvis that sidelined him previously in 2006 and is not expected to be ready. The other top option, the Washington Capitals' Michal Neuvirth hasn't played since late November with a lower body injury and he is only the backup netminder in Washington. The Czech Republic may need to dig deep, real deep, in order to find some goaltending if they want to usurp Canada's crown at the Winter Olympics.
Ondrej Pavelec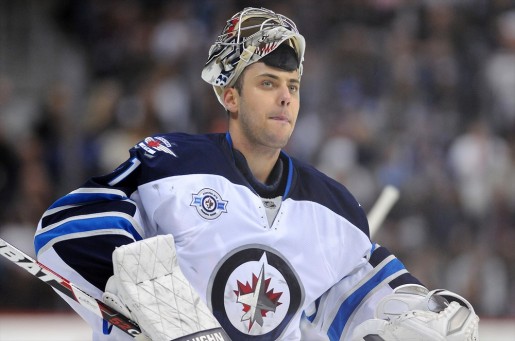 This is pretty much a no-brainer. As really the only healthy Czech goalie in the NHL, the Winnipeg Jets' Ondrej Pavelec will get the nod to play for the Czech Republic in Sochi.
Pavelec has been shaky this season for the Jets, but he's all the Czechs have at this point. Pavelec's GAA (2.86) and his save percentage (.908) is among the worst of goalies in the NHL. If there is one redeeming quality in Pavelec, it's this: he is an absolute workhorse. Pavelec started all but four games last season and started 68 the season before that. The Czech Republic squad needs at least a goalie that can go out there every night and play and, given the options, Pavelec might just have to do that.
Jakub Štěpánek
Although Jakub Stepanek doesn't play in the NHL, it's one name to look at for the Czech roster. Stepanek, who currently plays in the KHL, was a member of the Czech Republic's 2010 Winter Olympic team and that could just work in his favor.
While Stepanek has struggled this season, he has shown that he can be a good goaltender at times. He went 21-10-3 a few seasons back and has won at least 20 games twice in his short career. Stepanek has won bronze medals in 2011 and 2012 for the Czechs at the World Ice Hockey Championships. If nothing else, Stepanek could get a spot based upon his international experience and was a member of the Olympic team in Vancouver in 2010.
Marek Mazanec
Although he just entered the league last month, Nashville's Marek Mazanec could be a dark horse to make the Olympic squad.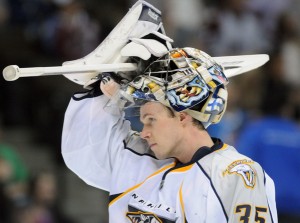 Mazanec was having an absolutely great start to his season with the AHL Milwaukee Admirals. During his brief stint with the Admirals, Mazanec went undefeated, winning all five of his starts, before being called up to fill in for the Predators starting goaltender Pekka Rinne. Mazanec got off to another good start, but he has lost his last five starts, including an overtime loss to the Flyers.
He has shown flashes of brilliance this season in Nashville, like when he robbed James Neal with a great glove save.
Mazanec is only 22 years old and his play still needs to be fine tuned and I just don't see him making the team this time around. If he plays up to his potential in Nashville, he could find a spot with the Czechs in PyeongChang in 2018.
Jakub Kovar
Jakub Kovar is an intriguing goaltender for the Czechs. He's a combination of Ondrej Pavelec's workhorse style and Jakub Stepanek's experience in international tournaments.
He, along with Stepanek, played very well at the 2012 IIHF World Championships. Kovar recorded a 2.05 GAA and a save percentage of 92.7% as he helped the Czechs win a bronze medal.
Kovar, drafted by the Philadelphia Flyers in 2006, played in an astonishing 52 games in the 2011-12 season going 28-24 with Ceske Budejovice HC. Kovar is that type of goalie that is capable of breaking out at any point, he has the skill and tremendous work ethic.The Flyers still hold his rights, so, if he does play well in the Olympics, the Flyers may have finally found their goalie of the future.
What do you think of the Czech Republic's problem at goalie? Comment below or send me a Tweet, @MarkWGraham