From Todd Harvey, the teams inaugural draft pick in 1993, to Dylan Ferguson, its most recent draft pick in 2017, and everything in between, the Stars have made a total of 203 selections in its 25 year history. Choosing five of the best wasn't easy.
Before you get upset when you realize that Mike Modano, Neal Broten, Derian Hatcher, or Jere Lehtinen aren't on the list – yes, widely considered to be some of the best draft picks made by the team – it's important to remember that this is not a ranking of the best picks in Stars franchise history, but rather the selections made by the post-relocation Dallas Stars team. That is, from 1993 to today.
Without further ado, the top five picks in Dallas Stars history.
#5 – Trevor Daley
2002 NHL Draft, Round 2, Pick #43
The 2002 draft was dominated by talent. With guys like Rick Nash, Jay Bouwmeester, Cam Ward, and current-Star Kari Lehtonen all taken in the first round, it was a fruitful draft.
The Stars owned the No. 13 selection in the first round (same as this year) but traded with the Washington Capitals for its No. 26 pick in the first round and No. 42 in the second round. The Capitals used the Stars' No. 13 on a young Russian named Alexander Semin and the Stars used the No. 26 on Martin Vagner, who left Dallas to re-enter the 2004 draft and never stepped foot on NHL ice. Though he's recently returned to Russia, Semin spent 11 seasons in the NHL and tallied 517 points (239 goals, 278 assists) in 650 games. Sigh.
But it all worked out for the Stars on day two of the draft.
Dallas had a total of four picks in the second round, but the one that proved to be the best was pick No. 43. In front of family and friends at Air Canada Centre in his hometown of Toronto, Canada, the Dallas Stars chose Trevor Daley, a defenseman from the Sault Ste. Marie Greyhounds.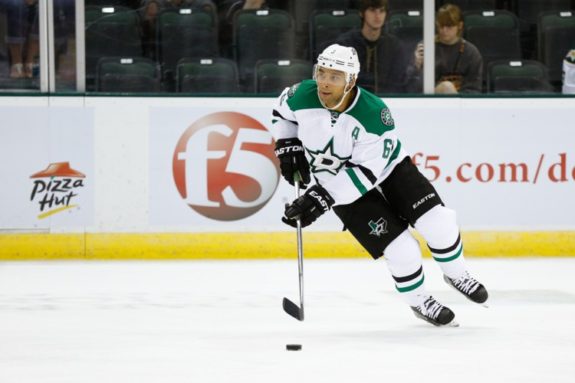 Sure, there may have been better names on the board (Duncan Keith was chosen 11 picks after Daley), but there's no telling what might have become of the what-ifs or could've-beens. One thing is for sure, the Stars got a good one in Daley.
Draft Day Quotable:
It was nerve-racking, a lot of fun and a lot of good memories. I had a hundred people there with me at the draft. It was a big party and a lot of fun. – Trevor Daley
Why He Makes The List
No. 6 on the ice, but No. 5 on my countdown, Daley makes the list not only because of the career he had in Dallas but also his character on and off the ice.
In total, "Dales" dressed for 791 games in a Stars sweater. In his 11-year stint with the Stars, he collected a total of 238 points (71 goals, 167 assists).
Before being dealt to the Chicago Blackhawks in the offseason trade that brought Patrick Sharp and Stephen Johns to Big D, Daley had his most successful year to date. He posted a career-high in goals (16), assists (22), and points (38) in the 68 games he suited up for with the Stars, which made the trade just a little more sour for Stars fans.
On top his shutdown defense and offensive upside, he is an all-around good guy. Daley offered a helping hand not only on the Dallas blue line but in and around the city of Dallas as well. While his statistical output was pretty decent for a defenseman, he was more of an asset in the locker room, providing heart to the hockey team and camaraderie to his teammates (see below).
That's how great a teammate everyone thinks Trevor Daley is, 1st guy to get the cup from Crosby. @penguins

— Mike Modano (@9modano) June 13, 2016
While many would've liked to see the charismatic defenseman finish his career with the Stars, sometimes a team's got to do what a team's got to do. The business of sports is often cruel and unforgiving. In the end, it worked out for Daley, and you can't help but feel happy for him.
His Best Play as a Dallas Star
While not necessarily known for his goal-scoring abilities, every once in a while he could score some pretty ones.
#4 – Marty Turco
Once touted as the "smartest goalie in the NHL" by the Canadian legend and television personality Don Cherry, Marty Turco is the best goaltender to wear a Stars sweater – sorry Ed Belfour – and easily the best goaltender drafted by Dallas.
1994 NHL Draft, Round 5, Pick #124
The netminder had an interesting path to Dallas. Turco was drafted before he had really made a name for himself. The Sault Ste. Marie native played two seasons for the Cambridge Winter Hawks Jr. B team in an otherwise largely ignored junior hockey league located in Ontario. He still managed to capture the attention of Stars scouts.
"Playing Junior B, trying to get a scholarship, no less, the last thing on my mind really was the NHL. I was the 21st-rated goalie. I think I might have been the 12th North American-rated goalie," the netminder recounted to NHL.com's Scott Burnside of his meeting with Stars' scout Tim Bernhardt before the draft.
"So I went out there and Tim was like, 'Hey, I've watched you a few games; really enjoy the way you play and you just caught my eye, and love watching you win games. But I don't know anything about you. Think when you get done here at the rink, you and your dad can come and get a bite to eat and just talk for a little bit?'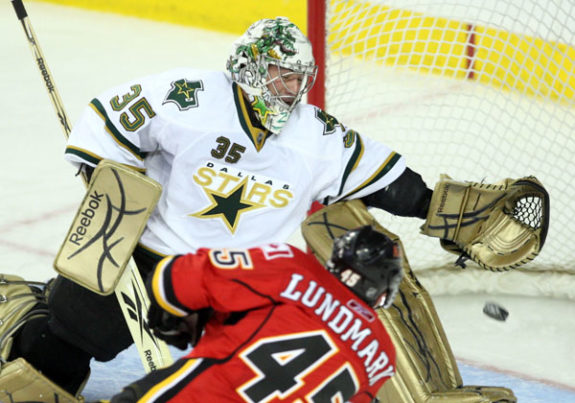 And I looked at him and I looked at my dad, I'm like, 'Well, Tim, Mr. Bernhardt, as you know, it's my last game. I'm going to Michigan next year. My dad's here because we're driving back in the morning and I'm going to finish some high-school stuff and graduate and all that, and I'll never see these guys again the rest of my life, and we're having a team party. So if you don't mind, I'm going to go to the team party… So at the end, I don't know if that hurt me. But they drafted me, so I don't think it hurt me. I think it helped. This guy's like, 'Oh, he's a team player.' Tim and I, years after that, we laughed about it," recalled Turco.
Sounds like the Turco we've all come to love.
After being drafted, Turco took his time developing. He played four years for the University of Michigan and passed a number of milestones while in Ann Arbor. His Michigan resume includes two NCAA titles (1996, 1998), Frozen Four appearances in all four years as a starter, and a career record of 127-28-7. His 127 wins is an NCAA record.
His six-year path to the NHL wasn't a bad choice after all.
Draft Day Quotable:
I woke up hungover in a water bed, no less. My mom comes in the room, gives me a cordless phone — which was a novelty back then — and she's like, 'Someone's on the phone for you.' And I think it was Les (Jackson) and Craig Button and/or Tim. They're like, 'Hey.' And I've really just woke up and not feeling great, and they're like, 'Hey, it's Les, and we're at the draft table. Thought we'd call and say congratulations.' I'm just sitting there rubbing my eyes and my mom's still standing over me, and I'm surfing on my water bed now. I hang up, I give her the phone. And she's like, 'Well, who was it?' I said, 'I'm not even sure, but I think I got drafted.' – Marty Turco
Why He Makes The List
The netminder spent nine seasons with the Stars, breaking many franchise records along the way. Turco has the team record for most wins (283), shutouts (40), games played (556) and consecutive games played, and the most assists (22) by a goalie.
Though drafted in 1994, he didn't touch the Stars' ice until 2000, serving primarily as the second-string goalie. After usurping Belfour for the starting role during the 2002-03 season, Turco set an NHL record with a 1.72 goals-against average (it only lasted one season before Miikka Kiprusoff set a new record with a 1.69 GAA).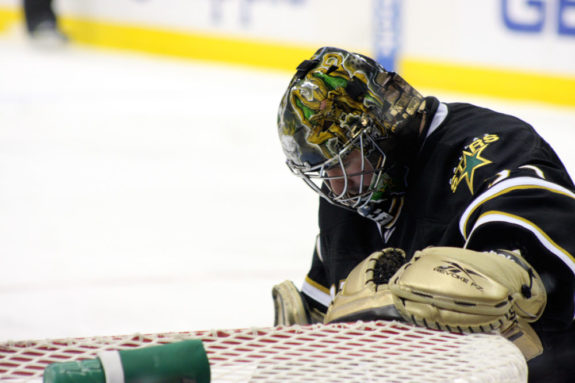 The netminders' biggest downfall in his career was his postseason play, often being the player the fans pointed to when the series was over. With an unimpressive 21-26 record, Ed Belfour's replacement could never quite do what The Eagle could: win a Stanley Cup. Turco does, however, have a playoff record: he's one of three goalies to post three shutouts in a single playoff series (in the 2007 Quarterfinals vs. the Vancouver Canucks).
But statistics and Cups aren't everything. Hockey is a game of entertainment and that was something that Turco did very well.
A skilled and proficient puck-handler, Turco's tantalizing use of the "Turco Grip" effectively made him the sixth skater on the ice for the Stars, giving his team an advantage that most didn't have. It's one of the reasons he lands on the list. Not only could he make stunning saves, he could stickhandle and sauce the puck with the same ease as a forward wearing half his equipment. Whether he was making a slick length-of-the-ice pass to catch a team in the middle of a line change or leaving his crease to play the puck, his unpredictable play was as entertaining as it was effective.
Off the ice, Turco kept things light and was beloved and adored by fans and teammates:
I have countless memories just from being in the general vicinity of Marty Turco. One of a kind, that guy… Most goalies are kind of quirky. A lot of them have certain superstitions or rituals before games. Some of them will freak out if you touch their gear, or will refuse to let anyone talk to them on game days. That kind of stuff. But Marty was on the opposite end of the spectrum. Before games he was completely off his rocker — in a fun way. Whatever the group was doing, Marty would always want to do it times 10. – Brenden Morrow
Turco also spent time off the ice doing plenty of charitable work in and around Dallas and he was recently named the president of the Dallas Stars Foundation for his continuing contributions to the community. His charismatic, fun, and easy-going personality made him quite the character in Big D. His personality eventually scored him a spot on the NHL Network and he can still be spotted every once in a while on the Stars' home broadcasts.
Whether through community work or on television, even after retirement, Turco has maintained his relationship with the Stars organization.
His Best Play as a Dallas Star
Probably where he decided to play like a hard-charging defenseman instead of a goaltender. That's what Stars fans loved about him. Flamboyant. Fearless. An absolute brick wall.
#3 – John Klingberg
Though he's only spent four seasons as a member of the team, it's not an overstatement to say that John Klingberg is the best defenseman the team has drafted in the organization's 25 seasons.
2010 NHL Draft, Round 5, Pick #131
As a member of the Frolunda HC junior league during the 2010-11 campaign, Klingberg recorded 17 points (three goals, 14 assists) in 13 games and then proceeded to put up 11 points (one goal, 10 assists) in seven games during the playoffs. Following his successful season, the Stars signed the Swedish defenseman to a three-year entry-level contract in 2011.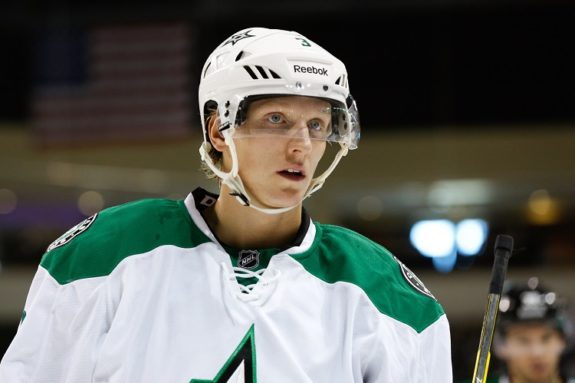 After bouncing around the Swedish and Finnish leagues, Klingberg enjoyed a breakout season in 2013-14 with Frolunda. The Swedish defenseman played 50 games in the SHL, Sweden's highest level of professional hockey, and notched a career-high 11 goals and 28 points in 50 games.
At a lanky 6-foot-2 and 177 pounds, a defenseman of Klingberg's stature has no place in the NHL. On draft day, however, he was listed at 5-foot-10 and 155 pounds.
Draft Day Quotable:
"I was pretty small," he said. "They were taking a chance, for sure. Maybe the scouts were thinking I'd grow to be the size of my brother Carl (six-foot-two, 205 pounds) who was drafted 33rd overall the year before by Atlanta. – John Klingberg
Indeed, the Dallas D-man is noticeably scrawny on the ice – especially for a defenseman – but the Stars saw something special and took a gamble on him in the fifth round of the 2010 draft.
That fifth-round gamble turned out to be a top-pair defenseman.
Why He Makes The List
Affectionately nicknamed "The Ghost of Gothenburg", Klingberg has been anything but invisible in Dallas since he arrived in 2014-15, and he's only getting better.
In his first season in Dallas, the Swedish Star finished with 40 points (11 goals, 29 assists) in 65 games, was first in points among rookie defensemen and earned a spot on the NHL All-Rookie team. After seeing his potential, Jim Nill locked up the Star to a long-term deal, making him one of the most affordable elite defensemen in the NHL today.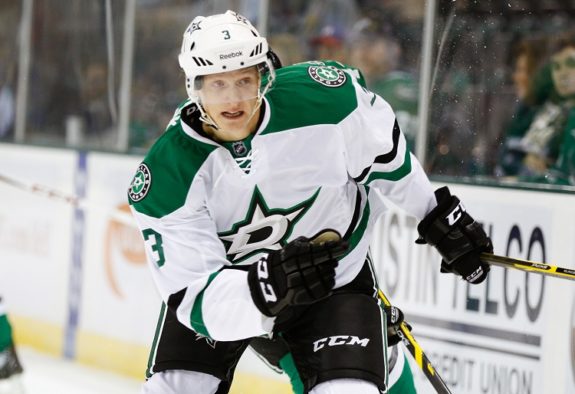 In 2015-16, the second-year Star saw a statistical improvement to the tune of 58 points (10 goals, 48 assists). While the 2016-17 season was a small decline in point production, he set a career-high in goals (13) and games-played (80), but only recorded 49 points.
Fast forward to this season and Klingberg was considered a Norris Trophy candidate for much of it. He set a career-high 67 points (eight goals, 59 assists) while being the Stars' iron man, playing in all 82 games. His 59 assists were tops among NHL blueliners this season and his point total was one behind John Carlson for tops among defenseman.
Since his arrival in Dallas, Klingberg has drawn comparisons to the team's other dominate offensive defenseman, Sergei Zubov. For the most part, however, the Star has already bested many of the Russian's records, including the franchise's fastest defenseman to 50 points and longest consecutive point streak by a D-man. Most impressive of Klingberg's accomplishments may be that his 214 points are the second-most by an NHL defenseman in his first four seasons, just eight points shy of Zubov's record, though Klingberg beat out Dion Phaneuf and fellow countryman Nicklas Lidstrom.
Besides his statistical output, Klingberg's creative play on the ice and his ability to ballet across the blue line are his most invaluable attributes. But if you ask his teammates, it's the Klingberg off the ice that's his best feature.
Just like the letter patch on his chest, Klingberg gets an 'A' from me.
His Best Play as a Dallas Star
His first NHL goal wasn't bad.
#2- Brenden Morrow
Brenden Morrow was the personification of a Dallas Star and a prototypical power forward. Through 13 years in Dallas, Morrow was the heart and soul of the team.
1997 Draft, Round 1, Pick #25
Morrow was never the biggest guy, he never had the best shot, and he certainly wasn't the smoothest skater. For much of his career he was largely undervalued and ignored. Despite scoring 199 points (!) (117 goals, 72 assists) in 60 games as a teenager playing bantam hockey in his hometown of Carlyle, Saskatchewan, Morrow was snubbed in the WHL draft.
But if you know him, you know his character. He's not one to just give up and quit. Instead, Morrow 'walked on' to the Portland Winter Hawks. While his rookie season with Portland was nothing to write home about (25 points in 65 games), his next three seasons were successful. He enjoyed a breakout year during his sophomore season in 1996-97, more than tripling his freshman totals. The left winger notched 88 points (39 goals, 49 assists) and climbed the draft rankings as a result.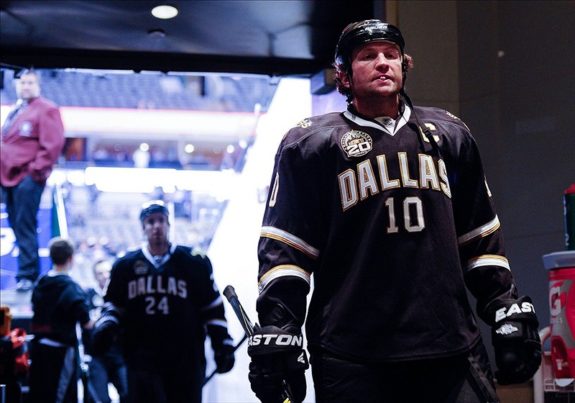 After his 88-point season, the Dallas Stars used its first-round pick on the Winter Hawks winger. Despite being drafted in the first round, the Stars wanted to give him time to develop, opting to send him back to Portland. The following season, in 1998, Morrow helped the Winter Hawks to a Memorial Cup.
While the Dallas Stars were busy winning the Stanley Cup, Morrow finished his fourth and final year in Portland during the 1998-99 campaign. During the 1999-00 season, he finally earned the Star on his chest and would become a regular fixture in the Dallas lineup for the next decade.
Draft Day Quotable:
I had a really good — I guess I wouldn't call it an interview — but I had a really good talk, and I really enjoyed my time with Craig Button, who I think was the director of player personnel. So I had a good feeling, but you never know going into the draft. But I had a feeling that Dallas was almost like a family. They were honest.

They said, 'We take our time with our guys. We put you in the minors, kind of like Jamie Langenbrunner, and look at the success he's having now.' And just really grow the talent instead of throwing them on the fire right away. They just felt like a family. It wasn't just an interview, we rode around in a car together and just had a really good conversation. When Dallas called my name, I was really excited. – Brenden Morrow
Why He Makes The List
Morrow suited up for over 800 games in a Stars uniform. He was captain for five years and tallied a total of 517 points (237 goals, 280 assists) in total. He's top-10 in most franchise stats: he's played the sixth-most games for the franchise, he's eighth in goals scored and points, 10th in assists, and third in plus/minus. His 1,185 penalty minutes rank fourth in club history, a testament to his tenacity.
While the winger enjoyed a productive career in Big D, none were as fruitful as his 2007-08 campaign. He set a career-high with 32 goals and 74 points while playing in all 82 games. The captain led the team all the way to the Western Conference Final that year while posting 15 points (nine goals, six assists) in 18 games along the way.
The grizzled team captain would do anything for his team. Whether laying bone-crushing hits or playing through a broken ankle as a rookie in the playoffs, very little could stop the tenacious left winger. Maybe Marty Turco said it best:
Honestly, I just haven't been around a tougher dude, a tougher human being. Morrow was the poster boy for leading by example. He played through so many injuries. You didn't even know he was hurt most of the time. That just goes to say into the kind of teammate he is, the person he strives to be, wants to be. We all try to please and be a good player and teammate but that guy just can't help himself. – Marty Turco
From scoring the greasy goals in front of the net to the 2007-08 Cup run to just being an all-around great teammate, memories of Morrow will live on forever.
His Best Play as a Dallas Star
His game-winning goal in the fourth overtime period of Game 6 of the 2008 Western Conference Semifinals vs. the San Jose Sharks was something special for all Stars fans. It also remains one of the longest games in NHL history.
#1 – Jamie Benn
A reserved and quiet captain, Jamie Benn prefers to lead by example, and lead he does. From a fifth-round steal to ascending to the NHL's elite, Benn is the best draft pick in Dallas Stars history.
2007 Draft, Round 5, Pick #129
Jamie Benn was never supposed to be drafted. NHL Central Scouting had him ranked as the 107th North American skater on their final list of prospects in 2007. The Red Line Report, an independent scouting service, ranked Benn as one of the five slowest players in the draft and said this of the left winger:
We're not sure if he's really slow, or he just refuses to move.
Harsh words. It's the stuff like this, however, that I'm sure the young Benn internalized and used as fuel to prove the naysayers wrong. At the time the scouting reports were coming out, the winger was playing junior hockey for the Victoria Grizzlies of the BCHL in his hometown of Victoria, British Columbia, a ferry ride away from the mainland of Vancouver.
His location was apparently one of the reasons the Star slipped in the draft. I'm sure most NHL scouts thought, "Why make the trip to Victoria to scout when there's plenty of good hockey being played in Vancouver or Penticton?" It just goes to show you that there's talent in every corner of the world and in every round of the draft board.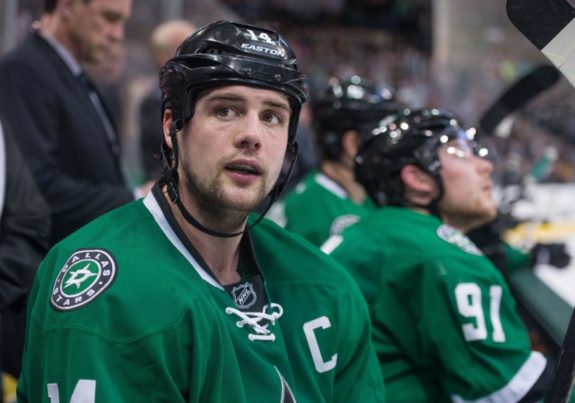 Lucky for the Stars, they had Dennis Holland, the team's scout for the British Columbia region who put in a call to Tim Bernhardt, the Stars' head of amateur scouting, and team executive Les Jackson to come to B.C. to check the kid out. The rest is history.
Benn only played that one season with the Grizzlies before the Stars took a chance on him at the 2007 draft. After the draft, Benn made the decision to play for the Kelowna Rockets of the WHL. The left winger put up 65 points (33 goals, 32 assists) in his rookie year with the Rockets and proceeded to post a team-leading 46 goals and 82 points in just 56 games. In the postseason, Benn led the team with 33 points en route capturing the 2009 Ed Chynoweth Cup as WHL champions.
The following season, Benn became a Star.
Draft Day Quotable:
I think if I never got drafted, baseball could've been an option – Jamie Benn
From Stars fans everywhere, thank you for choosing hockey.
Why He Make The List
After almost a decade, Benn has had a memorable and successful career in Big D.
In total, the captain has tallied 596 points (254 goals, 342 assists) in 667 games in a Stars uniform. To put those numbers into perspective, Mike Modano, the franchise's unequivocal best draft pick, tallied a total 654 points (277 goals, 377 assists) in 633 games through his first nine seasons with the North Stars and Dallas Stars. Those are some eerily similar numbers that should get Stars fans excited. Also, Modano managed to win the Stanley Cup in his 10th season as a Star. This upcoming season will be Benn's 10th as a Star. Just saying.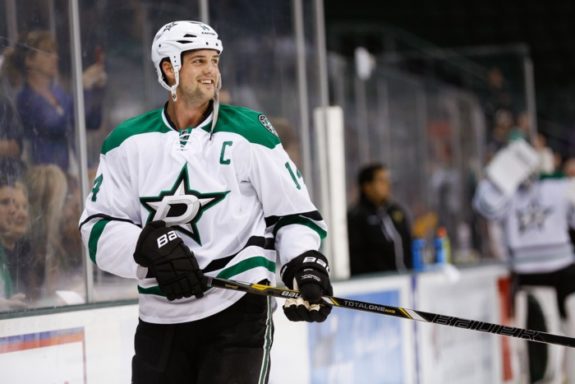 The soft-spoken winger plays a hard-nosed game and he does it all: he plays physical, scores goals, sets up teammates, plays on the power play and kills penalties. He's the guy that's out there when the game is on the line. He's the leader, and a pretty darn good one if you ask his teammates. Here are a few quotes that Sean Shapiro compiled from some of Benn's teammates in a post he wrote for The Athletic.
For me, he's the best captain I've ever had. -Tyler Pitlick

He's one of the best leaders I've ever played for, no question. – Devin Shore

I mean he's got to be one of the best captains I played for, really. – Mark Methot

(from 'What kind of captain is Jamie Benn?,' The Athletic – 3/26/18)
His Best Play as a Dallas Star
He recorded a hat trick and tallied one final point, an assist, with 10 seconds left in the final game on the final day of the 2014-15 season to become the Dallas Stars' first Art Ross Trophy winner.
Jamie Benn is easily the Dallas Stars best draft choice in its 25 year history, and a steal none the less. Can you believe this guy was a fifth-rounder? If he can bring a couple of Cups to Dallas, he may become the best draft pick in the franchise's 51-year history (including the Minnesota North Stars) by the time he hangs them up.