Now a quarter of the way through its season, the Dallas Stars are right where most people expected they would be in the standings — third in the Pacific Division and eighth in the Western Conference with 13 points in 12 games.
Its been a been a rather streaky season thus far for the Stars. They ended January with four straight losses. After splitting a home-and-home series with Phoenix, the Stars went on a three-game win streak, which they will carry into Tuesday's contest against Edmonton, the beginning of a three-game swing through Western Canada.
While a 6-5-1 record doesn't exactly jump out as impressive, the Stars play has improved as the lineup has gained more cohesion in recent games. While the top of the Dallas scoresheet contains the usual suspects, there have been a few players whose play thus far can be constituted as a pleasant surprise this far.
Derek Roy
The Stars front office undoubtedly held high expectations for the diminutive center following the trade that brought him in from Buffalo in the offseason. But given his play last season after returning from an injury-shortened 2010-11 season, along with the fact he had offseason shoulder surgery that would have kept him out of the lineup until November had the season started on time, I'm sure there were plenty of nervous executives, especially with what seemed like plenty of fan backlash for trading fan-favorite Steve Ott.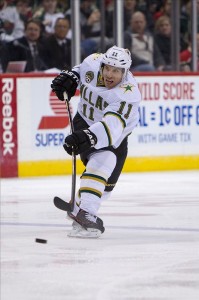 Those nerves probably weren't calmed when Roy missed five games at the end of October in late January and early February with a groin injury. However, he appears fine now, and with the return of Jamie Benn to the lineup, he has finally been able to take his place as second line center and has thrived.
Since coming back, skating on a line with Loui Eriksson and Michael Ryder, Roy has a goal and three assits in the three games he's been back. Perhaps not so coincidentally, the Stars are 3-0 with him and Benn both in the lineup.
On the season, he has a goal and five assists in six games. Those numbers are a little more impressive when you factor in that he has started only 40 percent of his shifts in the offensive zone. He seems to have found a little bit chemistry with Eriksson and Ryder, neither of whom have been incredibly effective so far this season. As that line continues to get more acclaimed with each other, better offensive results could show up.
Brenden Dillon
His numbers don't necessarily pop out at you, but the 22-year old undrafted rookie has passed the eye test so far this season.
On a team that badly needs physicality from its defensemen, the 6-foot-3, 228 pound Dillon has stepped up into a quasi-enforcer role on the back end for the Stars. He dropped the gloves against Jordin Tootoo back on Jan. 29 as retribution for a hit Tootoo put on Philip Larsen the previous week, and he recorded a Gordie Howe hat trick Feb. 1 against Phoenix.
For the season, he has one goal and one assits, has a plus-1 on-ice rating, and is second on the team with 16 penalty minutes. He is averaging 18:32 of ice time a night. As he continues to get more comfortable with the NHL game, I expect he will continue to be counted on in difficult situations.
Brenden Morrow
Coming into the season, Morrow looked like he was going to be the odd man out in the reconfigured Dallas top six. But with a foot injury to Ray Whitney, the cagey veteran has found himself on the top line with Benn and Jaromir Jagr.
While only 34-years old, Morrow has a greater wear on his body due to his physical style of play. Injuries have kept him to 56 games played or fewer three times since 2006-07 season. After a career-high 76 points during the 2007-08 season, Morrow's numbers have been in a steady decline since, culminating with 26 points in 56 games last season.
Like Dillon, Morrow's numbers don't explode off the page; he has five points in seven games. However, he has recored a point in each of Dallas' last three games and is averaging over 19 minutes of ice time.
He will likely never again reach even the 56 points in 82 games he had in 2010-11, but Morrow has shown he is capable of excelling in Dallas' top-six on an interim basis. The long-time captain is also still a great influence in the locker room, a presence needed on a team that has nine players on its roster in their first or second season.
The overall goaltending
Now in his third full season in Dallas, Kari Lehtonen has been nothing short of remarkable for the Stars. He has gotten better every season, and has been a rock in net for the Stars so far this season.
However, due to his rocky career with the Atlanta Thrashers, the former No. 2 overall pick may always have to prove that he can be an elite goalie in the NHL.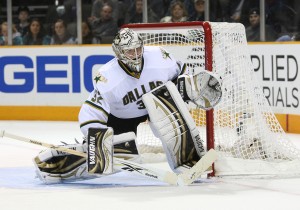 In giving Lehtonen a five-year extension, the Stars evidently believe the past two and a half years Lehtonen has given them indicate that he has made his way into the upper echelon of NHL netminders.
He is riding a personal four-game win streak, and has had only one game this season in which he had a save percent under .910.
He has a 6-2-1 record in 10 games — nine starts — and is the primary reason Dallas is eighth in the league in goals against per game.
Three goalies have made starts for the Stars this season, in large part due to the lockout. Richard Bachman figured to break camp as the backup, but didn't have any game action during the lockout. Because he  had 29 AHL games played in that time, Cristopher Nilstorp broke camp with the Stars.
He was sensational in his NHL debut against the Minnesota Wild, stopping 31 of 32 shots, but ended up as the tough-luck loser. He second start, against St. Louis, didn't go as smoothly. He gave up four goals on 29 shots and sustained a groin injury that landed him on injured reserve.
After a brief warmup in the AHL, Bachman was called up after Nilstorp's injury. He made his season debut Jan. 29 at Detroit in relief of Lehtonen, stopping both shots he faced. He made his first — and only — start of the season Feb. 2 at Phoenix and stopped 32 of 34 shots. But, like Nilstorp against Minnesota, he also ended up the tough-luck loser.
After a hectic start to the season that had the Stars playing nine games in 15 nights, the schedule opens up a bit so that Dallas only plays on back-to-back nights three times in February and March. While Lehtonen figures to get the majority of the starts in that time, head coach Glen Gulutzan should be happy to know that he has three quality goaltenders he can throw out and get good results from.