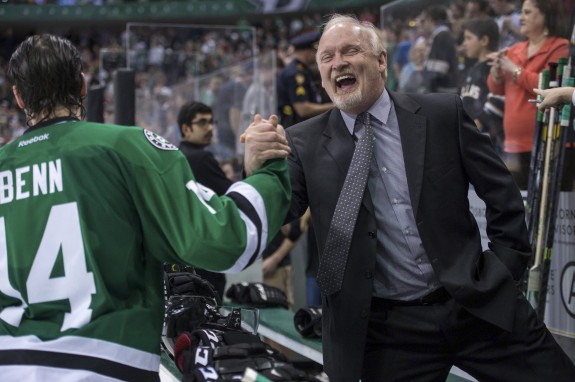 A New Star Is Rising.
That is the motto that was first introduced by the Dallas Stars organization this summer, and one that has resonated throughout the regular season. With new jerseys, a handful of new faces in both the front office and on the ice, and a new lease on their franchise's hockey life, the Stars set forth this season looking for a fresh start.
One of their primary goals? Making the playoffs, after five straight seasons of missing them.
On Saturday night, after exactly five years, ten months, and 23 days since they last made the playoffs, one of the longest playoff droughts in the NHL, the Stars finally punched their ticket to the postseason once again.
They did it in spectacular fashion as well, manhandling a powerful St. Louis Blues team from start to finish, skating away with a triumphant 3-0 victory. With the win the Stars slide into 8th place in the Western Conference, keeping the 9th place Phoenix Coyotes out of reach.
The Stars were absolutely relentless on the puck all night, using their speed and superior determination to win countless footraces and puck battles, even when the team was up by three goals. St. Louis tried to up their physicality to counter the Stars' offensive assault, but it had little effect. Dallas outshot the Blues 40-23 on the night.
For a game with so much on the line, there was no shortage of heroes from the Dallas side. The big names stepped up when their team needed them the most: Kari Lehtonen stopped 23 out of 23 shots for the shutout, Tyler Seguin had a goal and 11 shots, Jamie Benn had two assists, and Alex Goligoski added an assist.
Fittingly, it was Trevor Daley who was the game's biggest hero. Daley, the only player on the current Stars roster remaining from the team's last playoff game way back in 2008, had a goal and an assist, as well as a game-high 28:31 of ice time. He was deservingly awarded the game's 1st star honours.
It's been a whirlwind ride for the Stars this season. Despite the team that lost their number one defenceman (Stephane Robidas) to a broken leg early in the season (and also to a trade to the Anaheim Ducks at the trade deadline), falling into a terrible 1-8-1 slump to start January, and the horrific collapse and hospitalization of forward Rich Peverley in March, the Stars still rallied out of the Olympic break, came up with some huge wins in the final games, and sealed their playoff fate against one of the best teams in the league.
While their 1st round playoff opponent is still yet to be determined, at this point it doesn't even matter. The Stars are back in the postseason, and they don't care what team they have to go through to keep this shining star rising a little higher.