Tim Leiweke is a proactive man. It's clear the president and CEO of Maple Leafs Sports and Entertainment already has his sights set on next season. No, it's not a Stanley Cup parade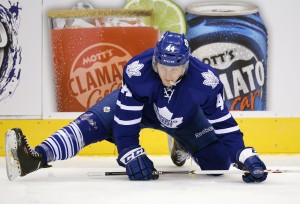 route. Aggressively luring NHL chief player disciplinarian Brendan Shanahan is a clear statement to fans: changes are coming. And he's not afraid to make them.
Beefing up the front office by dipping into the unlimited well of MLSE dough is at the top of his agenda right now. When the summer rolls in, that focus will shift to player personnel. And there's no better way to reshape and rebuild the ailing franchise than through the NHL entry draft.
It goes without saying that whichever prospects the Leafs claim this June at the draft will have zero relevance next season unless they miraculously pull a Morgan Rielly. That's unlikely. But adding assets and looking toward the future is just as important, especially for a team with a relatively weak farm system.
The system is littered with Frederik Gauthiers, Stuart Percys, and Tyler Biggs'. Were these safe picks? Absolutely. Will they play in the NHL? Maybe.