The opening of the 2018 NHL free agency period is one that hockey fans have circled on their calendars in big red marker. Some refer to July 1 as "Hockey Christmas," and rightfully so. Fans from all across the land spend the day unwrapping the content on their Twitter timelines as they rummage through the latest rumors—both the real and the fake—always wary of the verifiable blue checkmark.
Giddy hockey fanatics from all 31 teams will have their eyes glued to TSN's coverage of the free agent frenzy, watching as each player gets picked off by new teams, leaving for greener pastures. It's certainly an exciting couple of days and an oftentimes maddening, frustratingly fun time.
Fans of the Dallas Stars always get excited this time of year. While GM Jim Nill usually tends to stay quiet on trade deadline day, he usually opts to save his money for the week of July 1 every year.
Jim Nill's Recent Free Agent History
In his first season at the helm, he made a big splash and traded for Tyler Seguin on the Fourth of July. In 2014, Nill signed Ales Hemsky and then traded for Jason Spezza. In 2015, the Stars traded for Johnny Oduya and Patrick Sharp. Dan Hamhuis signed with the team in 2016 as one of the more prized defensemen available of the free agent class. And in 2017, Nill had one of his more successful offseasons, signing Martin Hanzal, Alexander Radulov, and Ben Bishop to multi-year contracts. July has always been good for Stars fans.
And now with Dallas being mentioned among some big-name free agents' potential destinations, one should expect this offseason should be no different.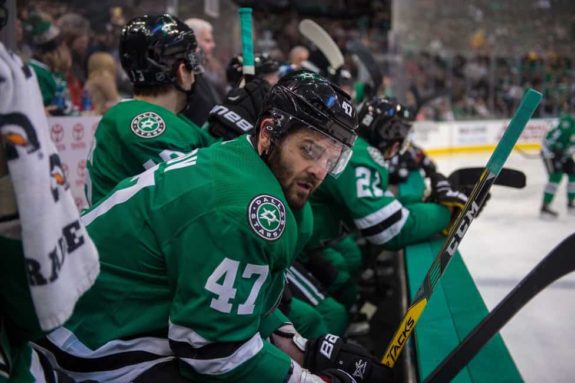 Dallas has a lot of money to play with this offseason, too. The Stars have $19.8 million in cap space, the 13th-most cap space in the NHL. With Val Nichushkin's signing becoming official on July 1, the cap room available will be closer to $16.85 million after Nichushkin's $2.95-million contract goes on the books. It's also worth mentioning the Stars qualified a bunch of Restricted Free Agents, and given that they all decide to remain in Dallas, they'll use up a few million of the remaining $17 million. So realistically, the Stars will have about $12-13 million to work with starting July 1, which is plenty of wiggle room to land a couple of bigger names.
If you know Nill, he'll snatch a few players up in the next week to fill some holes in the lineup. Yes, John Tavares chose Dallas as one of his six potential landing spots, but it's unlikely his "greener pasture" consists of Victory Green. When he ultimately decides to sign elsewhere, Stars fans shouldn't sulk for too long. After all, it's kind of an honor Dallas was one of the final six teams on his radar, a testament to how far Dallas has come along both as a hockey market and as a perceivably competitive team in the NHL.
Even if Dallas doesn't come out on top in the Tavares Sweepstakes, there are plenty of other fish in the free agent sea. Playing Armchair GM, one can see a few holes in each of the three position groups of the team: forward, defense, and goaltending. Here are some potential players Nill should look at to fill those gaps.
A Netminder Needed
It's safe to say that longtime Dallas Star Kari Lehtonen will not be returning to the team. The former second overall pick in 2002 NHL Draft has spent almost a decade in Big D. After back-to-back mediocre seasons, and with last year's signing of franchise goaltender Ben Bishop, it's about time to part ways with the tired Finnish netminder.
But before we move on, I think a 'thank you' is in order. So thank you, Kari, for nine great seasons as a Star. I truly hope he lands on his skates somewhere.
In the business of sports, it's on to the next one. This season's free-agent class of goaltenders is a fairly solid one too.
Part of the problem in net for Dallas was the financial vice grip the two had on the Stars. Lehtonen hamstrung Dallas at $5.9 million for each struggling season. Bishop does have a slightly more favorable contract, however, at just over $4.9 million for the next five seasons. The two tragically combined for almost $11 million in cap room, or roughly 15 percent of the team's cap space. It would be wise of Nill to avoid overpaying for backup goaltending. Lucky for him and the Stars, there are plenty of significantly cheaper options in this year's free agent class.
Anton Khudobin
Coming off of Boston's payroll at $1.2 million a season, the Stars can easily afford a netminder like Anton Khudobin.
The 32-year-old backstop will probably command a little bit of a raise considering his performance with the Bruins. Khudobin served as Tuuka Rask's backup and was very solid in his 31 games played. He recorded a 16-6-7 record, a 2.56 goals-against average and a .913 save percentage.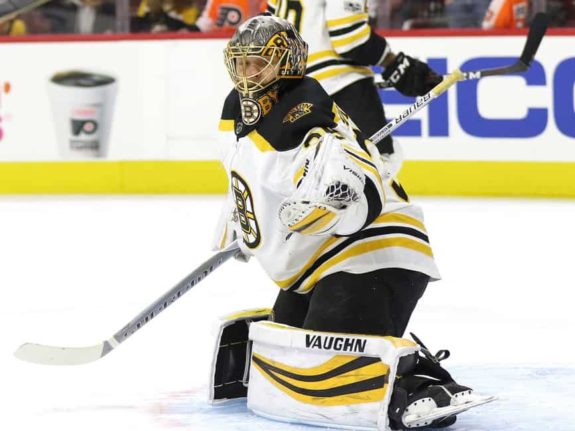 Nill usually likes his goaltenders to be on the bigger side, but the 5-foot-11 Russian netminder covers much more of the net with his athleticism. Khudobin is also a very cheap option for an experienced backup goalie but his recent stats will more than likely earn him a bit of a raise. Still, the Stars can afford a $3-million backup.
Michael Hutchinson
Hutchinson should be another candidate to replace Lehtonen's post in the Dallas net. Coming off a season where he only appeared in three games for the Winnipeg Jets, the Stars may be able to land Hutchinson at a fairly discounted rate, perhaps right around, or even cheaper, than his current $1.15-million cap hit.
At 28 years of age, Hutchinson hasn't really been able to hit his stride in the NHL. A former third-round pick of the Boston Bruins in 2008, the netminder didn't reach NHL ice until the 2013-14 season when he signed with the Winnipeg Jets. And he really hasn't had much success with the team, recording a career 43-39-11 record with a .910 SV% and a high 2.65 GAA. Perhaps maybe a change of scenery is what he needs.
At 6-foot-3 and 202 pounds, he fits the mold of a Nill's ideal netminder and has shown flashes of brilliance in between the pipes. The Stars could lock him up to a multi-year deal with a negligible effect on the cap space.
Robin Lehner
The former second-round selection of the Ottawa Senators, Robin Lehner hits the open market as a tenured eight-year NHLer.
Lehner is currently operating at a cap hit of $4 million on the Buffalo Sabres but figures to take a discount after again putting up some unfortunate numbers. This past season, Lehner went 14-26-9 with a .908 SV% and a 3.01 GAA. This season before that it was a line of 23-26-8, but a much better .920 Sv% and a 2.68 GAA. It's important to factor in that he did play on the Buffalo Sabres. There's not much defensive support going on over there.
The Gothenburg, Sweden native hails from the same hometown as the Stars' franchise defenseman, John Klingberg. The potential to have his countryman clearing the crease for him should be an attractive option as Lehner decides where to sign. His stature also fits the mold of a Jim Nill goaltender, standing tall at 6-foot-4 and 245 pounds and still in the prime of his career at just 26 years of age.
It's also hard not to like a guy that plays the game with some fire in his eyes, especially a goalie.
Desire for Defensive Depth
After re-signing Stephen Johns just a few days ago, the Stars seem fairly confident in their defensive setup. The Stars will let the aging Dan Hamhuis walk and do the same with Greg Pateryn, so they figure to let the younger generation of Dallas D-men step up.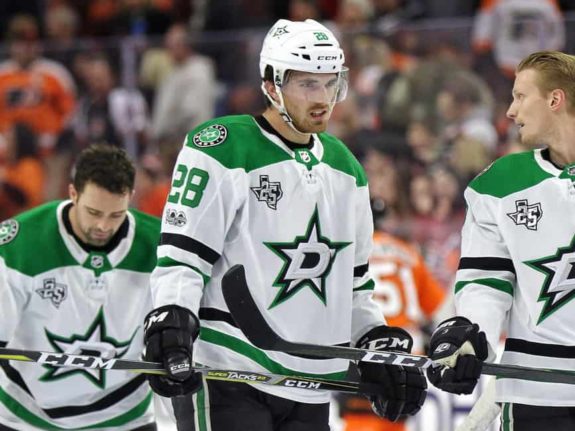 The Stars have plenty of offensive defensemen on the roster right now. Leading the charge is John Klingberg on the top line with Esa Lindell. Dallas also figures to have 2017 third-overall pick Miro Heiskanen on the team next season, which should bring an exciting offensive element to blue line. And it's every Stars fan's hope that new head coach Jim Montgomery will finally give Julius Honka his chance, something both Ken Hitchcock and Lindy Ruff failed to do.
Aside from the newly-signed Johns and the hulking Mark Methot, the Stars lack any sort of shutdown defense.
Luke Schenn
The former fifth overall selection of the Toronto Maple Leafs is hitting the free agent market once more.
At 28 years old, Luke Schenn should still have plenty left in the tank. He's 6-foot-2 and 230 pounds and plays a pretty shutdown-style game. He's also a right-handed shot, which Dallas always seems to covet.
He's coming off of Arizona's books at $1.25 million a season, a very affordable price point for Jim Nill and the Stars.
Cody Franson
I like Cody Franson's game a lot. He's pretty huge at 6-foot-5 and 225 pounds and is another right shot on the market. He's physical, proven to be offensively capable, and is a menace on the ice.
An injury in December hampered Franson's season and his spot on the Chicago Blackhawk's blueline. He played in only 23 games with the Hawks and tallied seven points (one goal, six assists) in that time frame. The injury, however, meant he spent the rest of the season in the AHL with Chicago's affiliate Rockford IceHogs.
The hulking Franson plays a physical game but can manage some points too. He spent time on Rockford's power-play unit and tallied 28 points (nine goals, 19 assists) in 37 games and then was a point-per-game player during the IceHog's Calder Cup run, notching 13 points (six goals, seven assists) in 13 postseason contests.
Franson presents himself as a very affordable option as he only took up a million dollars of the BlackHawks' cap.
Brooks Orpik
Jim Nill likes his veteran defensemen too. A recent buyout of the Colorado Avalanche after he was a throw-in salary dump in the trade that sent goaltender Phillip Grubauer from Washington D.C. to Denver, Brooks Orpik hits the market as a 37-year-old shutdown defenseman. Emphasis on the "shutdown."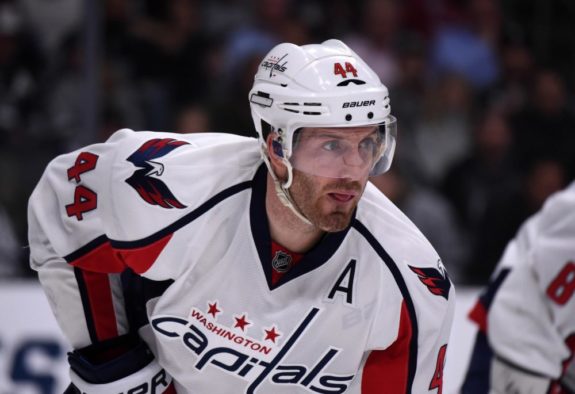 He's only scored 16 goals in his NHL career but he's won a couple of Stanley Cups, most recently with the Washington Capitals this past season. Orpik has been a part of many cup runs with Pittsburgh and has the experience the Stars' baby-faced blueline needs. Given his age, Dallas could sign him to a one- or two-year deal at a (hopefully) much more discounted rate than his current cap hit of $5.5 million.
At 6-foot-3 and 217 pounds, Orpik is an absolute tank on the ice, something Dallas has lacked for quite some time now.
A Forward for Hire
Arguably the most exciting for the free agent fanatics is the forward position. The potential for your team to hire that high-scoring winger or top-two center is something that fans drool over. It's also something Nill is notorious for.
Starting days after his hiring in Dallas, Nill made "The Trade," acquiring Tyler Seguin from Boston on the Fourth of July 2013. In 2014, it was Jason Spezza. Then Patrick Sharp came over in 2015. Most recently, last season's iteration of the free agent frenzy saw Nill land the most coveted forward in the 2017 free agent class, securing Alexander Radulov with a five-year contract.
Now this season, Nill and the Stars find their name on the list of 2018's most prized forward: John Tavares. As of writing this, the longtime New York Islander has yet to choose a destination, though Dallas appears to be on the outside looking in of the six teams that are vying for his services.
Luckily for the Stars, even if they don't land Tavares, 2018's free-agent forward class is pretty deep.
James van Riemsdyk
JVR could step up right away with the Stars. The 29-year-old left wing is coming off another solid season in Toronto. The forward notched 54 points in 81 games, but the stat that sticks out the most is the 36 goals he recorded this season, setting a career high for the ninth-year NHLer.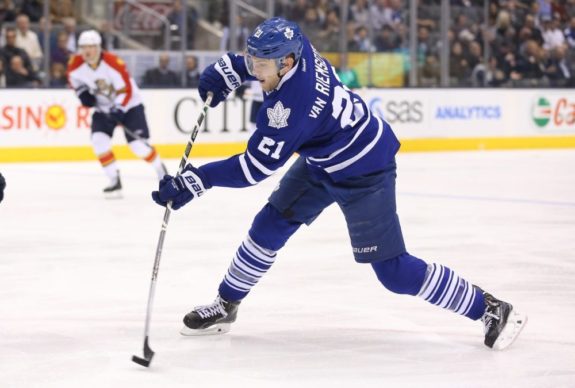 The Stars desperately need secondary scoring. JVR is the type of guy that Jason Spezza needs with him on the second line. Spezza is a playmaker and a passer first, and van Riemsdyk is a shoot-first, nose-for-the-net kind of guy, effectively making the two an ideal match made in hockey heaven.
In total, JVR has tallied 201 goals and 192 assists in just over 600 games in his nine-year NHL career. He would bring nice size and a scoring touch on the wing to round out the Stars' top-six. The problem, of course, will be salary. A player who can pot 36 goals in a season can earn some big money on July 1. He's coming off a $4.25-million-per-season contract and will figure to command closer to $5.5 million-$6.5 million in the open market. That Stars can afford it, but the question remains, will they want to pay for it?
James Neal
A James Neal reunion in Dallas is something I think most Stars fans could be on board for. A former second-round pick of Dallas in the 2005 NHL Draft, Neal spent three seasons in Big D and notched a healthy 131 points (72 goals, 59 assists) in 214 games in a Stars sweater.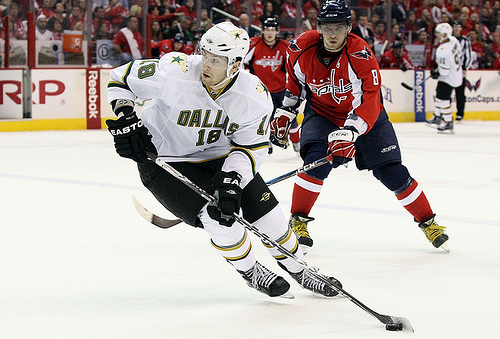 Now entering his 11th season in the NHL, the "Real Deal" is looking for a new home after helping Vegas to an inaugural season Stanley Cup Final berth. Neal can bring some depth, secondary scoring to the roster if the Stars so choose to sign him. In 10 seasons in the NHL, the left wing has never failed to hit the 20 goal mark.
Neal also wouldn't be that cheap of an option for Dallas. He's coming off a $5-million-per-season contract and might be getting a raise if teams get into a bidding war on the talented goal scorer.
Michael Grabner
Grabner was a hot commodity during the trade deadline back in February and was ultimately brought in by the New Jersey Devils to aid in their playoff run. After only scoring two goals and five points in 21 games with the Devils, it appears they will let the 30-year-old winger walk.
Grabner matches the speed game that Dallas is gunning for, and he might quickly become the fastest player on the team should the Stars sign him. He's also a very talented goal scorer. Before leaving the Rangers in the trade that sent him to the Devils, Grabner tallied 25 goals in 59 games. The season before that, he managed 27 goals and 40 points in 76 games.
Grabner can slot up in the left or right wing position for the Stars and would bring a lot of versatility to the lineup, in addition to his obvious offensive abilities. Coming off a cap hit of $3.3 million, he also presents himself as a much cheaper option than some of the aforementioned names and would add a lot of value to the lineup without breaking the bank.