The John Tavares watch is on.
When the clock strikes 12:00 ET on Jul. 1, the eyes and ears of the hockey world will be trained strictly upon Tavares and his future. As the top UFA available in 2018, Tavares boasts the track-record necessary to command a long-term deal alongside a massive increase in annual salary.
However, it is worth remembering that there is a bevy of immensely talented UFAs other than Tavares who also stand poised to sign new contracts come Jul. 1. Leading this secondary group of UFAs in this year's class are James van Riemsdyk, Paul Stastny, and Mike Green — three players of varying experience and position who have more than earned the right to pursue gleaming new contracts this offseason.
Outside of this lot, a number of equally talented players and goaltenders find themselves mired in a search for new and hopefully permanent homes. Although the vast majority of players available this offseason are best suited for crucial depth their roles, their importance to overall team success cannot be understated.
With this being said, it's time to rank the top-15 UFAs available in the offseason of 2018 based on their personal skill, asset value, and overall power to influence the success of any given team.
1. John Tavares
Age: 27  | Position: Centre
2017-18 Statistics: 82 GP: 37 G, 84 Pts
2017-18 Cap Hit: $5.5 Million
Players such as John Tavares don't hit the free agent market often, making elite skaters such as himself an incredibly sought-after commodity for each and every NHL franchise.
While the vast majority of league organizations will not be able to offer a contract to the Canadian superstar given their respective financial situations, a number of other teams can and will have to pay dearly to do so. As a legitimate first line centre, Tavares brings both skill and compete to the rink on a nightly basis. What's more is that the native of Mississauga, Ontario is wildly consistent — a facet of his game which will allow Tavares to command a long-term contract with an annual salary well over the $10 million-dollar mark.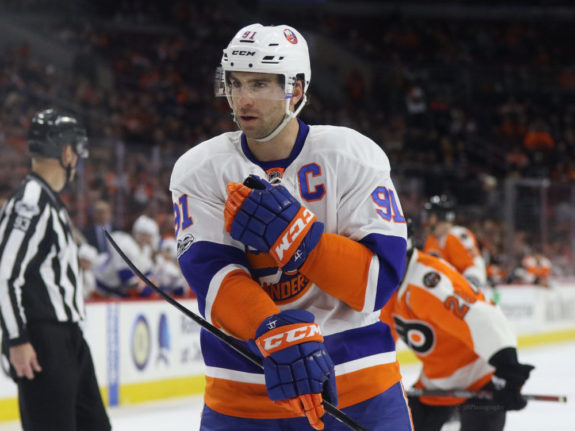 In the days leading up to Jul. 1, Tavares had narrowed his list of potential suitors to six. Despite a wealth of interest from all of those involved, no favourite had emerged in arguably the most significant UFA sweepstakes since Steven Stamkos hit the open market back in 2016. At the end of the day, the organization which lands Tavares will have secured a crucial pillar and one capable of single-handedly leading his team to the postseason.
2. James van Riemsdyk
Age: 29 | Position: Left-Wing
2017-18 Statistics: 81 GP: 36 G, 54 Pts
2017-18 Cap Hit: $4.25 Million
Players gifted with size, strength, and precise skill do not come around very often. Fortunately for James van Riemsdyk, he stands poised to cash in on a well-earned and lucrative new contract owing to his unique and highly sought after abilities.
Standing 6-foot-3 and 210-pounds, van Riemsdyk is an intimidating force who knows how to use his size to his advantage. Capable of meandering through opposing defenders before parking himself in front of the net, van Riemsdyk can deflect pucks with ease and is a puck-hound who regularly cashes in on rebounds. Further, van Riemsdyk can protect the puck incredibly well, as his wide stance allows him to command critical puck possession for his team.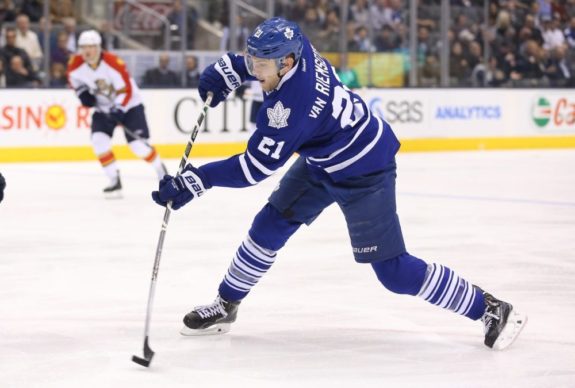 Over the past five seasons, van Riemsdyk has scored at a 30.5 goals per season pace. However, he has done so in just 17:43 of ice time per game played — a somewhat meagre amount for a player of van Riemdsyk's skill set and stature. Notching 1.26 goals per 60 minutes since 2013-14, van Riemsdyk has long proven himself as a potent offensive force capable of producing in crucial situations.
Now, it is time for him to be paid like the elite offensive player he is.
3. Paul Stastny
Age: 32 | Position: Centre
2017-18 Statistics: 82 GP: 16 G, 53 Pts
2017-18 Cap Hit: $7 Million
Following four seasons of play with the St. Louis Blues, Paul Stastny was traded to the Winnipeg Jets ahead of their highly anticipated playoff run. And, instead of struggling to adjust to a new team and playing style, Stastny excelled.
In his 19 regular season games played for the Jets to end the 2017-18 campaign, Stastny recorded a respectable four goals and 13 points. However, when the stakes were raised, Stastny contributed six goals and 15 points in 17 playoff contests — a level of production which cemented Stastny's role within an incredibly deep and potent Winnipeg roster.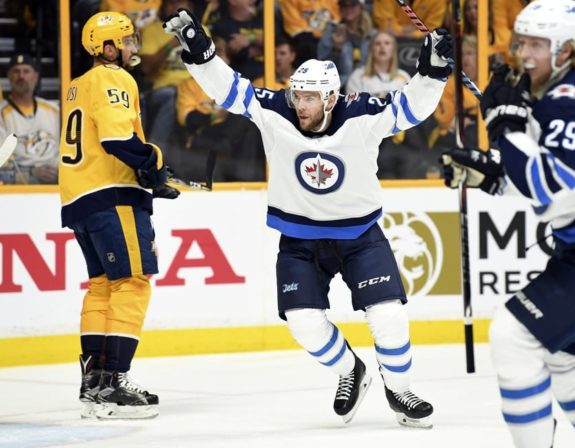 Although his $7 million cap hit may have been high in recent years considering his offensive output, the fact remains that Stastny is one of the NHL's best two-way centres and one capable of performing at a high-level regardless of the situation. While he may not earn a long-term deal in his next contract, an agreement in the range of three-to-four years alongside a $5+ million salary will surely not be out of the question.
With each and every NHL organization mired in an enduring search for depth at the centre position, it goes without saying that there will be a great deal of interest in Stastny and his services.
4. Mike Green
Age: 32 | Position: Defence
2017-18 Statistics: 66 GP: 8 G, 33 Pts
2017-18 Cap Hit: $6 Million
Despite drawing a wealth of interest at the trade deadline, Mike Green maintained his standing in Michigan to conclude his contract.
Long one of the NHL's most versatile and potent defenceman, Green's innate offensive abilities have, and will continue, to draw franchises in search of a proven and reliable power play quarterback. With close to 500 points in his NHL career, Green's ability to lead the rush while providing a punch from the blue line has long established the native of Calgary, Alberta as a premier two-way defender in today's game.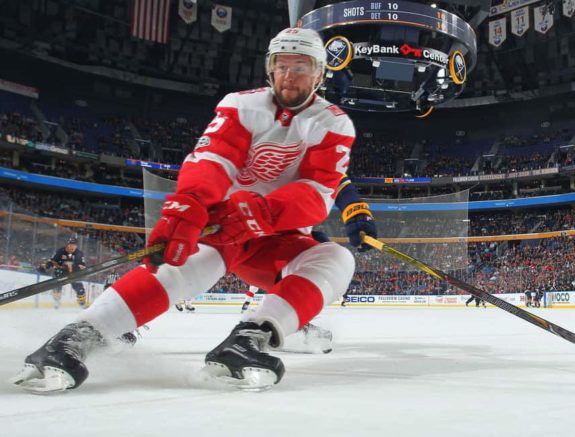 In 2017-18, Green was as dependable as ever. Despite skating in just 66 regular season contests, Green averaged 22:o4 of ice time per game. Further, Green notched six goals and 33 points in those games played, affording the veteran with half a point per game seasons in two consecutive campaigns. Now, although he will surely have to settle for a slight decrease in pay next season, Green remains a highly attractive option and one who could help usher a fringe competitor deep into the postseason.
Due to persistent injury troubles over the years, look for Green to lockdown a three-year contract with an average annual salary in the range of $4-5 million.
5. David Perron
Age: 30 | Position: Right/Left-Wing
2017-18 Statistics: 70 GP: 16G, 66 Pts
2017-18 Cap Hit: $3.75 Million
David Perron enjoyed a career season with the Vegas Golden Knights in 2017-18, and one which should allow the native of Sherbrooke, Quebec to ink a long-term contract with a franchise of his choosing.
Although he found himself as a healthy scratch at times during the Golden Knights' tremendous Stanley Cup run, Perron's whopping 66 points during the regular season achieved multiple feats. Firstly, Perron's incredible offensive output set a new personal career-high — besting the 57 points he produced for the Edmonton Oilers in 2013-14. Secondly, Perron's electrifying play this past season may have finally established the veteran as a consistent and dependable player at the NHL-level.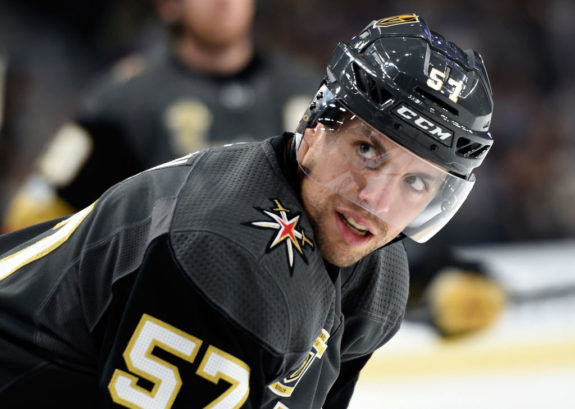 With this being said, Perron's impending free agency could lead to a lucrative long-term contract. Now, while a deal in the five-to-six year range is likely out of the question, a contract of three-to-four years with a cap hit north of $4 million would surely be fair for a player of Perron's capabilities.
6. Joe Thornton
Age: 38 | Position: Centre
2017-18 Statistics: 47 GP: 13 G, 36 Pts
2017-18 Cap Hit: $8 Million
Joe Thornton is the train that keeps on chugging — even when low on fuel and with damaged parts.
Now 38-years-old, Thornton has battled through a number of significant knee injuries in the last few seasons — setbacks which have raised major questions regarding his long-term durability. However, if able to overcome these health scares and remain in peak condition, Thornton could prove to be a valuable centre capable of playing second line minutes on a nightly basis.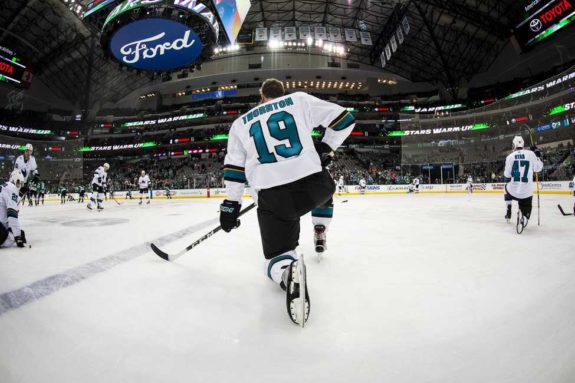 Despite edging towards the twilight of his career, Thornton has continued to prove himself as an offensive catalyst capable of supplementing his team's attack. In fact, Thornton is only two seasons removed from an impressive 82-point campaign and has recorded 86 points across his last 126 regular season contests. Although he surely won't be able to command an $8 million salary heading into 2018-19, Thornton could surely seek and land a deal in the $5-7 million range.
If able to stay healthy, Thornton could prove to be a valuable centre capable of legitimizing a Stanley Cup contender.
7. James Neal
Age: 30 | Position: Right/Left-Wing
2017-18 Statistics: 71 GP: 25 G, 44 Pts
2017-18 Cap Hit: $5 Million
If you're looking for consistency, look no further than James Neal.
In each of his past ten NHL seasons, Neal has scored greater than 20 goals. What's more is that the native of Whitby, Ontario enjoyed a 40-goal campaign with the Pittsburgh Penguins in 2011-12 — a glaring indication of his abilities and lethality at the NHL-level. Boasting immense size, solid skating, and a deceptive shot, Neal has the ability to beat goaltenders clean and will also battle for loose pucks.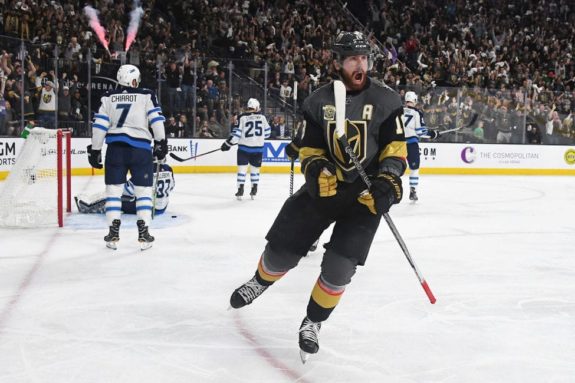 It is this consistency and versatility which should allow Neal to garner a glimmering deal this offseason. Having recently concluded a six-year contract with an annual cap hit of $5 million per season, it goes without saying that Neal will be looking for a raise. Realistically, a yearly salary in the neighbourhood of $6 million would reflect Neal's on-ice capabilities well. However, given injury troubles in the not-so-distant past, a long-term deal could be much more difficult for Neal to steal.
8. Tyler Bozak
Age: 32 | Position: Center
2017-18 Statistics: 81 GP: 11 G, 43 Pts
2017-18 Cap Hit: $4.2 Million
It's hard to believe that Tyler Bozak has been a member of the Toronto Maple Leafs for close to a decade. However, that run could be coming to an end for the Regina, Saskatchewan native, who could struggle to come to terms with the Leafs given the franchise's financial restrictions.
Throughout his 594 career games played in Toronto, Bozak has provided the Leafs with crucial depth productivity and ability down the middle of the ice. Competent and consistent in the face-off circle and capable of playing on both the power play and penalty kill, Bozak's versatility has served Toronto well throughout the past nine NHL seasons.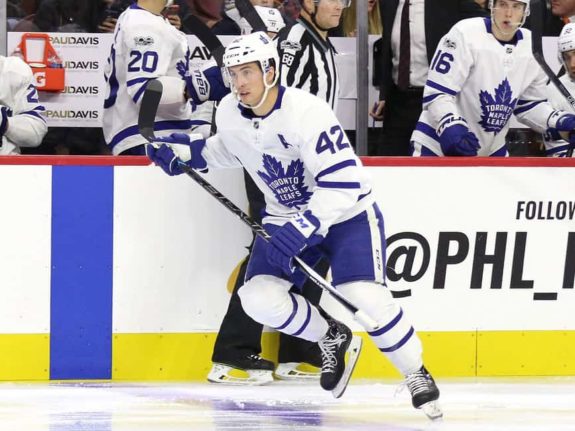 However, with the Leafs set to sign all of Auston Matthews, Mitch Marner, and William Nylander in the near future, it could prove to be extremely difficult for Toronto to offer Bozak a contract reflective of his innate on-ice abilities. Having recently concluded a five-year deal with an annual cap hit of $4.2 million, Bozak will surely be looking to attain a well-deserved pay raise. However, whether or not the Leafs will be able to meet his demands remains uncertain.
Whichever the case may be, the fact remains that Bozak is a solid and dependable top-nine forward at the NHL-level and one deserving of a contract which accurately reflects his abilities.
9. Tomas Vanek
Age: 34 | Position: Right/Left-Wing
2017-18 Statistics: 80 GP: 24 G, 56 Pts
2017-18 Cap Hit: $2 Million
Tomas Vanek is the most underrated and under-appreciated UFA available in the class of 2018.
In each of his past two NHL seasons, Vanek has skated on a one-year contract with an annual salary under $3 million per season. Despite his meagre pay, Vanek managed to record an impressive 48 points in 2016-17 followed by another 56 points this past campaign. For those of you doing the math at home, that amounts to a personal point per game pace of 0.70 over the past two seasons — a level of production greater than the likes of Corey Perry, Evander Kane, and Matt Duchene during that stretch of time.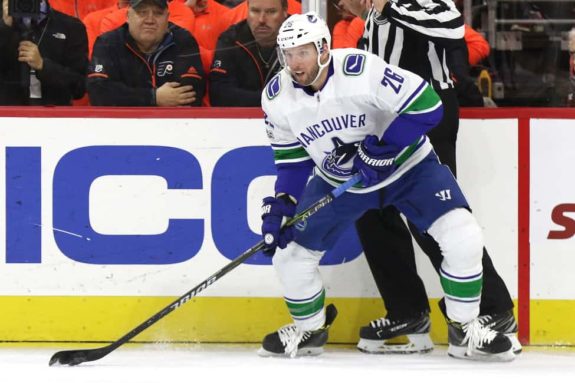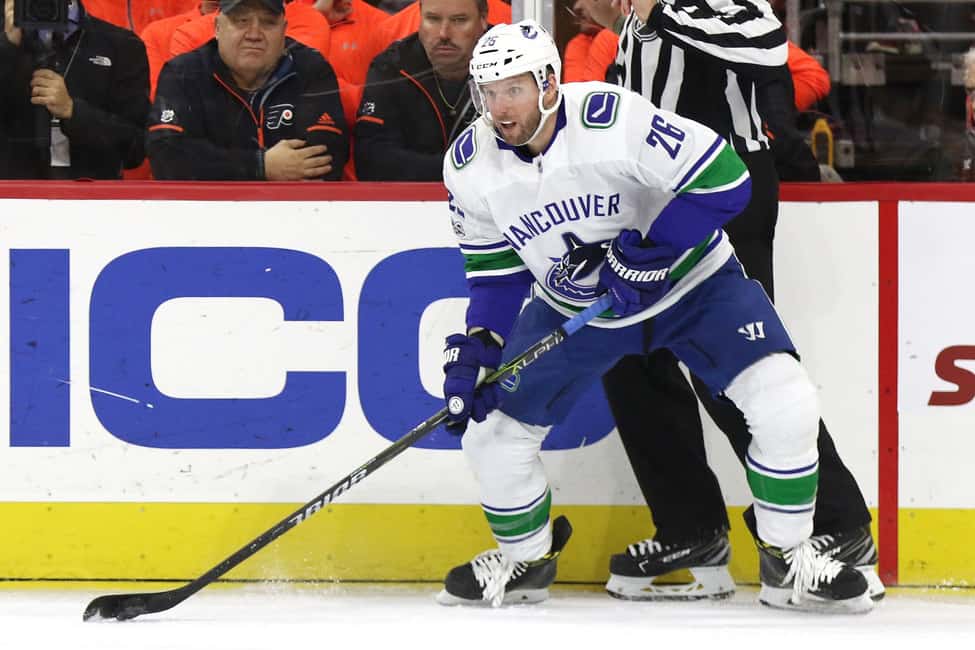 So, does Vanek deserve a multi-year deal which carries a significant pay raise? Absolutely.
At 34-years-old, various NHL organizations may prove to be hesitant to sign Vanek to a long-term deal, and understandably so. However, given Vanek's consistent level of offensive production and relatively sound health throughout his career, inking the native of Vienna, Austria to a multi-year deal in the range of $3-4 million per season would appear to be a no-brainer. If an NHL franchise is willing to overlook Vanek's age and his defensive deficiencies, the veteran would surely be a strong depth addition to an emerging contender.
10. Patrick Maroon
Age: 30 | Position: Left-Wing
2017-18 Statistics: 74 GP: 17 G, 43 Pts
2017-18 Cap Hit: $2 Million
Although he has expressed interest in returning to the Oilers, Patrick Maroon's hard-nosed style of play could see him land a valuable multi-year contract with one of a number of NHL organizations.
Standing 6-foot-3 and 230-pounds, Maroon is an intimidating power forward who uses his size well and loves to play a physical brand of hockey. What's more is that in addition to his workhorse mentality, Maroon also happens to be a relatively consistent offensive player capable of recording lofty point totals. Although he doesn't boast blazing speed, Maroon owns soft hands, great vision and excellent on-ice awareness which allows him to work extremely well with his teammates.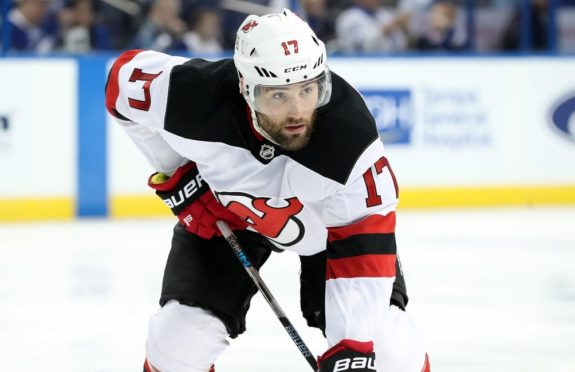 It was during the 2016-17 season when Maroon began to establish himself as an everyday NHL player, as the native of St. Louis, Missouri potted 27 goals and 42 points with Edmonton. Most recently in 2017-18, Maroon achieved a new career-high in points with 43 while also adding 17 goals. As a UFA, Maroon will surely field a number of calls from organizations interested in his services. Although his past two seasons are a small sample size, Maroon could prove to be a steal if inked to a multi-year deal worth roughly $3 million.
11. Rick Nash
Age: 34 | Position: Right/Left-Wing
2017-18 Statistics: 71 GP: 21 G, 34 Pts
2017-18 Cap Hit: $7.8 Million
Rick Nash was one of the greatest power-forward's of his generation.
Selected by the Columbus Blue Jackets first overall in the 2002 NHL Draft, Nash's towering and strong yet lanky frame has long allowed him to dominate his opposition. Boasting size, speed, skill, and drive, the complete game which Nash brings to the table has led to more than 800 career points in well over 1000 regular season games played.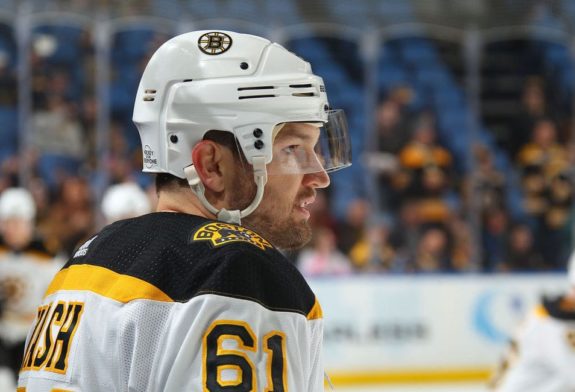 Unfortunately, age is catching up with Nash, as the native of Brampton, Ontario has seemingly lost a step and is no longer the consistent threat which he once was. Yet, with this being said, Nash is still an incredibly talented player and a game-changing one at that. Although the 34 points which Nash recorded last season was the lowest total of his illustrious 14-year career, Nash's value remained strong as a bevy of teams battled to acquire him ahead of the annual trade deadline.
No, he isn't a $7.8 million player anymore. However, Nash could be an excellent pick up on a multi-year deal in the $4-5 million range. Although he has slowed and retirement is an increasingly attractive option, I don't believe that Nash is done just yet.
12. Dan Hamhuis
Age: 35 | Position: Defence
2017-18 Statistics: 80 GP: 3 G, 24 Pts
2017-18 Cap Hit: $3.75 Million
Dan Hamhuis is — arguably — the second best UFA defenceman available in the offseason of 2018.
Yes, he is now 35-years-old. However, Hamhuis remains more than capable of playing a strong two-way game, as the native Smithers, British Columbia is an excellent transitional player capable of logging major minutes. In fact, Hamhuis averaged 20:13 of ice time per game during the 2017-18 season — 2:40 of which coming on the penalty kill.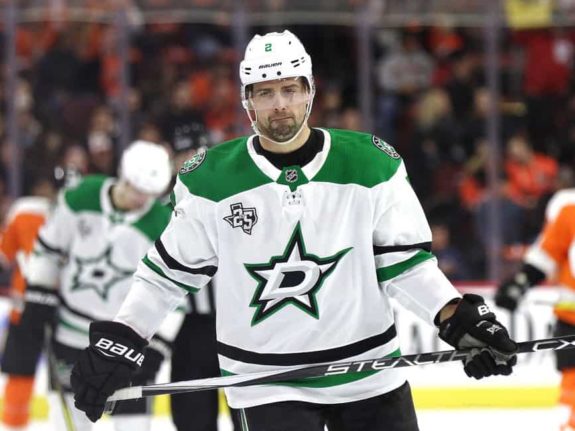 Exceptionally healthy throughout his past two seasons of play with the Dallas Stars, Hamhuis' durability should be of little concern to prospective NHL franchises despite his age. Fresh off of a two-year contract with the Stars worth $3.75 million annually, it goes without saying that Hamhuis could fetch a similar total in his next deal. Although his offensive totals aren't what they once were, Hamhuis remains a strong and sturdy defenceman capable of playing a major role on any given team's blue line.
13. Robin Lehner
Age: 26 | Position: Goalie
2017-18 Statistics: 53 GP: 3.01 GAA, .908 SVP, 14 W
2017-18 Cap Hit: $4 Million
Although he was slated to become an RFA at the conclusion of his latest contract, Robin Lehner morphed into a UFA when the Buffalo Sabres refused to extend the goaltender a qualifying offer.
Set to sign with his third NHL franchise following stints with both the Ottawa Senators and Sabres in years passed, Lehner will be looking for a sense of stability and purpose in his new home. Surely capable of becoming a reliable starting goaltender at the NHL-level owing to his incredible skill set and raw athleticism, Lehner must reign in his intense demeanour if he wishes to attain meaningful team success.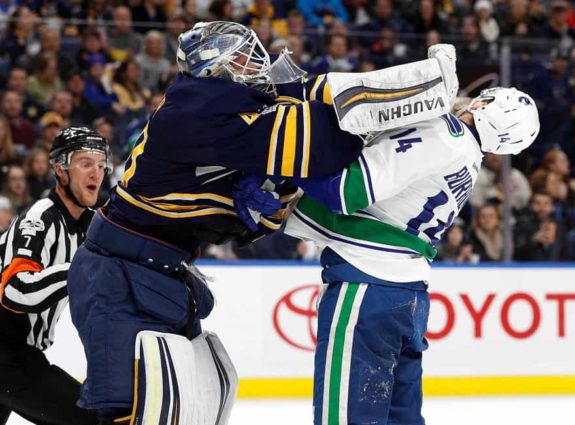 In his most recent contract, Lehner earned $4 million on a one-year deal in Buffalo. Although his personal statistics were inflated last season, it is extremely important to remember that Lehner posted a sparkling .920 SVP two years ago during what was yet another dismal season for the Sabres. Immensely talented yet in a desperate search for consistency, Lehner could prove to be a good fit for a team such as the Detroit Red Wings or New York Islanders — two teams in search of a legitimate starting netminder.
Although a long-term deal is likely out of the question for Lehner at the moment, exceptional play in the coming years could see the Göteborg, Sweden native secure the type of contract he is capable of demanding.
14. Riley Nash
Age: 29 | Position: Centre, Right-Wing
2017-18 Statistics: 76 GP: 15 G, 41 Pts
2017-18 Cap Hit: $900K
Following a disappointing first season with the Boston Bruins in 2016-17, Riley Nash bounced back in a major way by recording a new career-high in points this past campaign with 41.
In addition to his upgraded offensive play, Nash also handled greater responsibilities in Boston with relative ease. Not only did the native of Consort, Alberta endure a spike in his average ice time but Nash enjoyed playing a greater role on the penalty kill — in fact, his 1:54 of playing time while shorthanded per game led all Bruins forwards.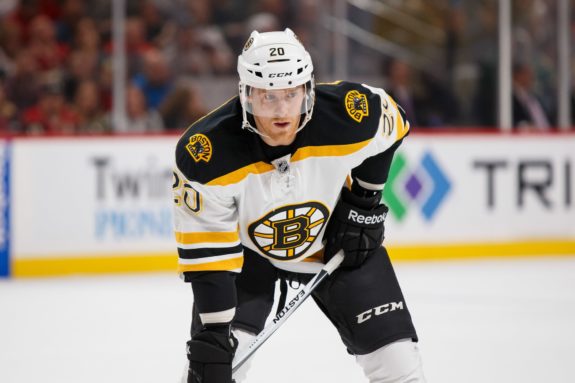 This proven versatility and reliability will undoubtedly bode well for Nash as he enters the offseason as a UFA for the third time in his brief NHL career to date. As a legitimate third-line centre at the NHL-level, there will surely be a wealth of franchises interested in securing Nash's services. In terms of his next contract, Nash will likely be looking at a two-to-three year deal with an annual salary in the $1-2 million range.
If able to consistently produce upwards of 40 points per season, Nash could be eyeballing a major raise when his upcoming contract comes to a close. For the time being, however, an opportunity to establish himself as a lethal offensive NHL player should be Nash's main priority.
15. Carter Hutton
Age: 32 | Position: Goalie
2017-18 Statistics: 32 GP: 2.09 GAA, .931 SVP, 17 W
2017-18 Cap Hit: $1.1 Million
Carter Hutton enjoyed — without question — his best season in the NHL in 2017-18, and one which should unquestionably land him a job as a starting goaltender this coming season.
Throughout his five-year NHL career, Hutton has battled tirelessly to claim a starting role in the league. Following three strong seasons with the Nashville Predators spent backing-up Pekka Rinne, Hutton signed with the St. Louis Blues to begin the 2016-17 campaign and has remained dominant. In his past two seasons of play with the Blues, Hutton posted an incredible 30 wins in just 47 starts alongside an impeccable 2.23 GAA and sparkling .923 SVP.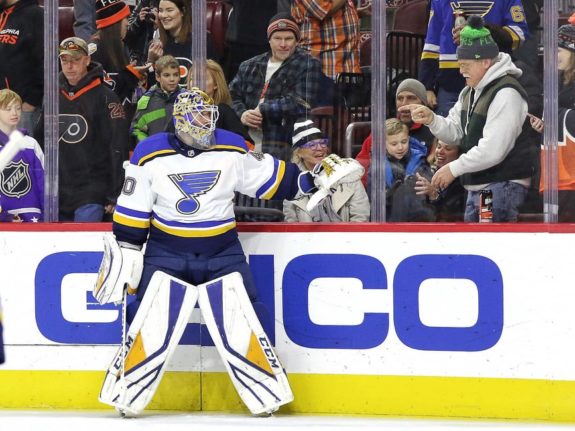 Now, with a number of NHL franchises in a desperate search for a legitimate starting goaltender, Hutton stands as one of the most promising options within the 2018 UFA market. Although he is slightly older than most at 32-years-old, Hutton has remained remarkably healthy and could establish himself as a starting goaltender if afforded the opportunity to do so.
In terms of a potential contract, it is safe to say that Hutton deserves a substantial raise. In his last deal with the Blues, Hutton earned $1.125 million annually across two seasons of play. If pegged to be a starting goaltender next season, a prospective organization would surely have to offer the native of Thunder Bay, Ontario a multi-year contract with a salary in the range of $2-4 million per season.