David Perron, welcome to the Vegas Golden Knights.
Fans of the newest NHL franchise are likely going to seek out names that they are familiar with as their loyalty grows for the league's 31st team. Perron isn't the most recognizable name on the roster, but he's on the short list.
He's bounced around the league considerably, so it's entirely possible he played for your ex-favorite team at one time or another. Either way, he'll play an important role in the Knights' first season, so you're better off knowing a thing or two about him.
So learn something, because we're running out of time. Five weeks from now the Golden Knights are in Vancouver for preseason play. Our rundown of the inaugural Vegas roster rolls on. Here's the path Perron traveled that now includes a stop in southern Nevada.
How Did Perron Get Here?
Perron was an expansion draft pickup of the Golden Knights and one where Vegas elected to go with a veteran presence to add to its inaugural roster.
Indeed, the Golden Knights' selection from the St. Louis Blues has been in the league for nearly a decade with plenty of stops along the way. St. Louis drafted Perron with the 26th overall pick in the 2007 NHL Draft. That season, at 19 years old, he'd appear in 62 games for the Blues, racking up 13 goals and 14 assists. He'd get better from there.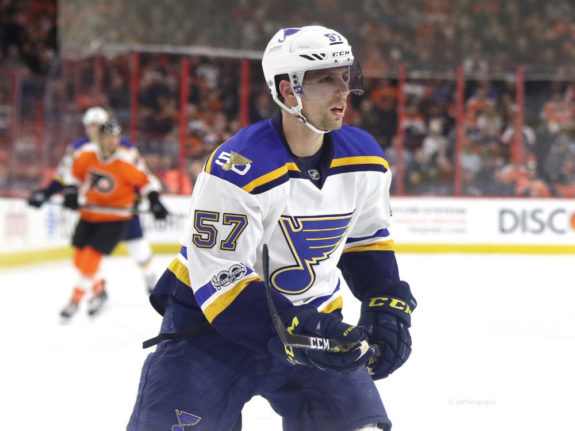 Good, never great. Two years later he filled the stat sheet to the tune of 20 goals and 27 assists. That effort was good enough to earn a two-year, $4.3 million extension with the Blues. The next season, he was limited to 10 games due to injury. He'd play in 57 games the following year, and a full slate the season after. His next contract with St. Louis was a four-year, $15 million deal in 2012.
The next summer, he was traded to Edmonton. That kicked off a wild ride that involved stops with four teams in three years. After a productive 116 games with the Oilers, he was jettisoned to Pittsburgh in 2015 for Rob Klinkhammer and a first-round pick.
Perron was with the Penguins for parts of two seasons. The first one was good, the second one was not so good. This time the destination was Anaheim. Perron and Adam Clendening were sent to the Ducks in exchange for forward Carl Hagelin.
Finally, Perron became a free agent last summer. He'd take that opportunity to revisit where his career began. Last season with the Blues, Perron appeared in every game, logging 18 goals and 28 assists. It was a career rejuvenation of sorts. Those numbers were his best since his time with the Oilers.
That wasn't enough to earn a spot on the St. Louis protected list. Now he's a Golden Knight.
Where Does Perron Fit In?
But the opportunities in Vegas, they are bountiful.
Top-six minutes are a certainty, while top-line work is entirely possible. With promising play maker Vadim Shipachev likely centering the top line, those lucky enough to play on either side of him should see plenty of scoring chances.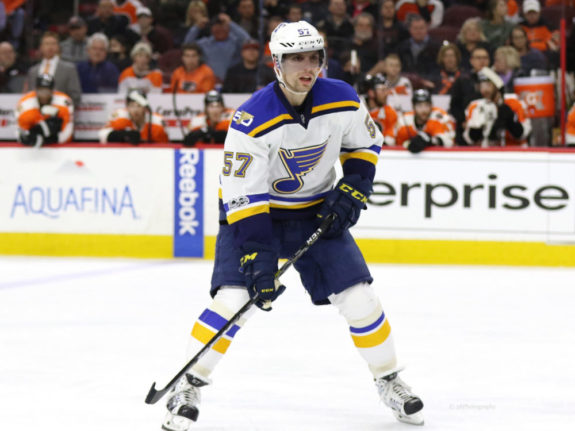 Perron will have competition from both established NHLers and George McPhee picks loaded with potential. James Neal put together impressive numbers in Nashville before joining the Golden Knights, while Vegas is betting on Jonathan Marchessault to turn into the player Florida always hoped he would.
But it may be Perron who ends up with the most impressive numbers in season one. He's a versatile talent, capable of playing on either side. His size is enviable comparable to Marchessault, and his skills on the power play are certain to weigh heavily on head coach Gerard Gallant's decision-making.
It must be said that similar to many of the veteran names on the Vegas roster, Perron may not be with the Golden Knights beyond this season. This is the final year of his deal, and it is widely agreed upon that the Knights will build for future success in the NHL Entry Draft.
We'll hit the trade deadline before that, though. If Vegas is well out of contention when that time comes, they'll look to move some of their older assets for future draft picks. It strikes me that Perron may fit that bill. That's not the worst thing in the world for the Knights, and prepare accordingly because you're going to hear that a lot. On top of everything else he brings, Perron has demonstrated throughout his career he knows how to acclimate to a new locker room. Let's not get ahead of ourselves, though. He's a great player to have on a first-year club.
But maybe don't buy his jersey just yet.