After the National Hockey League's seventh-best regular-season team crashed out of the playoffs in spectacular fashion, one thing is clear: the Toronto Maple Leafs desperately need to upgrade their defense corps. With the draft and free agency less than two months away, now's the time to start thinking about who might fill those roles.
Morgan Rielly really came into his own as the 2017-18 season progressed, proving thoroughly capable as a number-one defenseman. However, the rest of the Maple Leafs' blue line was beset by misfortune, with the likes of Jake Gardiner, Nikita Zaitsev and Ron Hainsey all having worryingly inconsistent campaigns, and the bottom pairing a rotating cast of constant concern.
Thus, if the Maple Leafs are serious about contending, they'll need to bolster their back end with some solid depth defensemen. It's also imperative these rearguards come at reasonable prices, given the looming need to re-sign their offensive stars, along with brilliant puck-mover Gardiner.
Assuming new general manager Kyle Dubas also realises said needs, here are five unrestricted-free-agent defensemen the Maple Leafs should consider.
Maple Leafs Need Solid Singles, Not Home Runs
As with my article on UFA depth forwards the Maple Leafs should look at signing, there are some criteria for this analysis:
Maple Leafs Unlikely to Land Big Fish
With all three still without contracts for the 2019-20 campaign, the likes of Drew Doughty, Erik Karlsson and Oliver Ekman-Larsson are, no doubt, top of mind. After a tremendous season featuring career-highs in goals and points, John Carlson has to be up there, too – with the added benefit of him being available this summer, rather than next.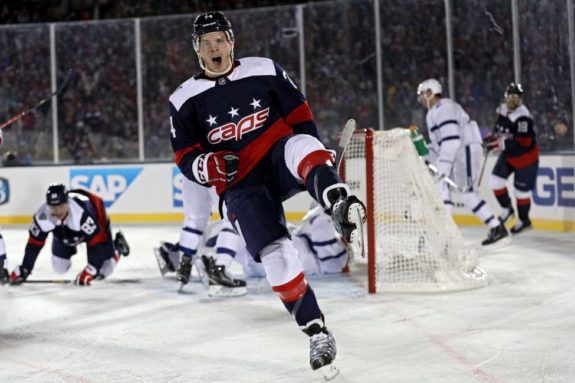 However, with significant cash having to be committed to their young stars up front, not to mention the best practice of leaving oneself some flexibility under the salary cap, the Leafs would be hard-pressed to make any of these elite rearguards work – especially considering they're unlikely to give any discounts for their services.
Plus, until these fantastic defensemen actually hit the market, the balance of probabilities suggests they'll remain with their current squads, so any talk of signing them next summer is all academic – for now (yes, there's also the possibility of a sign and trade, but that's a different topic for a different article).
Maple Leafs' Defensive Prospects Still Developing
Travis Dermott was called up from the American Hockey League's Toronto Marlies midway through the regular season and, generally speaking, didn't look altogether out of place. Andreas Borgman and Calle Rosen also played with the big club this past year, as did Justin Holl – who potted two goals in two games. Andrew Nielsen certainly looks promising, and Timothy Liljegren should only get better. And then there's Connor Carrick, a restricted free agent, who has shown in some stretches (though, admittedly, not in others) he can be a serviceable contributor on the Leafs' back end.
All this isn't even mentioning Igor Ozhiganov, who the Maple Leafs recruited from the Kontinental Hockey League, and who may (or may not) come to North America in time for next season.
However, as much as the Maple Leafs might be in love with their internal talent, it wouldn't be prudent for them to put all their eggs into their own basket, so to speak. Simply put, there are no guarantees when it comes to prospects. Should they try to improve their defense solely from within, the Maple Leafs risk not only scuttling one or more seasons, but also disrupting players' development, something they've done slowly and methodically, to great success, in recent years.
Sure, one or more Toronto prospects could successfully make the jump to the NHL next season, and all this concern and consternation might be for not. However, the Maple Leafs would be wise not to rely on such an eventuality, and instead look for some depth in free agency.
Maple Leafs Need Versatile Depth on Defense
The Maple Leafs' penalty kill ranked 11th during the regular season, at 81.4 percent. That's not bad at all, but the heavy load placed on defenders Hainsey, Zaitsev and Roman Polak – who's a UFA this summer, clearly depleted their energy as the season wore on. Lightening the load on Hainsey should be of particular concern, given the 37-year-old was often left out there for the entirety of a kill.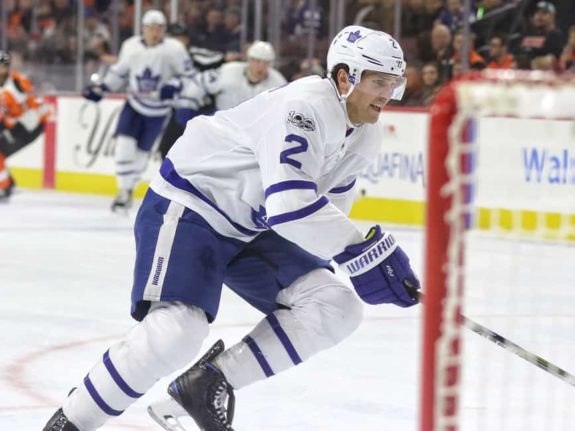 Thus, along with improvements in defending at even strength, any UFA signings addressing the Maple Leafs' blue line should also be made with consideration towards penalty killing.
Another preferred qualification would be right-handedness; the Maple Leafs are weakest on the right side, and head coach Mike Babcock likes his defense pairings to feature one left shot and one right.
Five UFA Defensemen for Maple Leafs
So, with all this having been said, who'll be on the market come free agency?
Calvin de Haan
After Carlson, de Haan will be the belle of the ball in free agency when it comes to defensemen. De Haan made $3.3 million against the cap this season for the New York Islanders and, deserving or not, will probably be offered some sort of raise. How much is anyone's guess.
That said, though not anemic, de Haan hasn't proven to be a major offensive threat. Plus, he's coming off major shoulder surgery, so perhaps there might be a fit with the Maple Leafs after all, should said factors keep his price steady. If Toronto can get a deal done before Carlson's new contract inevitably drives up the price of defensemen, they might be able to lock in a reasonable 27-year-old blue-liner for a reasonable term at a reasonable price.
Calvin de Haan says he finally feels "human" again after Jan. 18 surgery to repair a dislocated left shoulder. Said docs did everything, full-service surgery, including putting in new bone.

— Andrew Gross (@AGrossNewsday) April 9, 2018
De Haan played 2:22 per game on the penalty kill and 18:45 in total, third and fourth on the Islanders, respectively. For a guy that can do a little bit of everything, the Maple Leafs would do well to give de Haan a long look.
Dan Hamhuis
Hamhuis' 20:11 of ice time per game ranked third amongst defensemen on the Dallas Stars, a team which, surprisingly, finished with the seventh-fewest goals against in the league. Hamhuis also ranked first on his team in shorthanded time on ice, averaging 2:40 per contest.
Though not an offensive juggernaut, Hamhuis is, nevertheless, a very capable defenseman who played under Babcock for Canada at the 2014 Winter Olympics in Sochi.
Hamhuis made $3.75 million against the cap in 2017-18 and, at 35 years old, shouldn't be able to command anywhere close to that this summer. The Maple Leafs could do much worse than Hamhuis as a veteran stopgap to settle down their defense and buy them some time to develop their prospects.
Greg Pateryn
The lone right-handed shot on this list, Pateryn was actually a fifth-round pick of the Maple Leafs back in 2008 before being included in the trade with the Montréal Canadiens that sent Mikhail Grabovski to Toronto.
Pateryn played a career-high 73 games in 2017-18, averaging nearly 20 minutes per night on the aforementioned surprisingly defensive Stars – including 2:35 per outing on the penalty kill.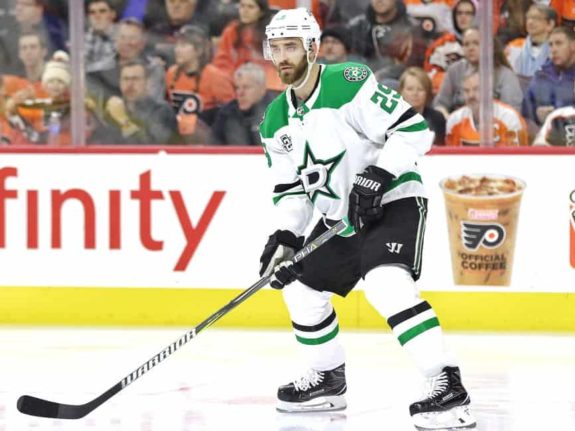 Given the role he played in Dallas, Pateryn is probably due a raise on the $800,000 against the cap he made this past year. That said, with only one goal and 13 points in 2017-18, combined with his comparative lack of NHL résumé, said raise should not be so high the Maple Leafs couldn't make it work.
Ian Cole
Cole was linked to literally everyone – including the Maple Leafs – earlier this season and, since no one likes a Ross-and-Rachel situation, why not make it happen?
Cole averaged the least ice time on this list (18:08 per night), but he's shown the ability to play long, hard minutes when called upon, having won Stanley Cups with the Pittsburgh Penguins in 2016 and 2017, the latter coming without stalwart rearguard Kris Letang.
Cole made $2.1 million against the cap this year, but his pedigree might net him more on the open market. The Maple Leafs shouldn't go all in, but, at the right price, he's at least worth a look.
John Moore
Moore was a staple of the New Jersey Devils' defense corps in 2017-18, playing over 20 minutes per night – including 1:49 on the penalty kill.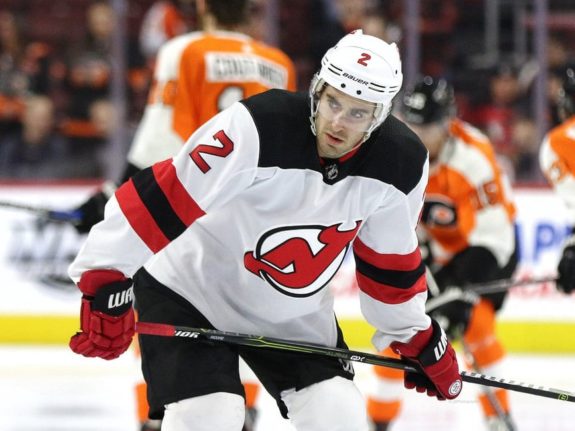 Mediocre possession numbers might be off-putting for the Maple Leafs, but it's worth noting he's spent the last three seasons with the Devils on teams that were mostly terrible; even this year, New Jersey was sketchy at the best of times, riding the magic of Taylor Hall and Keith Kinkaid to a playoff berth. Such statistics could help drive down Moore's cost, though he'll probably fetch more than the $1.67 million against the cap he made this past season.
Moore can munch minutes, and he'd be playing on a team with infinitely more talent to support him, not to mention he'd likely be playing a little further down the lineup than with the Devils.
Maple Leafs Defensive Problems on Mend
Whichever direction the Maple Leafs decide to go when it comes to patching holes on defense, there are no shortage of players worthy of a shot, both within the organisation and available in free agency.
If they play their cards right, Toronto has a real opportunity to have it all; grabbing one or two quality defensemen to vault them into contention now, while also thereby allowing their defensive prospects to properly develop, ensuring a steady stream of blue-line talent for the future.
The newly minted Dubas has some tough decisions ahead, but certainly no shortage of options.