If the 1971 NHL Amateur Draft was not one of the deepest drafts, it was certainly a very fruitful one. Fifty of the players selected went on to have NHL careers. Three became Stanley Cup champions. Fourteen players would play at least 500 regular season games, while three would eventually be inducted into the Hockey Hall of Fame.
The Philadelphia Flyers were on the verge of becoming the most dominant team of the mid-1970s NHL. Blessed with two picks in the opening round of 1971, one would have considered them to be a most privileged club. Multiple early opportunities to obtain coveted prospects could drastically and quickly improve the team's performance on the ice. The very opposite would happen. While the Flyers would have a total of eight selections in that year's draft, they missed on all of them. Five of the eight players would never play a game in the league. A sixth player – goaltender Jerome Mrazek – played all of one NHL game. And while both of their two first-rounders would play at least 100 career games each, neither would pan out as a Flyer.
In fact, neither of the two are even remembered as a Flyer. Larry Wright was the first chosen at eighth overall. He would play only 106 regular season games, and just 38 of them with Philadelphia. Pierre Plante – taken by the Flyers with the ninth pick – played just 26 games with the team.
Happy 65th b'day to former 1st rounder Pierre Plante who sniped in a Blues No. 16 long before the Golden Brett did. pic.twitter.com/lFd7CivMQp

— O-Pee-Chee Stars (@opeecheestars) May 15, 2016
Though he did not make it as a "Broad Street Bully", Plante would have a substantial NHL career. A December 1972 trade out of "The City of Brotherly Love" would be exactly what he would need to be become an eventual 30-goal scorer in the league. Plante's fleeting 26 games as a Flyer would be surpassed by the 573 more games he would play with four other teams. That being the case, Pierre Plante became what we affectionately recognize as a forgotten first-rounder.
Pierre Plante Selected by Philadelphia
Plante compiled some noteworthy junior totals with the Drummondville Rangers of the Quebec Major Junior Hockey League. With the Rangers he would put up both points and penalty minutes. In both the 1969-70 and 1970-71 QMJHL seasons, Plante finished second in team scoring for Drummondville. The 1969-70 season saw him average a goal per game and an assist per game when he scored 51 times in 51 games, and added on 51 helpers too. Two rather remarkable feats in and of themselves. While his numbers dipped a bit in 1970-71 down to 38 goals and 50 assists in 58 games, Plante demonstrated his scrappiness  by compiling 251 penalty minutes in that same span. His ability to play physical and partake in a scrap remained with him throughout his career.
Figuring that they had found a proven scorer who could also play the rough and tough style of hockey, it is really no wonder that the Flyers selected Plante as high as they did. Philadelphia general manager Keith Allen hired new coach, Fred "The Fog" Shero in 1971 to be the third head coach in team history. Together with owner Ed Snider, Allen and Shero would overhaul the team to become a winner by having a commitment to physicality and God-given talent. A player like Plante presumably fit that mold.
https://twitter.com/STLBlueshistory/status/973895267584966656
With Shero behind the bench for the first time during the 1971-72 season – Plante's rookie campaign – Philadelphia was laden with players who were tough as nails and just as ornery. Gary Dornhoefer, the giant-sized Rick Foley, Bob "Houndog" Kelly, Ed Van Impe, and the embodiment of the "Broad Street Bully" mindset, the great Bobby Clarke all suited up that year for the Flyers. Plante joined their ranks by playing in 24 games of his own that year as a 20-year-old winger.
Oddly enough, Plante was assessed the Flyers' first penalty of the 1971-72 season when he was given 2-minutes for hooking in a Oct. 9 game against the Pittsburgh Penguins. True to the toughness of the Flyers, he would also pick up a lone fighting major during his first season too. As Philadelphia was downed by the New York Rangers 5-0 at The Spectrum, Plante squared off with Rangers defenseman Dale Rolfe. It would be the first of 29 total regular season fights that he would have in his career.
In terms of his offensive production, Plante produced very little during his 24 games in the 1971-72 season. He scored just one goal during said games and had no assists. Plante's first goal was nothing to sniff at though – he beat Hall of Fame goaltender Tony Esposito during the first period of a 2-1 Flyers' win over the Blackhawks, with Barry Ashbee and Serge Bernier picking up the assists on the tally. The fact that Plante could only generate one goal in two dozen games was probably a good indicator that his time in Philadelphia would not be long-lasting.
Plante's Move to St. Louis
The 1972-73 season would be an interesting one for Plante and the Flyers, although this may not have been fully realized until a few seasons down the line. As the year began, Plante would not see any game action for the first 10 games of the season. The Flyers would eventually insert him into the lineup for a 4-2 win over the Pittsburgh Penguins on Nov. 2, in which he would have three shots on goal. He would play in the next game too as Philadelphia defeated the Buffalo Sabres 5-3 on Nov. 4 – this would be Plante's finest game as a Flyer. The winger picked up three assists during the matchup by setting up tallies from Tom Bladon and two from Rick MacLeish. Despite such a productive game, it would be the last that Plante ever played for Philadelphia.
On Dec. 14, 1972, the Flyers would trade Plante and defenseman Brent Hughes to the St. Louis Blues in exchange for defenseman Andre "Moose" Dupont and a 3rd round draft choice in the 1973 NHL Amateur Draft. "The Moose" would become a Broad Street cornerstone and helped secure two straight Stanley Cups for the Flyers. It was a match made in Heaven. Meanwhile, Plante became a cornerstone of his own for the Blues.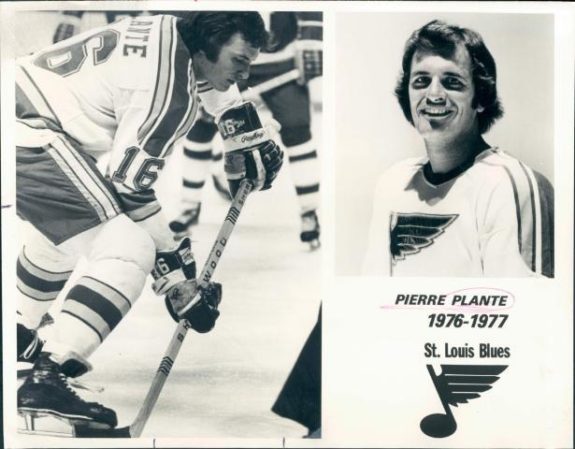 Upon arriving in St. Louis, Plante immediately began producing. After the trade he suited up for 49 games for the Blues, scoring 12 goals and 13 assists for 25 points. Playing his hard-nosed style, he also put up 56 penalty minutes. The addition of Plante helped push the Blues to a fourth place finish in the Western Conference and a playoff spot. In the postseason St. Louis would lose to the Chicago Blackhawks in five games. Plante would score a pair of goals, and let the team in playoff penalty minutes with 15 of them.
Plante's Best Years With the Blues
The best was yet to come. For the next two seasons with St. Louis, Plante's goal totals and point totals increased. He started looking like a player who was worthy of a first-round selection. Though the Blues missed the playoffs during the 1973-74 season, Plante would finish second overall in team scoring with 26 goals and 28 assists for 54 points in 78 games. He trailed only Garry Unger who led the way with 68 points (33G, 35A). Plante was just 22 years old at the time, and seemingly was poised to approach his prime.
The 1974-75 NHL season would be the finest of his career. Trailing Unger again, Plante's second place in Blues scoring saw him register 34 goals and 32 assists for 66 points in 80 games. The only hat-tricks that he would score during his career came during this same season. Plante scored three of them: during a 9-0 win over the Atlanta Flames on Nov. 2, in a 8-4 win over the New York Islanders on Dec. 17, and lastly a three-goal night against the lowly Kansas City Scouts on Mar. 3 during a 6-1 win. Four of his 34 goals came from the power play, while four were also game-winners. Plante also compiled the best shooting percentage of his career too, converting on 21.1% of his shots. Not surprisingly, he finished in 10th place in voting for right-wingers to be named an All-Star.
Though Plante would never have another NHL season of 20 or more goals again, he remained at least a consistent player for the Blues for the next two years. With seasons of 14 goals (1975-76) and 18 goals (1976-77), the Blues would make the playoffs in each of his remaining years with the team. The problem was that St. Louis needed him and expected him to be more than that. Other players came in and stepped up to the plate, which in turn pushed Plante more to the outskirts. For example, during the 1976-77 season Plante's 18 goals and 20 assists saw him finish behind Bob MacMillan, Unger, Larry Patey, Red Berenson, Claude Larose, and Chuck Lefley. Presumably, the expectation would have been that he ought to have placed within the top three, but that did not happen.
It would be hard to say that Plante was not successful with the Blues. He was. In 357 games for St. Louis he scored 104 goals and 112 assists for 216 points. Plante would have 420 penalty minutes, scored 21 power play goals, and 13 game-winners. Definitely a decent performance, particularly for the St. Louis teams of the 1970s that were mostly average.
Brief Stops With Chicago, New York and Quebec
The remaining three years of Plante's NHL career were more or less a revolving door. He became a journeyman and bounced around between more teams than the three that he ended up playing for. In August 1977 the Blues shipped Plante to the Blackhawks in exchange for defenseman Dick Redmond. Though he played in 77 games that year, he managed to score only 10 goals and 18 assists while being a minus-21, the third worst on the team. Plante's 28 points were only enough for 11th most on the team. Again, just not good enough for a such a highly selected player. The 1977-78 Blackhawks were swept in the opening round of the playoffs by the Boston Bruins, while Plante suited up for only one of the four games in the series.
In May 1978 Chicago traded Plante to the Minnesota North Stars to complete a trade that had actually taken place earlier that March. He would not be a North Star for very long, as the Detroit Red Wings claimed him on waivers in September of the same year. Plante wouldn't remain with the Red Wings long either, as the New York Rangers finally took him for keeps when they claimed him on waivers from Detroit on Oct. 2. With the whirlwind finally ending, Plante remained with the Rangers all season long.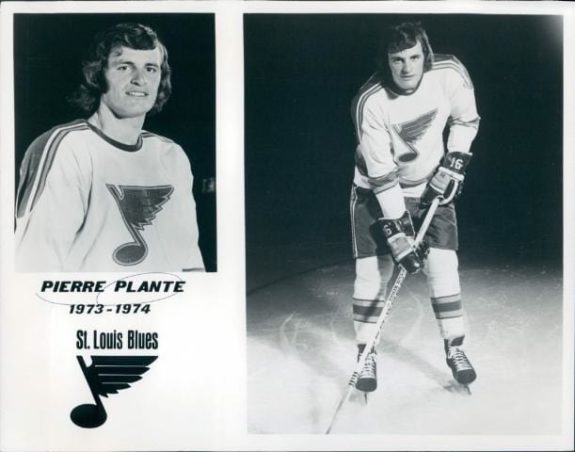 The 1978-79 season would be Plante's last real opportunity for NHL glory. On a team loaded with the likes of Phil Esposito, Anders Hedberg, Ulf Nilsson, Ron Duguay, Steve Vickers and more, the weight of scoring did not need to fall onto the shoulders of Plante. He was allowed to be more of a periphery player, who could play physical and defensive hockey first, while contributing offensively when and where he could. Plante would score six goals and 25 assists for 31 points, while finishing the year as a plus-10. More importantly, he played in all 18 Rangers' playoff games as the "Blueshirts" made it all the way to the Stanley Cup Final. Despite losing to the Montreal Canadiens four games to one, Plante was an integral member of the team's run at the Cup.
His final NHL season was the first year that the Quebec Nordiques were in the league. The Nordiques claimed Plante from the Rangers in the 1979 Expansion Draft. In 69 games for Quebec, Plante scored a mere four goals and added 14 assists. Interestingly enough, his former Flyers teammate Bernier also played for the Nordiques this first year too. This would be Plante's final year of NHL hockey.
A Longer, More Successful Career Than Others
Looking back on his career, Pierre Plante may not have measured up to the expectations of a first-rounder but he was a successful hockey player in general. Durable, tough but skillful, he likely would have found more success in today's game as a solid two-way player that chips in offensively from time to time too. During the 1970s NHL though, Plante was expected to be another Guy Lafleur, Rene Robert, Lanny McDonald, or any other elite right-wingers in the game. This may have been an unfair expectation, but it is par for the course of such a high draft selection.
For the St. Louis Blues of the 1970s, he was undoubtedly a fan favorite. These particular Blues teams were modest and were not stocked with star power. A player like Plante who could snipe a few, drops the gloves when needed, and apply a little finesse was greatly appreciated. He was also necessary, particularly when it came to bridging the gap between the success of Scotty Bowman's Blues of the late-1960s until Bernie Federko came on board as the franchise player for many years. Plante was a bright spot.
Pierre Plante never set scoring records, never won the Stanley Cup, and was never an elite talent. This is how he became forgotten. But if you look back at what he accomplished, particularly for the Blues, you will find that he is a player worth remembering and one who mattered.