Coming into the season, the New Jersey Devils were picked to finish last in the Metropolitan Division by just about everyone imaginable. Forty-four wins later, they are in the playoffs for the first time since their run to the Stanley Cup Finals in the 2011-12 season. Although the team has been a playoff spot since game one of 2017-18, things got tight in the final weeks of the season thanks to the charging Florida Panthers. 
Fortunately, the Devils played some of their best hockey over the last 12 games to solidify their spot in the standings. Here some of the key factors over that stretch that helped them break their playoff drought. 
Taylor Hall Is a Beast
Anyone who has followed the Devils this season, even on a casual basis, is likely aware of how good Taylor Hall has been. He has 93 points (39 goals, 54 assists) all of which are career-highs. Those numbers have put him at the center of the conversation for the Hart Trophy perhaps making him a favorite to win it. 
Although Hall has been a force throughout the entire season, his play over the last few weeks has been on another level and has even helped bolster his Hart Trophy case. In his last 12 games, he has 9 goals and 10 assists while averaging just under 19 minutes of ice time (TOI) per game. During that stretch, the Devils have a 9-2-1 record with victories against Golden Knights, Lightning, and Penguins amongst others.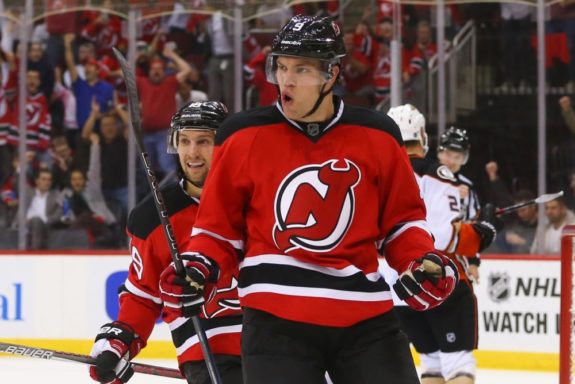 Seems like a pretty good case for MVP, as Devils coach John Hynes would tell you. "The most valuable guy should be the one that makes others around him better and makes the team better," Hynes told Abbey Mastracco of The Bergen Record. "If you maybe took that player off a certain team, what would the team look like and who would it be?"
Now with the team set for their first playoff appearance in six seasons, they have a player in Hall that they know can help carry the load. If his regular season is any indication, we could be in for a treat once the playoffs get started next week. 
Devils Power Play Firing on All Cylinders
As much as I'd love it to be, I promise this article isn't going to be entirely about Taylor Hall, but his importance on the power play can't be understated. The Devils have converted on 11 of their last 37 power play opportunities (29%). Hall has 10 points with the man advantage, seven of which are assists in that timespan. He's been the catalyst that gets the power play going with his teammates being the beneficiaries. 
One of those players making a killing from Hall's work is Kyle Palmieri. A big reason for his second-half scoring tear has been his production on the power play. Whenever Hall has the opportunity to find Palmieri for a scoring chance, he usually finds the back of the net, as evident by this goal against the Carolina Hurricanes. 
KYLE PALMIERI TIES IT WITH HIS SECOND OF THE NIGHT! pic.twitter.com/bhIMqcfHSU

— Hockey Daily 365 (@HockeyDaily365) March 28, 2018
In addition to Hall and Palmieri, the Devils have moved Will Butcher back to running the point on their first power play unit, and it's paid dividends. He's second on the team in power play points with seven in his last 12 games and is tied with Hall with three goals as he continues to perform at a crucial stretch of the season. 
While those three have added the skill, Patrick Maroon has played a big part in providing a presence in front of the net the Devils have not had in quite some time. He's used his big frame to provide screens in front of the opposition's goalie and the Devils have gotten a few goals as a result. 
Related: Butcher's Rookie Season Proves He Was a Steal
Keith Kinkaid Still Standing on His Head
With Cory Schneider continuing to struggle, Kinkaid has been tremendous and is the Devils clear-cut no. 1 goalie heading into the postseason. Since Feb. 13, he has the most wins in the league for a goaltender with 16-3-1 record. To go with that, he holds a .929 save percentage (SV%) and one shutout. His numbers are even better in this 12-game stretch where he is 9-1-1 with a .931 SV%. That includes a five-on-five SV% of .941, which is seventh best amongst goalies to play 200-plus minutes.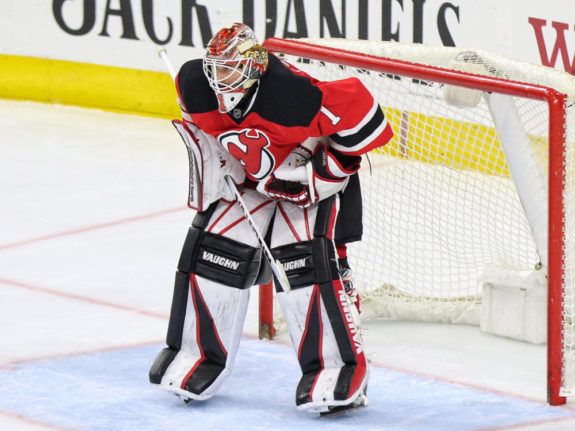 After a tough start to the season, Kinkaid has found his game and is playing arguably the best hockey of his career. He's come up with the big saves when he's needed to, especially in Thursday's 2-1 win against the Maple Leafs to help the Devils clinch a playoff berth. They will now hope he can continue his hot streak into the playoffs, especially if they face a team such as the Lightning or Penguins, both of whom have elite scoring talent.
Zajac and a Dominant Checking Line
While Taylor Hall and Kyle Palmieri have been providing the offense, Travis Zajac and his linemates Blake Coleman and Stefan Noesen have done a stellar job locking down the oppositions' top scorers. The three have only found themselves as a line consistently towards the end of the season, but their results at five-on-five are rather impressive. 
The Devils have a 51.9% Corsi (CF%) when this trio is on the ice together. They've also out-chanced their opponents 27-20 and have only given up a remarkable three high-danger chances. To top it off, they haven't allowed a goal against, which is all the more impressive since they've been hard-matched against the oppositions' top lines more often than not. 
Even though those numbers come from a pretty small sample size (70 minutes together), it's hard to argue with what they've done down the stretch. They might come down to Earth at some point, but for now, the Devils will head into the postseason with a top shutdown line that should give them the ability to limit the top line of whoever they play in the first round. 
Devils Secondary Scoring Came Through
While it may seem like Taylor Hall is the only Devil who is scoring, that isn't entirely true. At least it hasn't been to conclude the season. Much of the team's midseason struggles were due to lack of anyone scoring but Hall. However, role players such as Stefan Noesen, Miles Wood, and Blake Coleman have come up with big goals when needed.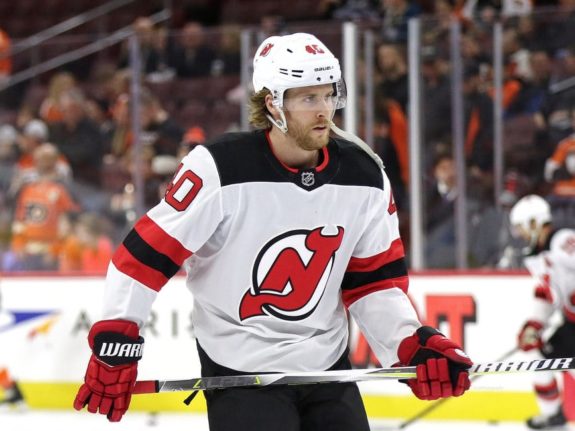 Coleman has six goals in his last 12 games while Wood scored the game-winning goal against the Maple Leafs that sealed their playoff berth. After a very slow start to the season, Travis Zajac closed out the season with six points in his final 12 games. Deadline acquisition, Patrick Maroon, has also been a solid contributor for the Devils tallying 10 points in 16 games with the team. 
Last but not least, it would be foolish of me to not mention the play of Nico Hischier. At just 19-years old, he's been the team's top line center for most of the season and just kept improving as it continued. He had eight points over his final 12 games of the season and was instrumental in helping the Devils get to where they are. If a run late into the postseason is in the cards, they'll need Hischier and the players mentioned here to keep contributing secondary offense to advance. 
    *    *    *
All advanced stats via Natural Stat Trick