After being the last team to clinch a playoff berth in 2017, the Nashville Predators took the league by storm this season. They were the first team to qualify for the playoffs, set a franchise record for points and wins, won the Central Division for the first time in team history, and are the Presidents' Trophy winners.
They have the best defense in the league, balanced scoring, and have received quality goaltending. Most hockey fans recognize their starter, Vezina Trophy-favorite Pekka Rinne, but not all fans know their backup, Juuse Saros.
The Finnish-born Rinne has been the Predators' starting netminder since the 2008-09 season and holds nearly every goaltending record for the franchise. He is in the midst of one of his best seasons despite being 35. Saros, also a Finn, is in his second full season and is having a career year in a backup role. What has happened is Saros pushing Rinne for playing time and both players excelling as the Predators have allowed the league's third-fewest goals.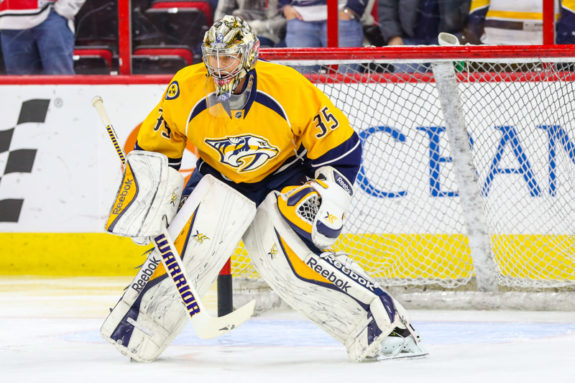 Saros' emergence has allowed Rinne to rest more this season than he normally would, as Rinne's 59 starts are his fewest since the 2013-14 season. In the games where Rinne rests, the Predators haven't had a decline in performance, unlike what most teams experience when their backup starts. The best part of Nashville's goaltending situation is the options two quality netminders provide in the postseason.
Comparison of the Two Finnish Netminders
Although Saros has had great performances in a backup role and even pushed Rinne, there's no doubt that Rinne remains the franchise goalie. Rinne is top-five among goaltenders with at least 2,000 minutes this season with a .927 save percentage (SV%), an .828 high-danger save percentage (HDSV%), and 24.50 goals saved above average (GSAA).
At five-on-five, among goalies with 1,500 minutes played, his .937 SV%, .936 medium-danger save percentage (MDSV%), .833 HDSV%, and 13.13 GSAA all rank in the top-five. His eight shutouts and .672 quality-start percentage (QS%) either tied or set career highs. He has allowed four or more goals just 12 times and between Oct. 12 and Oct. 27, he allowed two or fewer goals in six consecutive starts. Later in the season, between Mar. 6 and Mar. 19, he had an additional streak of five such games.
Saros may not be competing for the crease yet, but he is Nashville's franchise goalie in-waiting. He is still young (he doesn't turn 23 until April 19) and has excelled with more playing time this season. This season, he set career highs with 23 starts, 11 wins, and three shutouts. His .925 SV% and 10.30 GSAA are also career highs.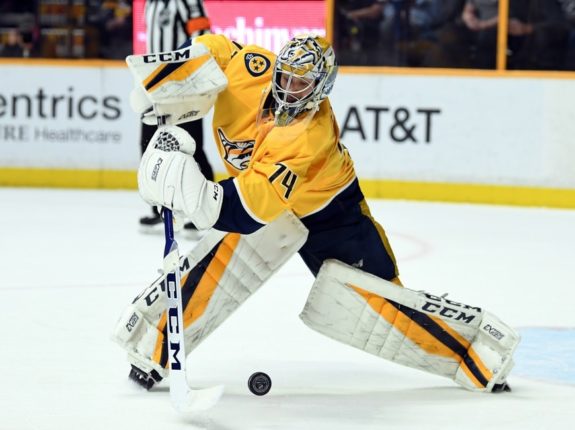 Head coach Peter Laviolette trusted Saros to start some of the most important games this season and has wins against some of the best teams in the league. These include road wins over the Dallas Stars, Washington Capitals, and Tampa Bay Lightning and home wins against the Vegas Golden Knights and San Jose Sharks. He even had shutouts against the Golden Knights and Minnesota Wild and allowed one goal to the Lightning. Of his 23 starts, he allowed four or more goals just five times.
Saros Has Faced More Difficult Shots
Although Saros has made fewer starts and played fewer minutes, he is facing more shots and from more dangerous areas than Rinne has based on shots-per-60 minutes (S/60). At five-on-five, Saros has faced 58.67 S/60 while Rinne has faced 55.47. Of the shots against Saros, 40.5 percent are from low-danger areas while 50.1 percent of Rinne's are deemed low-danger.
So Nashville allows more shots when Saros is in net and a smaller percentage of those shots are considered routine compared to what Rinne faces.
Of the shots against Saros at five-on-five, 40.3 percent are medium-danger compared to Rinne's 32.5 percent. The same holds true with high-danger chances, which represent 19.2 percent of Saros's total shots against and 17.4 percent of Rinne's. The two goaltenders' heat maps convey this difference in shot difficulty.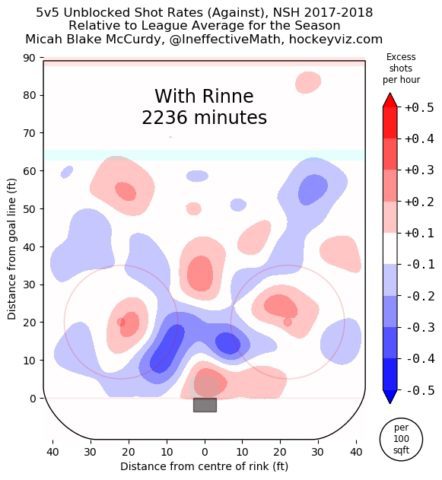 Nashville's defense has done a nice job of limiting high-danger chances with Rinne in net. Most of his shots faced have been kept to beyond the faceoff dots and outside the slot. He still faces the high-danger chances in the low slot but all goaltenders face those, often due to deflections.
By comparison, Saros has faced more difficult shots, especially those from the low slot, facing an excess of a half-shot per hour relative to league average. He has also faced an excess of shots from inside the slot as well as from the points.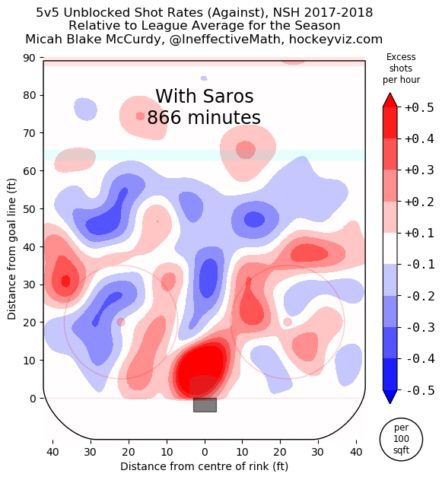 Although Saros has faced a higher percentage of high-danger shots than Rinne, Saros's .838 SV% against that shot difficulty is higher than Rinne's .833. Saros also has the higher save percentage against low-danger chances while Rinne has the better medium-danger save percentage.
Sorting Out the Postseason Crease
Let me start by saying that Rinne will be the Predators' starting netminder in Game 1 of the playoffs barring injury. He will also be their starter in every game unless he implodes or an injury occurs. Rinne's issue was that he did just that in the 2017 Stanley Cup Final: he imploded.
Specifically, he tanked on the road against the Pittsburgh Penguins, losing all three games and being pulled in two of them. Of course, there is always the chance he rebounds in the 2018 Playoffs and is a Conn Smythe Trophy favorite like he was through three rounds last year. His career playoff performances suggest this as a possibility.
For his career, Rinne has playoff stats similar to his regular season numbers. In 554 regular-season starts, he has a .919 SV%, a 2.37 GAA, and a .583 QS%. In 70 postseason starts, he has a .917 SV%, a 2.35 GAA, and a .600 QS%.
Even during the 2017 playoffs, he had a .930 SV%, 1.96 GAA, and .727 QS%. He also led the playoffs with 22 games, 14 wins, and eight losses, as well as shots faced and saves made. In the Final, his save percentage dropped to .888, allowing 14 goals on 125 shots. In Game 1, he allowed four goals on 11 shots, including three even strength goals. It got worse in game five when he allowed three goals on nine shots and was replaced by Saros after the first period.
In three road games in the Final, Rinne allowed 11 goals on 45 shots for a .756 SV%. At home, he was a completely different goalie, allowing three goals on 80 shots for a .963 SV%. Rinne's struggles in games one and two were enough to spark debate about which goalie would start Game 3 in Nashville.
Despite Rinne's struggles, Laviolette was placed in an unenviable position. He would either stick with the veteran who carried the team through three rounds or go with the rookie with 20 starts to his name. In those 20 starts, Saros had been good with a .923 SV%, 2.35 GAA, and .684 QS%, but he wasn't trusted nearly as much as he was this season. In two relief appearances in the 2017 playoffs, Saros allowed three goals on 17 shots for an .824 SV%. All three goals occurred in Game 5.
It is easy to look back on the 2017 Stanley Cup Final and put the series loss on Rinne, and to an extent, that blame is justified. Goaltending questions in the playoffs can be the nail in the coffin for a team. This year, those questions are gone. Rinne has played like a Vezina Trophy favorite all season and will likely get Hart Trophy consideration as well. But Rinne has been that player for Nashville in the past. What is different this year and could lead to a different outcome in the 2018 playoffs is Saros.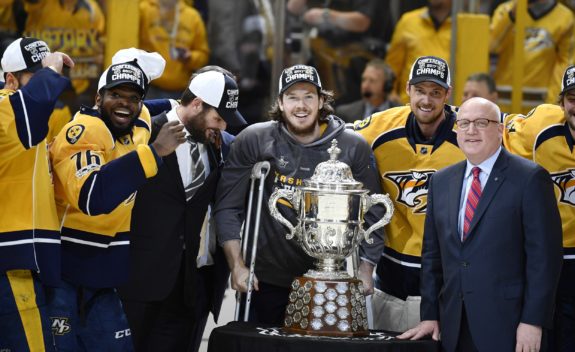 His emergence as a dependable goaltender gives the Predators an option. His ability to start and succeed in some of their biggest games down the stretch proves that he can go up against the best teams in the league and hold his own. With his performance this season, it will be no surprise if Laviolette turns to Saros quickly if Rinne struggles this postseason. And, if events play out like they did in last year's Final, Saros will force Laviolette to make a tough decision and possibly turn the net over to Saros giving him the opportunity he has earned.
*All stats came from Hockey-Reference, Natural Stat Trick, Corsica, and Hockey Viz.