One of the biggest questions to be answered by Buffalo Sabres general manager Jason Botterill is who will be his dynamic duo of goaltenders for the 2018-19 NHL season.
The Sabres haven't been winning much in the past seven playoff-less seasons. Not surprisingly, they've only had two goaltenders with a winning percentage (W%) greater than .500 in that span. In the 2015-16 season, Chad Johnson went 22-16-4 for a .523 W%. Before that, Ryan Miller went 31-21-7 for a .525 W% in the 2011-12 season. He's also the last Sabres goalie to reach the 30-win mark.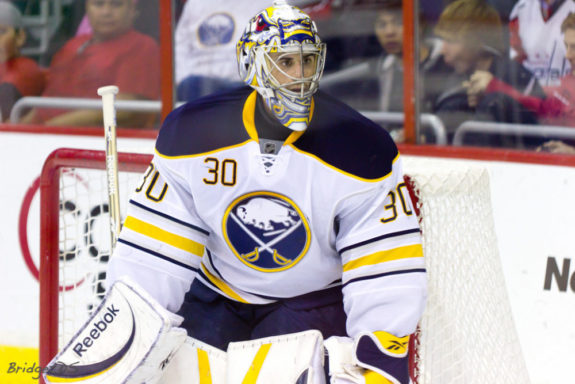 Sabres Need an Upgrade in Net
By all accounts, it was a rough season for the Sabres. The offense was nonexistent, ranking dead last in the league and the only team not to crack the 200-goal mark. The measly goal output meant that goaltenders Robin Lehner and Chad Johnson had to stand on their heads just to keep the team in games.
Related: Sabres Roster Won't Be Easy to Overhaul
Though they let in their fair share of softies, on most nights behind the worst defense the team has iced in years, they were often left out to dry. Poor defensive coverage, lack of physical play from their defense in front of the net and odd-man rushes against were the norm. Forwards often cheated. Goalies were left exposed and given the lowest goal support in the NHL. The Sabres finished with a league-worst -81 goal differential.
That said, while the team in front of them offered little to no help, neither Lehner and Johnson helped their cause. In a year that either could have taken the reigns, both failed to cement their place in the Sabres system. Average to poor goaltending exacerbated the team's problems.
Robin Lehner
Lehner missed the final five games of the season due to a lower-body injury. Fortunately, the 26-year-old netminder consulted multiple specialists and will not need surgery for an undisclosed lower-body injury (speculated to be hip related).
While he's far from the weakest link on the team, he never really stole games for them, either. The biggest strike against Lehner remains that former general manager Tim Murray traded a first-round pick for him. Though this fact will never change–it's a sunk cost–some fans will forever spew venom at him.
His season, like the Sabres, was nothing to write home about. Even he'll tell you, he just wasn't good enough. His season started out decently but then, as the calendar flipped, the wheels slowly fell off. He finished with a 14-26-9 record.
Lehner's numbers:
.908 Save Percentage, rank: tied 38th (among goalies playing at least 20 games)
3.01 Goals Against Average, rank: 45th
.480 Quality Starts percentage, rank: 41st
-6.08 Goals Saved Above Average, rank: 41st
The passionate and intense Swede wears his heart on his sleeve. He's not afraid to speak his mind and hold himself and others accountable. He's also always ready to defend his teammates, be it roughing up an opponent or just burning holes through them with his laser-like stares. Lehner has the most amazing knack for making a dozen killer saves, yet letting in at least a goal per game where you'd bang your head against a wall and ask, "How the heck did he let that in?"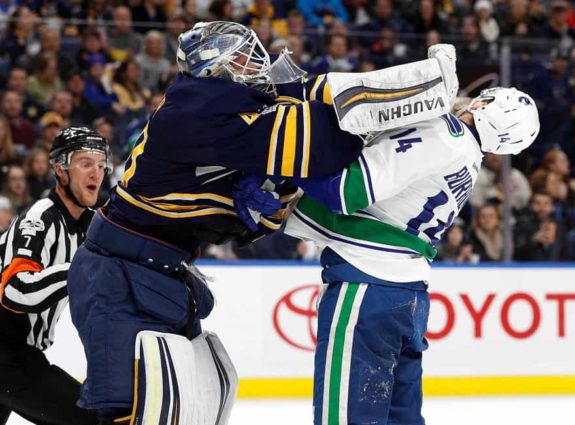 Lehner's technical game was not great–especially his side-to-side movement, nor was his rebound control. With a one-year 'prove it' type contract from Botterill, the lanky netminder did himself no favors for the upcoming season and his next contract.
He'll become a restricted free agent July 1.
Chad Johnson
Johnson returned to the Sabres last summer after a year with the Calgary Flames. His second stint with the team was downright terrible–it was arguably the worst campaign of his professional career.
The 31-year-old netminder from Saskatoon struggled to find any consistency in his game. His lone stretch of success came in February when he posted a .932 save percentage, earning a 4-2 record during that span.
His $2.5 million one-year deal was pricey for a backup and yielded no return for blue and gold faithful. In 36 appearances, he had a record of 10-17-3.
.891 Save Percentage, rank: 55th (among goalies playing at least 20 games)
3.55 Goals Against Average, rank: 55th
.414 Quality Starts percentage, rank: 51st
-20.57 Goals Saved Above Average, rank: 54th
"For a lot of games, for like 20 out of 29, it just seemed like a mess," said Johnson. "Things need to obviously change for a goalie to have success. You look at any team, if they play the way that we play … I think any goalie, whether you're Pekka Rinne or (Andrei) Vasilevskiy, if a team doesn't play a certain basic standard, it's going to be a mess."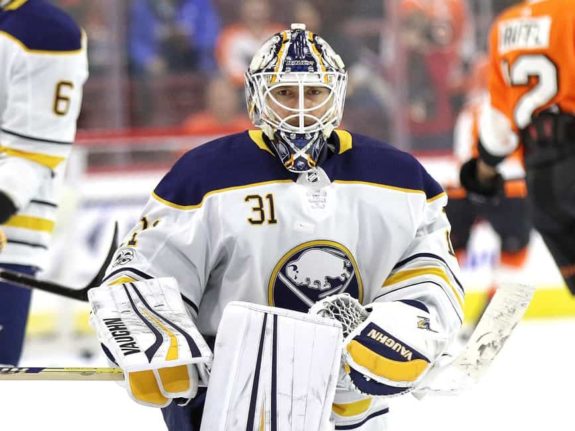 Johnson, however well liked in the locker room, was a lousy goalie last season. He'll be an unrestricted free agent on July 1 but said he is open to returning under the right circumstances. That would require a pay cut and perhaps his contract could be laden with incentives.
At Johnson's end-of-the-season interview, he basically said if he knew the Sabres would be this bad he wouldn't have come here as it likely damaged his career.
"I know I can be a good goalie in this league and I showed that when things were the way they should be," said Johnson. "I have to see the change, whether it's through players or somehow convince me through contract, through whatever it is, to come back."
Linus Ullmark's Season
While he had a good season in Rochester for the Amerks, being selected to his second straight AHL All-Star game, he's yet to see a starter's workload in the NHL.
The six-foot-four native of Lugnvik went 21-12-4 with a .922 save percentage and a 2.44 goals-against average. But, when things mattered most–in the Calder Cup playoffs, Ullmark was torched. He allowed 16 goals on 80 shots for a .800 save percentage. The Amerks were swept in the first round by the Syracuse Crunch.
It didn't bode well for management or fan confidence in Ullmark being the answer to the Sabres mediocre-at-best goaltending. "Just to go out there and not perform, it just hurts. It just hurts," said the sad Swede.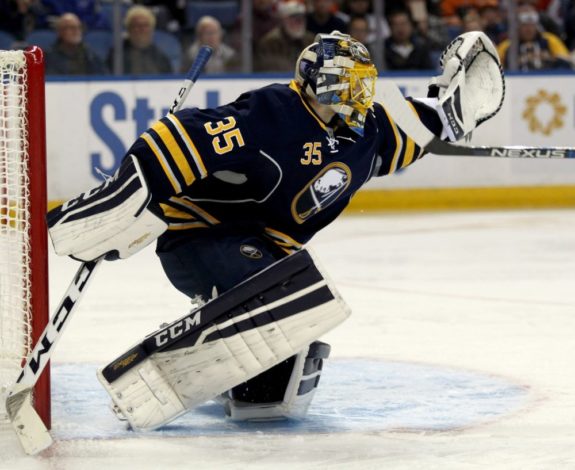 Linus Ullmark has appeared in 26 NHL games, with a record of 9-13-2. Twenty of his starts came in 2015-16 when Lehner was sidelined with an injury.
Sabres Goaltenders for the 2018-19 Season
The Sabres currently have six goaltenders on their roster.
Robin Lehner, 26 years old starter, RFA
Chad Johnson, 31 years old, UFA
Linus Ullmark, 24 years old, signed through the 2018-19 season.
Jason Kasdorf, 25-year-old minor leaguer, RFA
Adam Wilcox, 25-year-old minor leaguer, UFA
Jonas Johansson, 22-year-old minor leaguer, signed through the 2019-20 season.
Ukko-Pekka Luukkonen (Sabres own his rights, but he is still unsigned)
At his season-ending press conference, Botterill stated Ullmark will be one of the Sabres' two goalies next season. That means Botterill has to find a complementary veteran who can take over if need be; someone who can push Ullmark, and who could start if Ullmark falters. It's unlikely that will be Lehner or Johnson.
What to Do with Lehner
While Robin Lehner has had limited success with the Sabres, it's hard to imagine that he'll sign a deal in the summer knowing that he could be a backup. The same can't be said for Johnson, who could provide familiarity and guidance for Ullmark as he becomes the number one guy.
As an RFA, Lehner's one-year qualifying offer is $4 million. Once the offer is made, Lehner has the choice to accept it or continue to negotiate (he has arbitration rights this year). As long as the qualifying offer is made, the Sabres retain his rights. They could also submit a qualifying offer and then try to trade him.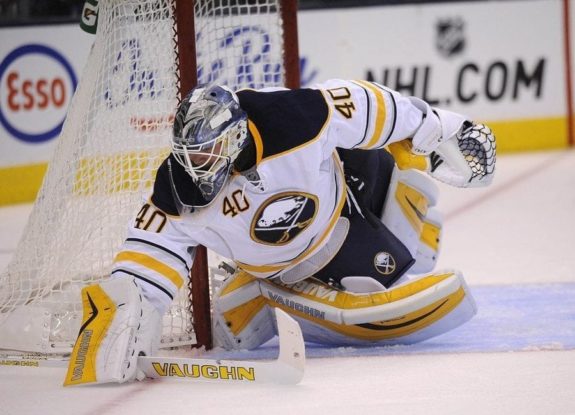 It's possible that the Sabres sign Lehner to a multi-year deal at a lower salary, but that's unlikely for both sides. The Sabres may simply not tender a qualifying offer, allowing Lehner to become a UFA and then revisit the idea of signing him or another goaltender in free agency. The thought of letting a player who has some value and who cost a No. 1 pick is troubling. One would hope Botterill can get something for him, even if it's a mid-to-late round pick.
If Lehner stays in Buffalo, he'd need to be at peace with a smaller workload and smaller paycheck. Both of those would be significant pieces of humble pie to swallow.
Unrestricted Free Agent Goaltenders for 2018-19
There's no shortage of unrestricted free agent goaltenders available.
Only six of them (not including Johnson) played in 30 games or more in 2017-18. (All stats shown among goalie playing at least 30 games)
Jaroslav Halak (New York Islanders) is coming off a four-year $18 million contract.
.908 Save Percentage, rank: tied 38th
3.19 Goals Against Average, rank: tied 51st
.449 Quality Starts percentage, rank: 47th
-7.593 Goals Saved Above Average, rank: 44th
Cam Ward (Caroline Hurricanes) is coming off a two-year $6.6 million contract.
.906 Save Percentage, rank: tied 46th
2.73 Goals Against Average, rank: 29th
.500 Quality Starts percentage, rank: tied 34th
-7.82 Goals Saved Above Average, rank: 43rd
Carter Hutton (St. Louis) is coming off a two-year $2.25 million contract.
.931 Save Percentage, rank: first
2.09 Goals Against Average, rank: first
.731 Quality Starts percentage, rank: first
15.09 Goals Saved Above Average, rank: 10th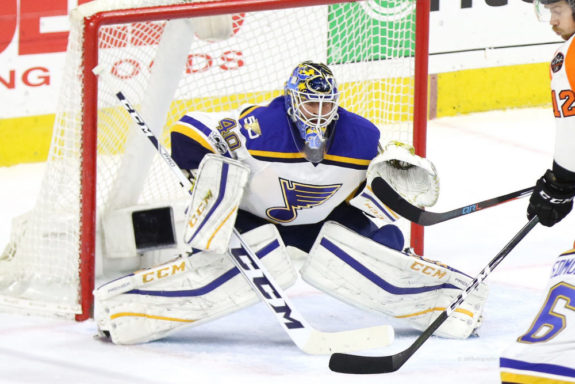 Kari Lehtonen (Dallas Stars) is coming off a five-year $29.5 million contract.
.912 Save Percentage, rank: 30th
2.56 Goals Against Average, rank: tied 19th
.633 Quality Starts percentage, rank: 8th
0.3 Goals Saved Above Average, rank: 30th
Jonathan Bernier (Colorado Avalanche) is coming off a one-year $2.75 million contract.
.913 Save Percentage, rank: tied 26th
2.85 Goals Against Average, rank: 34th
.529 Quality Starts percentage, rank: tied 29th
.840 Goals Saved Above Average, rank: 27th
Anton Khudobin (Boston Bruins) is coming off a two-year $2.4 million contract.
.913 Save Percentage, rank: tied 26th
2.56 Goals Against Average, rank: tied 19th
.552 Quality Starts percentage, rank: 28th
.890 Goals Saved Above Average, rank: 26th
Antti Niemi is also a UFA. The 34-year-old Fin's game has been erratic since leaving the San Jose Sharks. In 2017-18, Niemi played in 24 games for the Pittsburgh Penguins, Florida Panthers and Montreal Canadiens. He'd be a bit of a flier.
Ondrej Pavelec (New York Rangers) is coming off a one-year, $1.3 million contract. The Czech native only appeared in 19 games last season.
Restricted Free Agent Goaltenders for 2018-19
There are a total of 15 goaltenders that will be RFAs. Only four of them played in more than 30 games in 2017-18:
Connor Hellebuyck (Winnipeg Jets) is coming off a one-year $2.25 million contract.
Philipp Grubauer (Washington Capitals) is coming off a one-year $1.5 million contract.
Petr Mrazek (Philadelphia Flyers) is coming off a two-year $8 million contract.
Robin Lehner (Sabres) is coming off a one-year $4 million contract.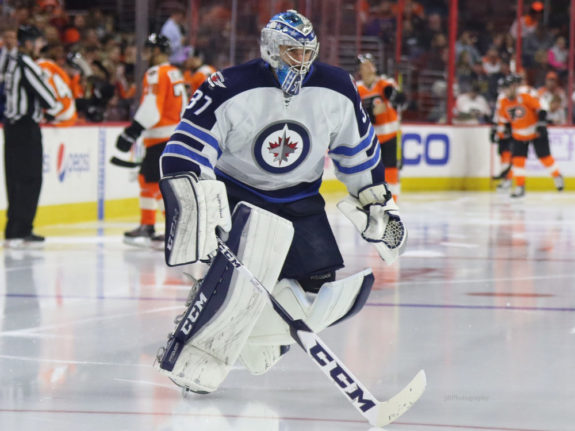 It'd be hard to imagine the Jets not inking Hellebuyck on the heels of a tremendous, breakout season.
Flyers are Flush with Goalies
The Flyers are flush with goalies. In addition to Mrazek, whom Flyers GM Ron Hextall added late in the season, the team already has two goalies on their NHL roster. Brian Elliott and Michal Neuvirth both have one year left on their contracts at very reasonable amounts, $2.75 million and $2.5 million respectively. It's unlikely they keep three goalies.
Mrazek won his first three starts with the Flyers then fell apart. In his final 13 regular starts, he allowed three or more goals in all but two of those games and was pulled in the second period in one of those two.
Elliot suffered a core muscle injury that required surgery in February. He's still dealing with health issues though he expects to be fully recovered by training camp.
Neuvirth was very unreliable this season. He never started more than three consecutive games as he was plagued with a multitude of injuries. He's due to have arthroscopic surgery on both hips. It's unlikely any GM would go near him.
The Flyers have 19-year-old, up-and-coming stud goalie Carter Hart on the way, 25-year-old prospect Alex Lyon and 24-year-old, six-foot-six Anthony Stolarz and 21-year-old Felix Sandstrom in their system.
Related: Best Goalies of the 2017-18 Regular Season
What Will Botterill Do?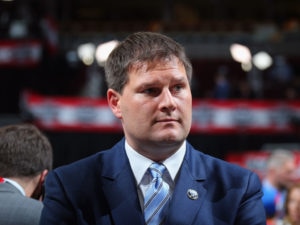 Botterill has a lot of work ahead of him to turn the Sabres around. At the top of Botterill's goalie wish list is probably Grubauer or one of the Flyer's goalies. Prying Grubauer away from the Caps could be expensive. The Caps are likely to tender a qualifying offer to him to retain his rights. It could take a few picks and or a pick and mid-level prospect for the Sabres to land him. After that, it's likely Hutton or Khubodin.
Then again, it's possible that Botterill bypasses all of free agency and makes a hockey trade for a goaltender.
Jeff has been covering the NHL for over a decade for various sites. He's been with The Hockey Writers as a lead Sabres writer three years, while also writing a satire column called "Off the Crossbar."