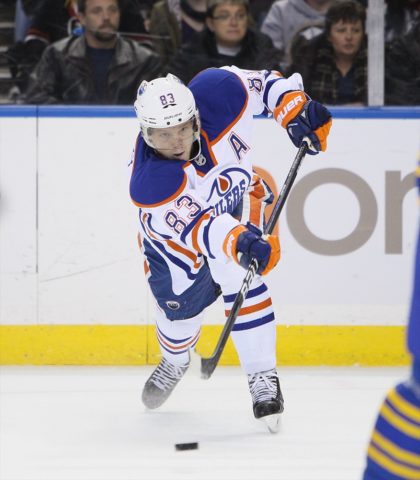 On July 1st Dallas Stars general manager Jim Nill proved an old adage to be untrue: you can, in fact, have your cake and eat it too.
For the past few seasons the Stars organization, battling the two-front war of a lack of financial stability and a declining and aging core, were forced by necessity to embark upon a long and arduous rebuild. Long gone were the veteran powerhouse Stars teams of the late 1990s and early 2000s that spent the big bucks and build their rosters through big name free agent signings.
Despite the massive change, the determined rebuild began to truly take on a positive form for the team recently, with the Stars accumulating a large and impressive group of prospects and young roster players through a variety of drafting, trades, and free agent signings. Players like Jamie Benn and Brenden Dillon successfully transitioned from the junior or minor leagues and began to make strong contributions in Dallas.
The problem, however, was that there is a long (and often painful) time period between the start of a rebuild and when those young players mature enough to the point that the team is able to truly compete for the Stanley Cup.
The young Stars had a major breakthrough season in 2013-2014, battling through inexperience and adversity all year long to squeeze into the playoffs as the 8th seed in the meat grinder-like Western Conference, where they were eventually ousted i the first round by the Anaheim Ducks in six games.
The Stars had achieved a remarkable amount in the season, but were still a far cry from being one of the top teams in the conference. They gave a strong Ducks team a hell of a fight, but could the Stars likely have done the same against an experienced playoff team like the Chicago Blackhawks or Los Angeles Kings? Probably not.
The question then became: how much longer will it take for the Stars' roster of young, developing players to reach that upper echelon of teams? Five years? Three years?
How about right now?
Out of all the activity and chaos on the opening day of free agency, with free agent players being scooped up left and right and with some trades sprinkled in between, few teams in the NHL made as big of a splash in that contractual free-for-all as the Stars did.
Going From 0 To 60
Nill, with the financial stability of new Stars owner Tom Gaglardi behind him, wasted no time that day. He kicked things off by making a blockbuster trade with the Ottawa Senators to acquire center Jason Spezza, before later signing free agent wingers Ales Hemsky and Patrick Eaves, goaltender Anders Lindback, and another center in Vernon Fiddler.
Just like that, with a few phone calls and pen signings, a "pretty good" Stars team from last season became a "legitimately scary" team heading into next year. The hockey world wasted no time heaping praise onto Nill and the Stars for their work, such as this "A" rating from Yahoo Sports' Puck Daddy.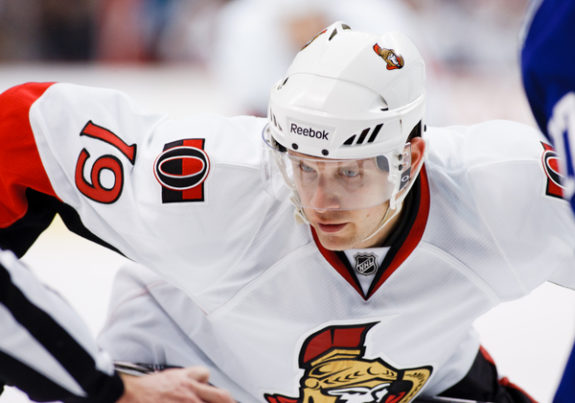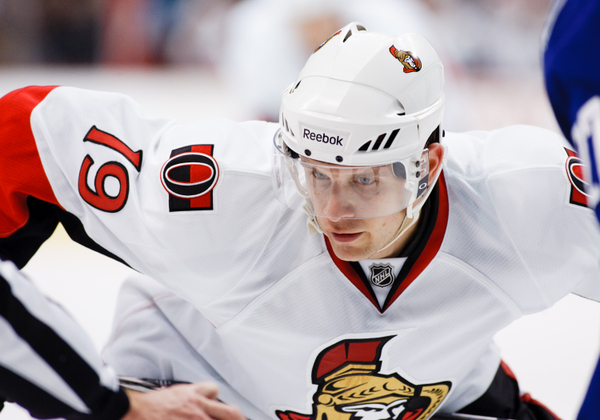 The real prize of the day, undoubtedly, is Spezza. Spezza was the bondafide #1 center in Ottawa since 2005, and despite some injury issues over the years, still remains one of the league's best players up the middle of the ice. He posted 66 points in 75 games for a middling Senators team last season.
Heading into free agency, the Stars had a much-publicized need for a second line center to play behind young phenom Tyler Seguin. Countless names were heavily rumoured, including Spezza's, but the Stars have to be ecstatic with the player that they got, and moreover, the price that they paid (more on that soon). Dallas' 1-2 punch at center, a common staple of successful teams, is now among the best in the league.
Hemsky's signing didn't make the same waves, but maybe it should have. Hemsky was a dynamic, highly-skilled player for the Edmonton Oilers at the start of his career, before his progress was significantly stalled by injuries and the misfortune of playing on some bottom-feeding Oilers teams that lacked offensive support. Things made a sharp turnaround, however, when Hemsky was moved to the same Ottawa Senators at last year's trade deadline. 26 points in 55 games for the Oilers prior to the trade turned into 17 points in 20 games for the Sens, showing that the 30 year-old Hemsky might still have a ton of gas left in the tank and only needs a change of scenery to truly harvest it. Unfortunately for the cash-strapped Sens, they were unable to re-sign the dazzling forward and let him hit the free agent market.
The real kicker? Most of Hemsky's time in Ottawa was spent on a line with, you guessed it, Jason Spezza. Spezza recorded 20 points in 19 games playing primarily with Hemsky, while only registering 46 points in 56 games without him.
And now those two will get a chance to play together again. In Dallas.
The Eaves, Lindback, and Fiddler signings provide the team with some reliable, although unspectacular, organizational depth, and come without large price tags attached.
Despite some remaining weaknesses (which, honestly, every team has), on paper the Stars now look a lot better than they did last year. Not only that, but they are also conceivably a real contender not just in the Western Conference, but in the league as a whole.
Keeping His Sights Set On The Future
What makes Jim Nill an absolute magician, however, is that he was able to upgrade his roster so dramatically without sacrificing the Stars' rebuild.
That's an incredible thing to keep in mind. In today's NHL most teams usually follow one of two paths: stockpile veterans, usually through trade or free agency, to build a championship-caliber team, or focus on the drafting young players and developing them into real superstars.
The Stars, almost inconceivably, are currently reaping the rewards of both schools of thought.
Let's take a look at the Spezza trade, for a good illustrative example. The assets that Dallas moved to Ottawa were right wing Alex Chiasson, prospects Alex Guptill and Nick Paul, and a 2nd round pick in the 2015 NHL draft.
Chiasson, 23, had a good rookie NHL season for the Stars last year, scoring 35 points, but had only the third highest potential of all right wings in Dallas' organization, behind two budding superstars in Valeri Nichushkin and current AHLer Brett Ritchie. Dallas was able to move Chiasson, yet still remain very set for the future at the right wing position. Guptill and Paul are certainly good prospects, but Dallas' prospect system is so deep that losing those two barely even makes a dent.
Just how deep is it? Over at another hockey website, Defending Big D, myself and another prospect writer, Huw Wales, compiled this list of Dallas' top 20 prospects back in March. This list does not include the nine players selected by the Stars last week at the 2014 NHL Entry Draft, some of whom will likely slot into the next edition of the rankings. As can be seen, Guptill was 14th on that list, but had been steadily falling behind better, younger players. Paul didn't even make that list, but likely would have been very close following a breakout performance in the OHL playoff this past spring. Either way, it could be legitimately argued that the two prospects that Dallas moved in the trade to acquire Jason Spezza weren't even among the Top 20 for the Stars. That's simply remarkable.
Furthermore, the deals for Eaves and Lindback are only for one year, Fiddler is signed for two years, and Hemsky for three. When those players' become free agents they will naturally and easily be replaced by whichever prospects in the system are the most ready to make the jump at that time. A long deal, such as the seven-year one signed by Matt Niskanen and the Washington Capitals, would have blocked the progress of the youngsters, so such short terms are very important. Spezza, technically, is only signed until the end of this season, but if he turns out to be a good fit for the Stars then Nill will undoubtedly try to extend him.
Not only did the Stars make themselves immediately better for next season, but they somehow did so without sacrificing their chances to be very good in the future. While it remains to be seen just how good of a fit the new additions will be in Dallas, it's hard to not be excited about the Stars' chances of being a very dangerous team not just next season, but also many seasons beyond that.
Derek Neumeier primarily covers the Dallas Stars, but also other various topics related to the sport of hockey. A Journalism graduate of Mount Royal University, Derek also writes for Defending Big D, and has done previous work with the Edmonton Oilers as a communications intern and Hockey Canada as a freelance writer. You can follow him on Twitter at @Derek_N_NHL