The Dallas Stars have signed forward Tyler Pitlick to a three-year contract worth $1 million per year, as originally reported by the Dallas Morning News' Mike Heika prior to the start of free agency.
I'm hearing Tyler Pitlick to Stars, three years at $1 million. Young, depth forward.

— Mike Heika (@MikeHeika) July 1, 2017
Pitlick, 25, played in just 31 games with the Edmonton Oilers this past season, posting eight goals and 11 points. In mid-December, Pitlick was on a hot streak, registering a three-game point streak and four points in five games. However, that run, as well as his season, came to an end when he fell victim to a torn ACL during a Dec. 19 matchup against the St. Louis Blues.
The Cutting Edge
Edmonton originally selected Pitlick 32nd overall in the 2010 NHL Entry Draft. He was a highly sought-after forward in the draft thanks to his offensive acumen, dedication and of course, impressive numbers.
Pitlick was a stand-out player for Centennial High School, where he put up 21 goals and 64 points in 25 games in his senior year. After that, he headed to the NCAA to play for Minnesota State University of Mankato, where he had 11 goals and 19 points in 38 games. After being drafted, Pitlick went to play with the WHL's Medicine Hat Tigers, scoring 27 goals and 62 points through 56 games.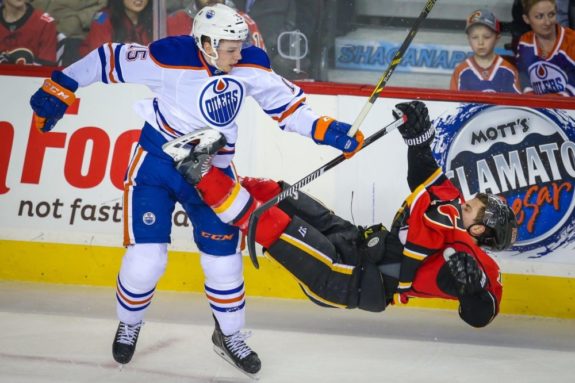 After that, Pitlick suited up for AHL hockey and went out on a mission to prove his NHL worth. He played two seasons with the Oilers' former affiliate Oklahoma City Barons before finally earning a call-up to Edmonton in 2013-14. In 10 games with the Oilers, Pitlick scored a lone goal before returning to the Barons, where he would finish the year with eight goals and 22 points in 39 games.
Despite solid numbers that season, 2013-14 would mark the beginning of Pitlick's terrible injury luck. In October 2013, Pitlick found himself sidelined with a left knee injury, and in late March, Pitlick suffered yet another knee injury. In 2014-15, Pitlick was placed on the IR with a lacerated spleen. Still, he managed to suit up for 17 games with the Oilers, posting two goals and a minus-3 rating. The 6-foot, 203-pound winger spent all of next season with the Bakersfield Condors but impressed with seven goals and 21 points through 37 games.
Lasts season, Pitlick finally proved his worth with a remarkable training camp and earned a spot on the Oilers' opening night roster in 2016-17,  but unfortunately, another knee injury would end his campaign. His constant complications and proneness to injury are probably factors that led Peter Chiarelli to let him hit the free agent market.
Role with the Stars
The Stars are tiring to rebound after a poor showing last season, one where they not only missed the playoffs but plummeted down the standings. With this offseason comes a lot of signings to not only improve their forward lines but their depth as well.
With Patrick Sharp heading back to Chicago, the Stars needed to address their depth on the wing. While Pitlick has shown potential and capability to play in the top six, he will likely start playing on Dallas' bottom-six. However, if his training camp is anything like last year's with Edmonton, he will see a promotion and a spike in ice time sooner rather than later.
Overall, Pitlick is a solid depth player but is a forward who can put up numbers at the NHL level and is still developing and trying to reach his full potential. He is a capable goal-scorer and provides depth on a roster that needs more goal-scoring and stability on the forward lines. However, it is hard to ignore his struggles with injury, and he will have to stay healthy if he wants to keep a full-time job in the NHL.
Sammi Silber covers the Capitals beat for The Hockey Writers and is an NHL contributor with Sporting News. She has also contributed to USA TODAY College, Huffington Post, FanSided and the Nation Network. Silber has written four books and recently worked on graphics for the film, The California Golden Seals Movie.