The New Jersey Devils season started two weeks ago and yet they are still searching for their first win. With a 0-3-3 record (3 points) they have struggled to find consistency for the course of a 60-minute game. They've been shutout (twice); saw a three-goal lead evaporate in Edmonton and a two-goal lead vanish in Vancouver. One of the bright spots has been the play of Damien Brunner, who was a late addition in training camp on a tryout basis and has been the team's most consistent player through the first six games.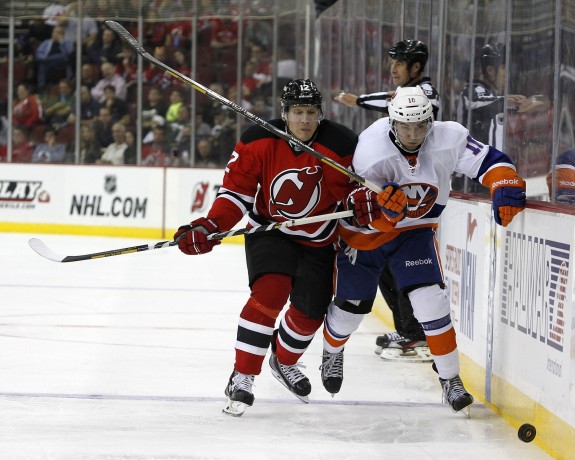 Brunner leads the team in goals (3), points (5), shots on goal (20) and he has the team's only power play goal so far. On a team filled with new faces the Zurich, Switzerland native has seemed to click with whatever linemates coach Peter DeBoer has slotted him with. At the age of 27 he is just entering the prime of his career and he only has 50 NHL games of experience under his belt.
HELLO MY NAME IS…
Some of the other newcomers on the Devils have also had an impact (Jaromir Jagr, Michael Ryder) but those other players are a bit more established as NHLers than Brunner who made his debut in the league last season with the Detroit Red Wings. Because of last season's lockout many of New Jersey's players weren't familiar with Brunner because the Eastern and Western Conference teams didn't play against each other during the season; but they know him now.
The Devils' captain Bryce Salvador admitted he didn't know much about the Swiss Sensation, but is glad to have him on board. "It's surprising that it took him that long to get a tryout somewhere, or he hadn't signed with a team," he told the Hockey Writers during the season's first week. "He's definitely a nice addition to our team; I think when you can get a player like that, who comes in on a tryout, especially after the season he had last year, it's definitely nice to add him to our group."
The elusive Damien Brunner wiggles away from a defender and scores his first of the season:
A NOSE FOR THE NET
If you've seen a picture or interview of Brunner, you may have noticed that his nose is a bit crooked. He is after all a hockey player and likely it has been broken a time or two. But in all seriousness, he has a nose for the net; he knows how to find the open areas on the ice during a game that turns into glorious scoring opportunities for him. This season he has been able to capitalize on some of those chances and he has been doing it while not being on the ice as often as some of New Jersey's other forwards.
"He's a great player; he's smart, and (he) knows where to score goals," said Travis Zajac after the home opener. "He goes to those areas and tonight he was around the net & got rewarded for it."
Right place, right time again; Damien Brunner is all alone at the side of the net to tie the game:
TO INFINITY … AND BEYOND!
Brunner has added a dimension to the Devils lineup that they sorely needed — a playmaker, that can also score goals; and he has bought into the team-first concept that the team has employed for almost two decades. In his first game with the team (a 3-0 loss at Pittsburgh) he led them with 8 shots on goal. In his second game, he netted two goals — their first of the game (and season) and the tying goal in the third period. After that game (a shootout loss) he lamented not being able to help out more when his shootout attempt against Evgeni Nabokov was thwarted. "He had a pretty quick poke check," Brunner admitted afterwards. "But I still had time to maybe lift it up, but sometimes when the poke check comes fast you're not thinking and when I shot low I knew it wasn't going in."
He was pleased though that he was able to get some goals early in the season, possibly setting himself up with some feel-good vibes as the new season got underway. "Obviously when you score, you set yourself up for the next game with a lot of confidence, but I would have been more happy if I scored in the shootout. When you get some goals early in the season it gives you confidence."
One subtle fake & Damien Brunner gives himself some space to fire a shot through traffic:
Obviously there are a lot of games left in the season (76 at press time), but the sky is the limit for Brunner who has gotten off to a solid start and has shown the ability to seamlessly fit into the team; he has also clicked with just about every player he has skated alongside as the coaching staff has moved players around to find some solid combinations. With the team still in search of their first win, you can be sure that when they do start winning that Brunner will be right in the middle of the action and a major contributor all season long.
Dan Rice can be reached via Twitter: @DRdiabloTHW or via Email: drdiablo321@yahoo.com
Dan Rice is in his 9th year of reporting for THW & has covered NJ Devils home games for 15+ years at various websites. He began his journey working for legendary broadcaster/writer Stan Fischler from 2002-04 & completed an internship at the ECHL; he also has been writing features for the NWHL (nwhl.zone) website since 2016.