By Jon Gabrielle      Special to The Hockey Writers
By now, if you were one of the eleven million Canadians, excluding a world-wide audience, that watched Team Canada's thrashing of the Russian Olympic team last night, then you've seen the hit.  Or should I say, "slew foot?"
With just under three minutes left in the route, Alexander Semin had the audacity to crush Dan Boyle behind his own net just as he let a pass go.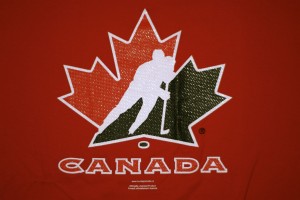 Semin is a gifted skater who can dangle, pass, and shoot a puck as well as anyone in the NHL. He is also all of 6′ 2″ 210 lbs.  I don't need a program to tell me that Dan Boyle is short by most standards, let alone in the world of professional hockey.
Dan Boyle collapsed to the ice under the weight of Semin's force. But the feisty little fellow wasn't done. The fact that his team was up 7-3 wasn't lost on his ego either. Not only did he quickly pull himself off the ice, he followed Semin around the net and up the ice. When he caught him from behind, Boyle who had scored and set up two more Canadian goals on this glorious night, planted his right foot behind Semin and with his left arm tackled the burly Russian over his leg. For good measure, the slight Boyle stood over the fallen giant as if in a King Kong pose, admiring his handy work. A few seconds later a few of Semin's teammates, who by this time had one eye on the exits, finally showed up. A small innocuous scrum followed with both men being banished to the sin bin for two minutes.
What's troubling about this incident is that it has become all too endemic in the league both these men ply their craft in. The NHL, where a clean hit is almost always followed by a dirty hit.
Mike Milbury during NBC's post game wrap-up show said, "I don't blame Dan Boyle for going right after Alexander Semin on this…I know it was a legal hit but…don't you agree J.R.?"  To which, his colleague and recently retired analyst, Jeremy Roenick said, "not at all, that's what you're gonna get with Dan Boyle. He's extremely, extremely competitive and he'll come after you…"
As my birthday's have begun to pile up, I began to wonder if I have missed something over the years? After all, I hear time's a changin. The NHL I grew up watching had competitors getting hit…a lot.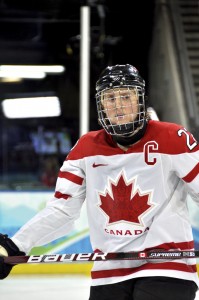 Dan Boyle reacted as if his mother's purse had just been lifted, by Semin. In fact, he received a clean body check in a game that prides itself on being tough. Is there anything noble in slew-footing a man from behind when he cannot see you? Isn't that tantamount to the old western faux-pas that you never shoot a man in the back? To quote John Tortorella, "where is the honor in that?"
Many are going to argue that since Semin also received a penalty, that Boyle was well within the unwritten "code" of the game's antics, hence seeking a form of vigilante justice. Therefore it was with much intent I listened to Dan Boyle's take on the incident in his post game interview with NBC's Joe Micheletti.
While Micheletti got all of the mundane stuff out of the way, "you're team got off to a great start Dan…how did you find the confidence…what did you do, etc., the real question was posed. "What happened with you and Semin behind the net at the end of the game?"  Boyle's demeanor turned to a smirk calling Semin's hit "clean." Continuing, he admitted that his retaliation was, "dirty, I guess," adding with a burgeoning smile, "oh well, that's hockey."
Sadly Mr. Boyle, indeed it is. And if you don't believe me, just look to the major american network that televises a dozen or so NHL games every year. J.R. and Mike Milbury have your back!
As of this time, there is no word on Dan Boyle's status for the remainder of the tournament. And I don't know if Dan Boyle will get suspended for his slew footing of Alexander Semin.
What I do know know is that I like hockey…and I especially like the physical intimidating nature of the game. Yet, although I keep hearing from the suits within the NHL that hitting is an integral part of the game, I  am seeing on a nightly basis players retaliating when they receive a clean hit.
Yet "tough guys" with helmets and visors as hard as space ships, continue to stage fights throwing punches as if to entertain the WWF crowd?
What's next, NFL players getting up and fighting after every play because they were tackled?
Today, the USA women play the Canadians for the Gold Medal. They tell me there's no hitting allowed in female hockey. God forbid.
In this kinder and gentler world we live in, one thing scares me. What if, after getting slew footed,  Alexander Semin hit his head in a vulnerable spot on that space-aged helmet, giving way to his skull inside?
What scares me is that one day all those players that don't like to get hit…may get their way.
No hitting in men's ice hockey? Now that's really scary!