Hockey Hits, specifically hitting from behind has been on the NHL's agenda for quite some time, but NHL brass has yet to find a solution for this pesky, recurrent problem. Kukla's Korner highlighted discrepancies in the handing out of suspensions by NHL brass last December.
Fighting in hockey has also been scrutinized, especially coming to the forefront with the unfortunate passing of Don Sanderson earlier this year from injuries suffered from a hockey fight.
Back in February, I had initially expressed my concern over the latest emerging epidemic in hockey – the retaliation after clean hockey hits.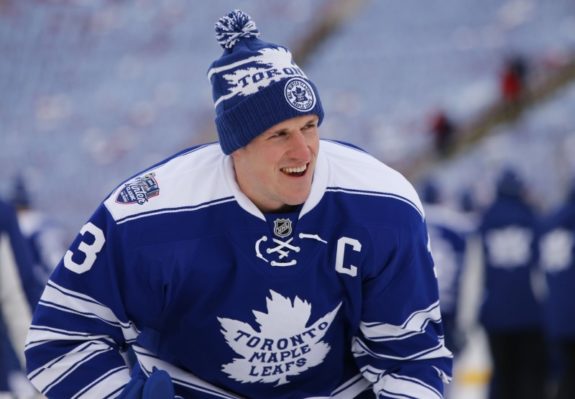 With the recent demolishing but legal hit by Dion Phaneuf on Kyle Okposo (see video below) and subsequent retaliation on Phaneuf by the Islanders Pascal Morency, my concerns were again heightened. In this incidence, the NHL has so far taken the necessary steps and has suspended Morency indefinitely to be reviewed in the near future. We are left to wonder that the fact that he left the bench might be more of a determinant of why the NHL is going after him in this instance. It will be interesting to see the outcome of this and if the NHL's brass' actions are consistent in the future.
As a Flames writer, to show I am not biased on this issue, here is another example involving Rene Bourque attacking Tyler Sloan after his fantastic, vicious clean hit on Daymond Langkow. Bourque should have been punishing more heftily for this dangerous play. I like Bourque's enthusiasm and his willingness to stick up for and defend his teammates, but with the physical players the Flames have, Bourque should have kept his cool, take Sloan's number and pay him back in the "eye for an eye and tooth for a tooth" fashion – that is, lay a hit on him so that his coach feels it!
Here's a rundown of the usual course of events of the NHL's latest epidemic:
The Cause: vicious, but clean, legal hockey hits.
The Symptoms: An immediate retaliation by the teammate of the victim who was rocked by the above mentioned hit.
The Disease: A player making one of the most exciting plays in hockey, that is: a clean,  jarring hit, needlessly and wrongly becoming the victim.
The Cure: Harsher penalties/suspensions by NHL disciplinary officials.
Okay, in the heat of battle, tempers do flare. I get that and can relate, being an intense competitor myself when partaking in anything from a rec ball hockey game to facing off in a game of NHL 09 on Playstation. However, when a guy has to defend or stand up for himself immediately after landing a perfectly clean, crushing hit, this is getting annoying and could lead to another potential dangerous situation. Often after a player delivers such a blow, he is momentarily defenceless, comparable to being hit from behind, when the teammate of the victim immediately starts his attack. Of course, there are times when it is borderline whether or not bone-jarring hockey hits are clean or dirty. Nonetheless, it should be left up to the officials or even the NHL higher brass to make that call. Of course, easier said than done.
Whatever happened to taking a player's number and getting payback later in the game or even in the season, but all within the framework of the rules? Hitting is obviously a major part of sports like football and rugby. How do players respond in those respective sports when a tremendous hit is laid? Teammates take numbers and revenge can indeed be sweet, but in most circumstances, within the confines of the rules.
Again, sticking up for teammates – good.
But…a player getting punished for performing one of the most exciting plays in hockey – NOT acceptable!
George Johnson (Calgary Herald) wrote a ridiculous column after the Phaneuf on Okposo hit that incredibly echoes the sentiments of many a hockey fan. Johnson thinks Phaneuf should "stand up" after making such vicious hits. Are you kidding me?!? Phaneuf's expectations from his coaching staff is to no doubt be a physically menacing presence, including utilizing his abilty to dish out crunching hits. I'm willing to bet though, that Brent Sutter and staff encourage and enforce that Phaneuf stay out of the ensueing melee that unfolds after one of these hits. The Flames don't need Dion in the sin bin for any more than he needs to be! I'm also willing to wager that Phaneuf has fear for nobody or next to nobody that dons a NHL uniform. A devoted hockey and Islander fan emailed me after this hit and said, although he hated to admit it, it was a vicious, but clean hit. He also was disgusted by the idea a  hockey player should have to fight another teammate of the victim after dishing out demolishing hockey hits. I couldn't agree more.
Scott Stevens is a name that keeps being brought up. No doubt Stevens could dish out the hits comparable to Pete Rose and stand up for himself effortlessly without fear of anyone. However, I don't seem to recall Stevens ever leading the league in fighting majors, and, in fact, correct me if I'm wrong, but rarely did he have the need to defend himself in a fight after a hit. Of course, the argument can be made he had built up his reputation and his intimidation factor. I think it was more about respect for each other by players in the generation Stevens played in.
How exactly should these offences be penalized? While I don't have an exact answer for that, each situation should be reviewed individually, of course. Having said that, the punishment needs to act as an effective deterrent, whether it be a 10 or 20 game suspension of the offending player. I would also like to see a coach or team fine tacked on as well. Then the organization is more accountable for player's actions and will be forced to deal with it internaly how it sees fit to prevent such incidents.
Curtis Stock, of the Edmonton Journal, had an interesting, if not far-fetched answer to help defeat the hits from behind epidemic.  "Following a suspension, a team is penalized the amount of games their player has been suspended in penalty minutes to start the next game." I'm not so sure a play in one game should effect the outcome of another subsequent game that directly though. But it does spark an "outside the box" type of thinking and discussion on how to deal with these problematic issues.
About a week ago, NHL.com posted an article on how "National Academy of Neuropsychology (NAN) and National Athletic Trainers' Association (NATA) team up on campaign to raise concussion awareness" in hockey. "As a centerpiece of the NAN and NATA efforts, a 12-minute educational video titled 'Concussions in Hockey: Signs, Symptoms and Playing Safe,' has now been released nationally. The video, sponsored by the National Hockey League and the NHL Players' Association, features comments from Mike Modano of the Dallas Stars and retired NHL players Pat LaFontaine and Eric Lindros."
I am all for initiatives such as these, but you have to first and foremost get to the heart of the problem. The NHL and NHLPA brass should be tackling issues such as hitting from behind and attacks after a clean hit more aggressively and effectively.