The Olympic hockey games have been nothing shy of amazing for fans.  The USA and Canada's women's teams have dominated and will play each other for the gold medal today.  These women have shown that they are a force to be reckoned with outscoring and completely outplaying their opponents.
There have been varying opinions on the state of women's hockey as I addressed in my last post, with the latest being should hitting be introduced into women's hockey?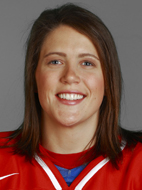 In the dying minutes of Canada's game vs Finland, Gillian Apps leveled a Finnish opponent after they were racing for the puck which should have resulted in a penalty.  I have to admit that I liked the physicality mainly being that I've always played a physical style and grew up playing against boys.  I do believe though that it shouldn't be allowed in women's hockey for two main reasons:
1) It really would take away from the finesse these players play with cheapening the sport.  People will just go to try and see a "cat fight" (as I heard it described) and it would portray the sport in the negative light.
2) It will send a bad message to all the kids that look up to them.  I say that because you want to teach kids fundamentals not "Hey what the ref doesn't see won't hurt".  Don't get me wrong in no way do I think that Apps hit was sending that message.
No matter which way you look at it you know that occasionally there will be hits and players will get hurt.  But in the light of all the hit's to the head  and cheap shots going on in the NHL why would you want to introduce it into the sport now?  As I've said before they are still struggling to get women's hockey on the map and hitting in my opinion would just be a publicity stunt to try and garner viewers.
I guess we'll see who takes the gold today as these two power houses square off, the action starts at 3:30 PST
May the best team win!
Check out Steve Dangle's vlog on Team Canada:
httpv://www.youtube.com/watch?v=uwFaZwi448M
Follow me on Twitter for game updates and hockey talk: http://twitter.com/Calexander17