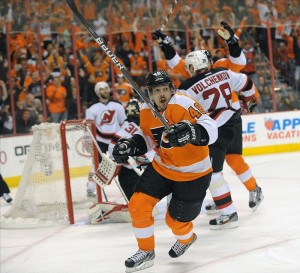 Celebrations are a big part of sports. All sports. Sometimes we're even lucky enough (okay maybe not that lucky at all) to see soccer players kissing each other after scoring a goal. In hockey, the group hug has been perfected like no other.
But it seems that today we've now almost certainly passed the glory years of NHL goal celebrations. Nobody did it better than Tiger Williams who rode his stick down the ice like he was riding a horse. Or Mike Foligno jumping up and down on the ice. Or the good ol' kick dance, perfected to a tee by Mike Bossy, seen here after scoring his 50th goal in 50 games back in 1981:

Remember this year the fire storm that was created after Nail Yakupov scored for the Oilers to tie a game late against the Los Angeles Kings? People were downright angry — offended even. I say "What's the problem?" To me it was just a natural reaction of youthful exuberance from a rookie scoring a big goal late. It's not like he went bonkers after scoring a goal, like, in the first period or something. This was a big goal:
If anything, it only reminded me of Theo Fleury's goal celebration back in 1991 to win the game in OT for the Calgary Flames, which is an all-time classic:
These days we're privy to the likes of Jaromir Jagr's salute (something we didn't see much of playing with the Bruins this past season). Now that he's with the Montreal Canadiens, will the free-agent signed Danny Briere maintain his signature goal scoring fist pump???
Today, people seem to become offended by overzealous goal celebrations. Or even some victory celebrations. Coming into last season, Therrien et al were hard at work changing the Canadiens' culture. And so we said buh-bye to P.K. Subban's low-five celebration with teammate Carey Price after a win. Therrien considered it showboating but more importantly, he felt it disrespected the other team.
And he was right.
We all love P.K. (well if you're a Habs fan you do methinks) but even I have to admit I did see it as a bit of a young and immature move which I'm sure didn't really sit well with the Habs' veterans. And it's never a good thing when a young player upstages — intentionally or unintentionally — the veterans on a hockey team. But more importantly, the act just provides emotional fodder to an opposing squad for the next time they match up.
Subban settled his contract disputes with Bergevin, sucked it up and showed the team and the league that he's ready to be remembered for his play and not his after-game actions. Now the team thanks the fans from centre ice. Now Subban is a Norris trophy winner.
But does that mean Briere will be asked to do the same and say buh-bye to his fist pump after scoring? And just in case you don't know it, here's a sample at roughly 50 seconds of the following clip. Aptly enough, it's against the Habs:
I don't think we've seen the last of this. First of all, Briere is a veteran. And he's coming to the Canadiens with the expectations to put the puck in the net.
So let's see Danny Briere's fist pump. I'm sure the Canadiens hope to see it many, many times this coming season.