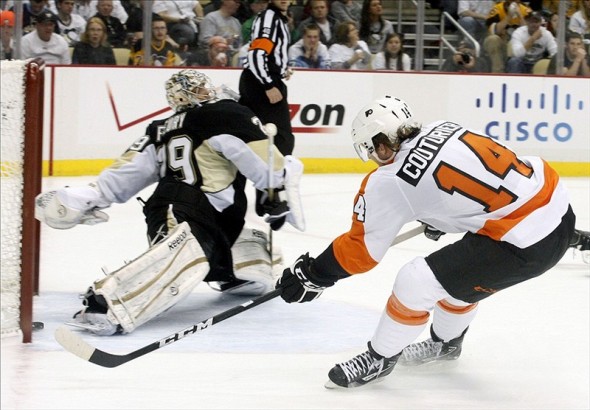 Will Marc-Andre Fleury be ready to perform in the playoffs in the upcoming season? The pressure will only intensify for the Pittsburgh Penguins' starting net-minder. He has no other choice but to shine. If Fleury fails to meet expectations in the 2013-2014 NHL Playoffs, he will be shipped out of Pittsburgh at season's end with one year remaining on his contract.
Fleury was supposed to be in his playoff prime by this stage of his career. He was set to walk in the footsteps of his boyhood idol and playoff legend, Martin Brodeur. Since Fleury won a Stanley Cup at the ripe age of 24, he's been anything but legendary status between the pipes in the post-season.
Fleury hasn't posted a save percentage above .900 in the playoffs since the Pens defeated the Detroit Red Wings in the 2008-09 Stanley Cup Finals. Two post-seasons ago, he surrendered 26 goals in six games against the Philadelphia Flyers. His goals against average was 4.63 and he had a save percentage of .834. Fleury only participated in five playoff games this past season due to similar play. He forfeited 17 goals with a save percentage of .883.
I'm not defending Fleury's play but there was no defense helping him against the Flyers two years ago. Even though Fleury could've played better, no goaltender between the pipes would've won the Flyers' series for the Pens.
If I were in Fleury's position, I would not have much faith in the defensemen who have played in front of me over the past four seasons. This would shake my confidence.
Whether or not the defense played well enough in front of Fleury in the Islanders' series, his performance was inexcusable. Fleury let in many questionable goals and Vokoun played at an all-star level once his number was called. Vokoun's spectacular play remained throughout the playoffs.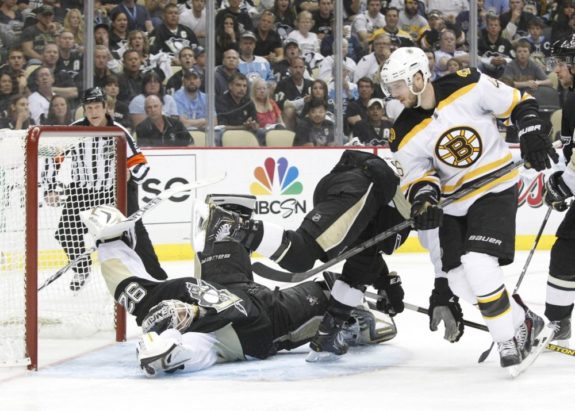 We all know Fleury has the physical gifts to make saves none of us have ever seen before. We know Fleury has what it takes to win a Stanley Cup because he has proved this feat in the past. Fleury has displayed the physical ability, but his confidence obviously gets rattled once the playoffs begin.
The one thing that will surely help Fleury in the playoffs this season is the acquisition of Rob Scuderi. Fleury should get a boost of confidence knowing he has a shutdown defenseman in front of him. Fleury hasn't had a defenseman of this caliber since Scuderi departed for the Los Angeles Kings. Just the fact that Pens' GM Ray Shero signed someone who makes defense a priority should give Fleury some light at the end of the tunnel.
Shero also stated at his end of the season press conference that he completely supports Fleury as his starting goaltender, but Shero can only use regular season success to support his argument. Shero admitted that Fleury has not lived up to expectations in the playoffs and demanded Fleury make some off-season changes to perform better in the playoffs this coming season.
"I had that conversation with him and some of the things I really expect him to do this summer," said Shero. "Which I believe for the first time, he is really ready to embrace and improve. With Marc, I think we all see it's about focus, concentration sometimes, [but he has] a great athletic ability."
For the first time in years, Fleury will be working with a new goalie coach. With the draft recently taking place and the Pens' development camp in session at the CONSOL Energy Center, the issue of a new goalie coach has not been addressed. However, the addition of a new goalie coach will provide Fleury with a fresh outlook on how he plays and mentally prepares for post-season play.
"We talk about the playoffs and that is certainly an area that he needs improvement on, and concentration, and belief, and to get back to where he was in 08-09," said Shero. "I believe he can do that. There are certain steps that he's got to do to get there and I guess we'll see. The faith I have in Marc-Andre Fleury hasn't waned nor has it from Dan [Bylsma]."
When it seemed like everyone had lost faith in Paul Martin and he was heading out the door, Shero gave him one more shot and the gamble paid off. Martin had a great season. We all thought Fleury played his last game in Game 4 against the Islanders, but he will be given one more shot to make things right.
Do you think this gamble with Fleury will pay dividends? Will he bounce back to play at an acceptable level in the playoffs?
Justin Glock has covered the Pittsburgh Penguins for The Hockey Writers since 2011. As a lead writer, his Penguins knowledge traces back over two decades. For any requests, please feel free to contact Justin via email: JGlock10@gmail.com.