As development camp came to a close earlier this month, Washington Capitals' fans saw a glimpse of potential NHL stars. Highlighted by forwards Tom Wilson and Riley Barber, along with other talented players including defenseman Nate Schmidt, development camp gave these prospects a chance to impress head coach Adam Oates and Capitals' management. The Hockey Writers takes a look at a few of Washington's prospects that play college hockey, which could give these young players a better shot at adjusting to the pro level.
Washington's NCAA prospects are highlighted by forwards Riley Barber and Caleb Herbert along with defenseman Patrick Wey. Other than the standouts listed above, the Capitals' remaining NCAA prospects project to be role players, likely playing in the AHL for a few years following their time in college, before potentially landing a spot on the third or fourth line in the nation's capital.
Riley Barber
Barber, only 19, recently completed his freshman season at Miami University of Ohio following his time with the United States National Development team before college. Washington's sixth round pick from the 2012 NHL entry draft posted 39 points in 40 games, earning him high respect from around the NCAA and his teammates.
"I just always knew that there is a long life after hockey and understood the importance of getting a good education," Barber told THW in an interview earlier this year. "When I first visited Miami I guess you could say I knew right away. From the coaches to the school to the atmosphere I knew it was the right fit for me."
He also played for the United States in the World Junior Championships this winter, helping the U.S. capture gold in Russia.
"It was an unbelievable experience and something I'll never forget, it was something really special and it doesn't hit you until you start thinking about how rare it is to win," Barber said about the WJC.
"I'm spending 6 weeks here at Miami training with the team and then I go back to my trainer," said the Capitals prospect regarding his plans this summer. "One thing I'd like to improve on is my quickness, I think you can always improve on all aspects and I'm going to continue to work on my shot because I think that's a huge aspect of my game."
Barber projects as a skilled third line forward with power play ability, and could become a top six forward if he continues to progress at Miami of Ohio. He told THW he's playing it year by year and is focusing in on college right now.
Forwards
After winning Bulldog Rookie of the year and ranking eighth on the freshman scoring charts with 33 points in his freshman year, Washington forward prospect Caleb Herbert continued to shine in his second season at the University of Minnesota Duluth. Although his scoring wasn't as proficient like his freshman year, the 21 year old forward registered 25 points in 35 games along with 53 penalty minutes. He's an intriguing prospect to watch as his time in college goes along, and could become a key Capitals prospect to watch when he reaches pro hockey.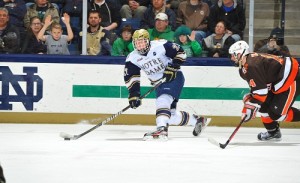 The remaining Washington Capitals' forward prospects including Travis Boyd (University of Minnesota), Thomas DiPauli (Notre Dame) and Austin Wuthrich (Notre Dame) are all still young and have room to grow.
| Name | Class | PPG | Goals | Assists | Projected Role |
| --- | --- | --- | --- | --- | --- |
| Riley Barber | Freshman | 0.975 | 15 | 24 | Top Six Forward |
| Travis Boyd | Sophomore | 0.35 | 3 | 11 | Role Player |
| Greg Burke | Senior | 0.385 | 3 | 2 | AHL Role Player |
| Thomas DiPauli | Freshman | 0.293 | 5 | 7 | Future Unknown |
| Caleb Herbert | Sophomore | 0.714 | 6 | 19 | Bottom Six Center |
| Austin Wuthrich | Sophomore | 0.273 | 5 | 4 | Future Unknown |
Boyd played in all 40 games this season for the Minnesota Gophers and set career highs in goals and assists with 14 points during his sophomore season. He earned his second career multi-point contest during the 2012-2013 college hockey season, totaling two points against Michigan Tech on October 19th. Boyd was also an all-WCHA academic honoree this past school year.
Defensemen
On the defensive side of things, the Capitals hold two talented defensemen in Patrick Wey (Boston College) and Garrett Haar, who will join the WHL after his time at Western Michigan University for the past two seasons.
| Name | Class | PPG | Goals | Assists | PIM | Role |
| --- | --- | --- | --- | --- | --- | --- |
| Patrick Wey | Senior | 0.35 | 1 | 12 | 54 | Shutdown Defenseman |
| Garrett Haar | Sophomore | 0.41 | 3 | 6 | 12 | Fringe Prospect, Shutdown Defenseman |
Wey, 22, finished his senior season at BC this spring, and will compete for a starting spot on the Hershey Bears' defense this fall, AHL affiliate of the Washington Capitals. He's a sound shutdown defenseman with discipline and could be a strong compliment to the Capitals offensively skilled blue liners at the NHL level in a few seasons. Wey could earn penalty kill minutes in Hershey, and will be around a former NCAA defenseman in former Miami University of Ohio product Cameron Schilling.
Haar, 19, is a California native who struggled to stay on the ice and decided to leave the Western Michigan program to join the Western Hockey League. He posted nine points in 22 regular season games this past year, along with 12 penalty minutes. Haar decided to leave the program at the end of development camp, because he was ruled academically ineligible for the first half of his junior season at WMU this fall.
Haar is "not as far along as we had hoped but I think this is going to be really good for him, to play a lot of games at the junior level," Washington Capitals General Manager George McPhee told the Washington Post during development camp. "If you're not a great student and things aren't going to go well in college it's ok to go play junior. If that's your dream to develop as best you can to try and be a national leaguer. I don't really think you can go wrong in either place. They both have their pluses and minuses and you have to decide on a case-by-case basis what's best for a player."
You can view THW's AHL prospects review here. Stay tuned for the Washington Capitals junior prospects review later this summer.
You can follow Matthew on twitter @m_speck and email him at mspeck21@yahoo.com with any questions or comments.