The Washington Capitals selected Miami University of Ohio forward prospect Riley Barber in the sixth round of the 2012 NHL entry draft, giving them a skilled forward that could provide a spark to Washington's lineup down the road. He just finished off a tremendous freshman season at Miami of Ohio, where he totaled 39 points in 40 games. His numbers included four power play goals, three game winning goals and a shorthanded tally to along with an outstanding plus twelve during even strength play.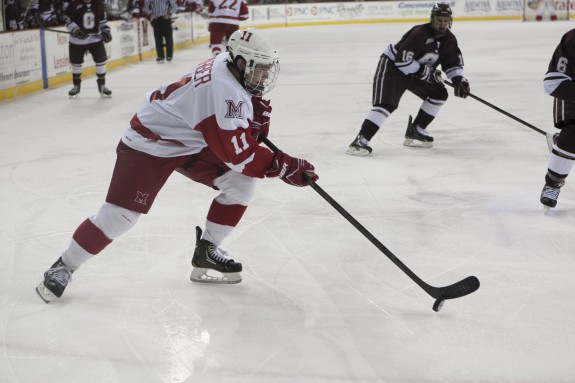 Riley Barber: A Few Questions
The Hockey Writers caught up with Riley and asked him a few questions about his freshman season, the lifestyle at Miami University of Ohio and his future with the Washington Capitals.
THW: What was the experience like playing in World Juniors like? Have you kept in touch with your teammates from the event?
Barber: "It was an unbelievable experience and something I'll never forget, it was something really special and it doesn't hit you until you start thinking about how rare it is to win."
"Yes I have, a lot of my teammates are very good friends from past teams and I try to keep in touch as much as possible."
THW: How do you plan on spending your summer as you prepare for next season and what parts of your game would you like to improve?
Barber: "I'm spending 6 weeks here at Miami training with the team and then I go back to my trainer. One thing I'd like to improve on is my quickness, I think you can always improve on all aspects and I'm going to continue to work on my shot because I think that's a huge aspect of my game."
THW: Are you excited for the new conference and playing against tougher teams?
Barber: "Yeah I'm extremely excited and I think playing in this conference will be a great test for our team, and great exposure."
THW: Discuss your decision to play college hockey as opposed to the junior level. What led you to choosing Miami over other schools?
Barber: "I just always knew that there is a long life after hockey and understood the importance of getting a good education. When I first visited Miami I guess you could say I knew right away. From the coaches to the school to the atmosphere I knew it was the right fit for me."
THW: What are your future plans with Miami and the Capitals? Do you think staying all four seasons could be an option?
Barber: "Yeah I believe anything could happen and I'm just focusing on next year with Miami."
THW: What's the experience like playing at your home building? Seems like an exciting atmosphere.
Barber: "It's something really special and it definitely gives our team a boost anytime we're at home. The fans are great and it's an unbelievable arena."
Stay tuned at THW for an interview with his head coach Enrico Blasi in the near future.
You can follow Matthew on twitter @m_speck and email him at mspeck21@yahoo.com with any questions or comments.
Matthew Speck covers the Washington Capitals organization for The Hockey Writers. He provides coverage of both Washington at the NHL level and prospect related content. Matthew also covers local sports for the Lebanon Daily News in Central Pennsylvania. You can email him at mspeck21@yahoo.com with any questions or comments.