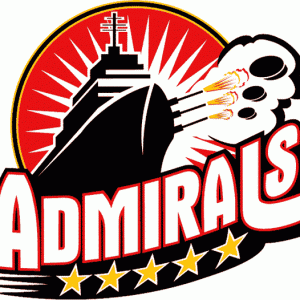 When you want a low-down about of the future of the Anaheim Ducks who better to talk to then long time voice of the Norfolk Admirals, Pete Michaud, who has been calling Admirals' games since they entered the area in 1989. The Chesapeake, VA native has been calling the balls and strikes for the Triple-A affiliate of the Baltimore Orioles, the Norfolk Tides, since 2007.
Pistol Pete as he is known gave THW the low-down on some prospects and the amazing Calder Cup run that secured the Admirals first title since the days of John Brophy and the ECHL.
Pete Michaud's Most Memorable Moment
Tampa Bay's flagship affiliate who was stationed in Norfolk last year won the AHL's Holy Grail before the Ducks and the Lightning flip-flopped American League affiliates. In addition, the twenty-eight game winning streak the club went on allowed Michaud to witness North American hockey history. Pete relayed his message about the historic run,
"To be a part of an organization that wins a championship is special enough for anybody, but to be with a team that was the best team I've ever seen in minor league hockey was even better. To see a team that wins twenty-eight in a row and frankly if the regular season had not ended who knows how long that streak might have gone. To sit back and witness what happens to be regarded by historians in hockey as one of the best minor league teams in minor league hockey history makes it pretty special."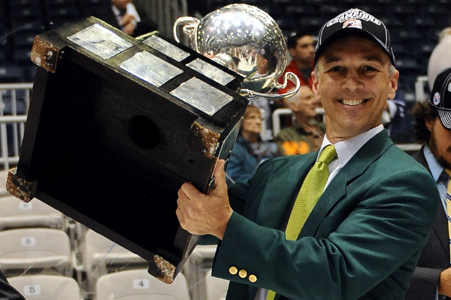 Slapshots to Breaking Balls
Hockey is all about hustle and spilt second reactions so hockey players need to think on their toes and keep up with the play. Likewise Michaud has to announce on his toes while calling hockey, but in baseball it's more of a marathon when he broadcasts.  The avid golfer spoke on the matter,
"Hockey is the most difficult game to actually call the play-by-play. Baseball is the most difficult game to prepare for because it's the slowest sport you can call and there's so much more dead time. I know guys who can wing it in hockey with not a lot of prep, but calling the actual action is really, really tough because it's so fast and you've got guys over the boards with line changes all in one motion. So there are the differences–hockey is the hardest to call, but baseball is the hardest to prepare for."
"Pistol" Pete Michaud Taking Aim On the Ducklings
Pete Michaud calls both home and away games for the Admirals. Announcing every hockey game gives him a lot of time to scout the Ducks of tomorrow. The Indian River graduate was generous enough to share his thoughts on some of the 2012-2013 Norfolk Admirals.
Emerson Etem: "Very smart, very fast, very dedicated, and very professional. For a young guy I think he understands that he has a long way to go, he has gone along way already, but he is already looking for ways to improve and picking the brains of people that have been around the game longer than him. I like his work ethic and the ways he goes about preparing himself on a day-to-day basis.
Patrick Maroon: "Big strong gritty guy. I think he can be a third or fourth line guy in the National Hockey League. Really good hands for a big guy, surprisingly tough. Some guys have fought him and they regret it afterwards."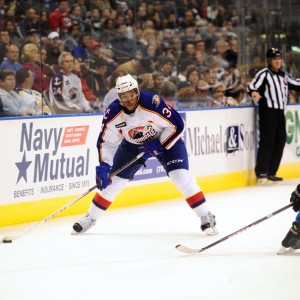 Devante Smith-Pelly: "Another guy who is every young and I think some people kind of forget that. I think they were expecting a lot out of him at a young age, but he was in the NHL when he was nineteen-years-old. Good skater, good hands. I think he is a guy who needs seasoning and just needs time, but I think he can be a NHL regular as well."
Chris Wagner: "Really smart. I think he is a guy who gets the most out of his ability whether or not that's going to translate to be a NHL guy or not I'm not sure. A guy who comes every night ready to play. He gives you everything he's got and that's all you can ask."
Sami Vatanen: "Tremendously skilled. Sami runs the power play well. I think it took him a good half of the year to adjust to the North American style of game. He was such a finesse guy over in Europe playing on the big ice. His passing and skating really have beaten a lot of people. He's learned once he got over here (A) the guys are better and (B) he is on a smaller surface. It took him awhile to adjust to that, but he eventually got the hang of it. Then you see him in the NHL late in the season and he's another guy who's still pretty young. I think he is going to be a definite NHL'er and maybe a first defensive pairing in the future."
Hampus Lindholm: "Really young. Kind of green. Learning the ropes not only on the ice, but culturally living over here. Coaches rave about him. Really hard working kid. Always asking questions. Doesn't have the offensive play like Sami, but he's got some touch. He needs to get a little bit bigger and stronger. "
Charlie Sarault: "Really good offensive touch. Haven't seen enough of him to make a real definitive determination on him, but the little bit we saw last year showed the kid's got some hands and he's a little guy and is not afraid to go into the high traffic areas. He'll go stand with the 6'4" guys in front of the net and take a beating and still somehow he finds a way to get the puck in the net. He's got that goal scoring knack."
Pete's Take On Admirals Head Coach Trent Yawney
"Trent is kind of an old school guy. You've got to work in both ends with Trent even if you've got a lot of offensive flash you've got to make the commitment defensively. I think people kind of cringe at times when people say he's a defensive coach, but I look at that as a compliment because he was a real good steady NHL D-man. He preaches you start from the goal out."
You now have the 411 on some of the up and coming talent the Ducks have to offer.  The buck stops at Pete Michaud when you want to talk Admirals hockey. It's a proven fact as he was awarded the AHL's James H. Ellery Award in 2012, which is given to three members of the media who cover the American League. Michaud struck pay dirt in the radio category.
Follow Ted on Twitter @bauerhockeydude
Follow Pete on Twitter @TidesRadioVoice
Ted grew up in Virginia. Warren has a passion for the AHL and dishes out articles about the Norfolk Admirals and the AHL. Follow him on Twitter @bauerhockeydude