In an offseason that has been filled with questions and speculations surrounding the future of the Buffalo Sabres, a piece of news may have been overlooked. One staple of the team for the last decade, Jochen Hecht will not be part of their future as he announced his retirement after the final game of the season, a 2-1 shootout win on April 26, against the New York Islanders.
The subtle announcement went hand in hand with his career. Even though Hecht was never a huge star in the league, he personified a player with consistency and had an all-round game.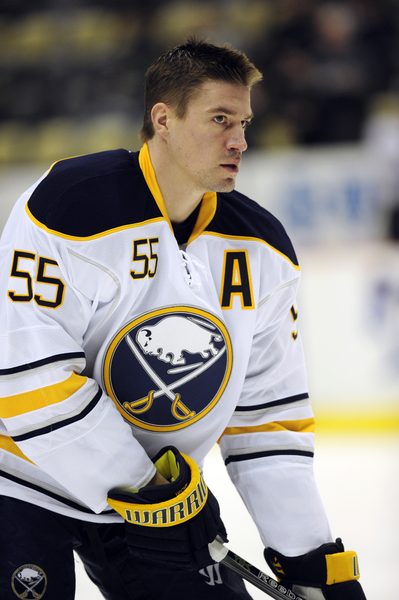 His Journey
Hecht began his professional career in Germany playing for his hometown team Adler Mannheim for four seasons. He was drafted in the 1995 NHL Entry Draft, in the second round, 49th overall, by St. Louis. Three years later, he arrived in North America and made his debut for the Blues. He only played three games for the NHL squad before being sent to the AHL, yet Hecht was able to develop, learn the North American game and made the team the following year. He went on to play two full seasons with the Blues scoring 78 points in the process.
In July of 2001, he was part of the trade that sent Doug Weight from Edmonton to St. Louis. Hecht spent just one season with the Oilers before they flipped him to Buffalo.
While it appeared that Hecht was going to be bounced around for the duration of his NHL career, he found a home in Buffalo as he would spend the next ten seasons there.  Hecht had his most productive years as a Sabre, twice scoring more than 50 points (2003-04 and 2006-07) and twice he reached the 20-goal mark (2007-08 and 2009-10).
One of Hecht's five goals this season.
http://youtu.be/lkUttB7hCL8
Where He Ranks Among German Players
Maybe Hecht's greatest contributions are what he has done to help promote German hockey in North America.  His 833 games played ranks him third all-time among German players, excluding Dany Heatley, behind only the first German to play in the NHL, Walt Tkaczuk, and Marco Sturm.   His 463 career points (186 goals and 277 assists) also ranks him third, again excluding Heatley, behind Tkaczuk and Sturm.
On the international stage, Hecht represented his country on many occasions. He played in the IIHF World Juniors from 1994-96, appeared in a pair of Olympic Games, Nagano, Japan in 1998 and Salt Lake City 2002, and made five showings at the IIHF World Championships in 1996-98 and 2004-05.
Type Of Player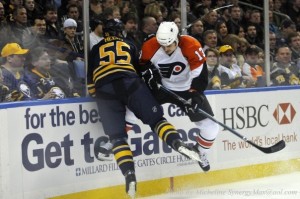 While he was never a 50-goal scorer or a player with tons of flash, Hecht was effective. While playing in Germany, the Blues noticed his offensive potential, which was enough to warrant a selection. However, it will be his consistency that will be remembered. In seasons that he played more than 60 games, he never had fewer than 27-points.  During his career Hecht was a .556-point per game player. His numbers are nowhere near superstar status, yet they were most definitely effective.
In his later years, Hecht showed off his defensive side and developed into a solid shutdown centre. Perhaps the most impressive stat that will be attached to his name is that during his 14 NHL season, only twice did he have a minus rating and one of those season was his first, when he only made three appearances for St. Louis.
Awards And Accolades
There are no big individual honors won by Hecht. He never captured a Stanley Cup ring or international medal, yet Hecht was part of the 2007 Sabres that won the Presidents Trophy for the best record during the regular season.
Hecht was also captain of the Sabres during the 2007-08 season where they had rotating captains.
Hecht now plans to return to Germany, to the place his career began, and play for Mannheim. While his retirement and career may not have garnered a lot of attention it should be recognized. How many coaches in today's NHL would take a player that they could count on for a point every other game, to always be a plus player and who can play a two-way game? My guess would be 30 of them.