Marko Dano made his much-anticipated season debut in front of a packed United Center on Monday night as the Blackhawks knocked off the rival L.A. Kings 4-2. Dano's final stat line – consisting of one shot and zero hits in just over 11 minutes of ice time – was certainly an underwhelming one for Hawks fans who have been awaiting the Slovakian forward's debut since Stan Bowman acquired him in a trade for Brandon Saad this offseason. Early in the preseason a line consisting of Dano, Marian Hossa, and Jonathan Toews generated quite a buzz in training camp from reporters who referenced the chemistry and scoring ability the three possessed together.
Dano's Debut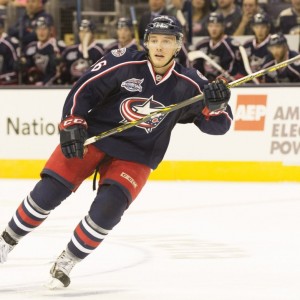 But Monday's game painted a different picture after Dano failed to generate much offensively and was a defensive liability on the Kings' first goal of the game. Video shows that Dano was late in rotating to the point to defend Alec Martinez who had space to fire a puck past Corey Crawford. This mistake makes the fact that Quenneville gave his young player only 11 minutes of ice time seem far more reasonable; Quenneville has always demanded responsible defensive play from his roster.
Although Dano's performance may have left something to be desired, the results shouldn't be that disappointing overall. Remember, he most recently stood out while playing in the AHL with Rockford and on a subpar Blue Jackets team last season. Appearing ahead of the curve in each of those situations is a lot easier than doing so on the defending champs while playing against a Kings team that had won six in a row entering the game.
Replacing the Stars
Even still, Chicago's win against their playoff rivals could go down as one of the most important games of the season for Quenneville's team. Not only were they (still) missing star defenseman Duncan Keith, but Marian Hossa was also out of the lineup with a lower-body injury. Those injuries – combined with the ineffective play of Viktor Tikhonov and David Rundblad – allowed rookies such as Ryan Hartman, Viktor Svedberg, Erik Gustaffson, Tanner Kero, Artemi Panarin, and Dano to all see significant ice time against a top opponent. And they responded. Svedberg has been one of this season's most pleasant surprises and he continued his solid play with one assist in 22 minutes while receiving a majority of his ice time against the Kopitar line for L.A. according to war-on-ice.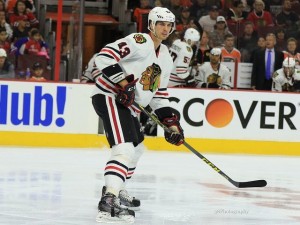 Beyond the rookies, the Blackhawks also did a great job of limiting the high-quality scoring chances the Kings were able to generate against Crawford. Even though they were outshot 35-26 for the game, 20 of the 28 even strength shots Crawford faced were low-danger scoring opportunities. That's impressive when the fact that L.A. has an offensive lineup loaded with dangerous snipers and power forwards is considered. Not only that, but the Hawks were also able to turn their sound defensive play into chances in the offensive zone. Of their 24 even strength shots, 15 were medium or high-danger scoring opportunities.
Offensive Success
Much of that offensive production can be chalked up to the play of two forwards: Artemi Panarin and Patrick Kane. Panarin has proved to be perhaps the best signing of this offseason after terrorizing the KHL for a few years alongside Ilya Kovalchuk. And after displaying some chemistry while playing with Kane and Artem Anisimov on the second line, the 'Breadman' was finally given his chance on the top unit with Toews and Ryan Garbutt. He finished the night with just one assist, but could have had more as he also registered four shots and three high-quality scoring chances. That is exactly the kind of production the Hawks will need from him with the absence of Hossa. If he can repeat his success on Wednesday against the Blues, he may have solidified himself a spot on the top line with Toews moving forward.
As for Kane, I believe that he is simply the best offensive player in the game today. His abilities to carry the puck, pass, and shoot are evident every shift, and he makes his success look easy. He currently sits two points behind NHL-leader Jamie Benn in the scoring race, but I wouldn't expect that to last for a whole season given the dynamic skills Kane has been able to display so far this season. His behind-the-back pass to Teravainen was a play few players in the league could have made, and his goal showed how his elite puck handling and shot release can change a game.
Overall, Chicago's win over L.A. on Monday was more than just two points in the standings, it was a verification of just how good this team can be – even without two of their best players. Dano's disappointing debut aside, not much could have gone better for the Hawks in knocking off their biggest rival of recent years.
David is entering his final year as a sport management and operations and information management double major at UMass Amherst. Originally from the West Suburbs of Chicago, David has enjoyed watching the Blackhawks for as long as he can remember. When not watching or writing about hockey, he can be found working on the McCormack Future Leaders Conference on the UMass campus.