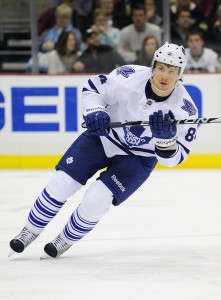 The National Hockey League's lockout shortened season is barely in the books and the focus for most fan bases has already turned to the presumably topsy-turvy offseason ahead.
The much talked about compliance buyout window will open up sometime late on Wednesday night, and the NHL's silly season will begin in earnest. Trades, buyouts, signings and the draft will all take place within the next two weeks, a fortnight that is sure to be exciting for fans, if unpredictable.
For the Toronto Maple Leafs, one question has already been resolved, as Dave Nonis finally pulled the trigger on a long rumored deal for Los Angeles Kings goaltender Jonanthan Bernier. The next decision on the docket for the Leafs' brass is what to do with Mikhail Grabovski.
In the case of the 29 year old Belarusian, Nonis and company have three distinct options to choose from.
Compliance Buyout
Under the new collective bargaining agreement, the Maple Leafs, like every other franchise, are afforded two compliance buyouts that would not count against the salary cap in order to fall in line with the lowered ceiling for next season.
One of those buyouts will most certainly be used on defender Mike Komisarek, who struggled mightily under the weight of his free agent fortune across four years in Toronto.
Another potential candidate would be American defender John-Michael Liles, who found himself on the outside looking in for a good portion of this season as well. It would appear there might be more of a trade market for a player like Liles, which makes him less likely to receive one of the precious buyouts.
The question has to at least be asked whether or not Nonis should use the second buyout on Grabovski. His $5.5M contract over the next four years is an ominous number for a player who scored only 16 points in 48 games and was a shadow of himself on the ice.
The downside to a manoeuver of this magnitude would be losing an asset for nothing. It would be akin to letting an unrestricted free agent walk away from the team without getting anything for him, except you still have to pay him for the next eight years.
Let's not forget that before this shortened season, Grabovski was seen as a key part of the Maple Leafs core, solidly positioned in their top six forward group. While one bad season does not make a career, it can serve as a red flag.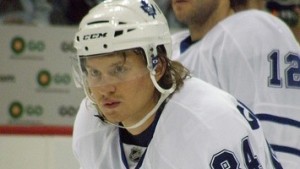 Trade
The second option available to Nonis would be to attempt to find a trade partner willing to take on Grabovski and his inflated contract.
Before the playoffs began, it could have been argued that there was absolutely no market for the veteran centreman and his contract, but his play against the Boston Bruins in the first round could have elevated his value just enough.
Grabovski battled hard all series and showed flashes of his skill and his will to win. His minus-10 rating in seven games is less than stellar, but it only tells part of the story. He was arguably one of the better Leaf forwards in more than one of the games and may have done enough to create a market for himself in terms of a trade.
While not impossible, it's unlikely that Nonis will be able to find a GM willing to take the risk unless it is part of a greater package, which makes a trade the least likely of the three options.
Do Nothing
The most probable scenario would be to give Grabovski another year to prove that this season was merely an aberration and give him another year to regain his 50 point form. The safety blanket for Nonis would be that the club doesn't need to use both buyouts this summer, as they have the opportunity to use them next summer as well.
Ultimately, Grabovski was miscast on the checking line in Toronto this season, as Tyler Bozak became a Randy Carlyle favorite and Nazem Kadri excelled offensively in his first real shot with the club.
If Bozak is allowed to leave via free agency, Grabovski would naturally move back into the top six forward group and would have a better chance to produce the kinds of numbers that led to his current contract.
It will be an interesting couple of weeks for Leaf Nation, with many key decisions being made that will chart a course for the organization in the years to come. The decision on Mikhail Grabovski could be the first domino to fall, kicking off a roller coaster ride for fans leading up to training camp in September.