The Monday 3:00 p.m. NHL trade deadline is fast approaching and the Tampa Bay Lightning have yet to pull the trigger on a move to upgrade the team. Looking at the recent trade deadline history of General Manager, Steve Yzerman the lack of moves with two days before the deadline shouldn't surprise anyone.
Last season, Yzerman pulled off a couple of deadline deals, one of which saw the Lightning acquire defenseman Braydon Coburn from Philadephia in exchange for defenseman Radko Gudas along with a future first and third round draft pick. Forward Brett Connolly was dealt to Boston in exchange for a couple of second round draft picks.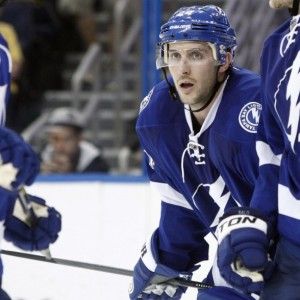 The year before was the deadline trade that shocked many in the NHL when Yzerman traded unhappy captain, Marty St. Louis to the New York Rangers for Ryan Callahan and a couple of conditional draft picks. In a minor deal on the same day as the Callahan-St. Louis trade, the Lightning sent forward Dana Tyrell to Columbus for defenseman Matt Taormina, Jonathan Marchessault and Dalton Smith.
Going all the way back to 2013, Yzerman pulled off a couple of deadline trades. The big one was landing goalie Ben Bishop from Ottawa for Cory Conacher and a fourth round pick. The minor deal that deadline was getting forward Adam Hall from Carolina for defenseman Marc-Andre Bergeron.
History Repeating Itself
So, based on this small sampling, it would be wise to expect a couple of deals between now and Monday afternoon's deadline. When Yzerman takes a look at the flurry of deals made in the last 24 hours by his counterpart, Dale Tallon of the Atlantic Division leading Florida Panthers and at least a couple of Lightning deals should be in the offing. Or will they?
It is true that the Lightning are chasing the Panthers for the top spot in the Atlantic. It is also true that by acquiring forwards Teddy Purcell and Jiri Hudler along with defenseman Jakub Kindl for draft picks, Tallon is at least making the moves he feels will keep the Lightning at bay.
Do these transactions by Florida force Yzerman's hand? Perhaps, but a cool, steady G.M. like Yzerman will only make a deal if he feels it is right for the organization, not simply because he is reacting to another team's moves.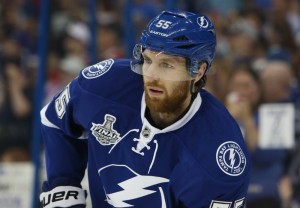 While not trading anyone, this week Yzerman did lock up Coburn who was to be an unrestricted free agent after this season for the next three years in a team friendly deal that reportedly lowers his cap hit from $4.5 million this season to $3.7 million through the end of the new contract.
Tampa does have suspended forward Jonathan Drouin that Yzerman has stated he is looking to deal sooner rather than later. Other players that have been rumored to be potential trade options are defenseman Matt Carle, forwards Valtteri Filppula and Marchessault.
Based on his trade history, Yzerman should pull off a deal or two. The only difference between those teams of the recent past and the current team is that today's roster is one that Yzerman felt was good enough not to mess with too much in the off-season. Only one roster change was made from the Stanley Cup runner up team of last June. Brenden Morrow retired and the team signed free agent Erik Condra.
Deal or No Deal?
Coach Jon Cooper has said recently "I like our team." Winning 16 of their last 21 games will lead to that kind of thinking. The question becomes does Yzerman like the team enough to stand pat? When he talked about moving Drouin, he said he wanted to shore up the team's power play. Currently 26th in the NHL with a 17% success rate, the team could use improvement there.
The knee-jerk reaction might be that the power play needs help but would it be because of the 17% or the fact that they are 26th in the league? That same rate of 17% last season would have put them 21st in the league. In full disclosure the Lightning had a 18.4% power play rate last year. If the team had 200 power play opportunities over the course of a season, the difference between last year's 18.4% and this year's 17% is two goals. Is that enough reason to make a deal?
The track record of Yzerman who is the reigning NHL General Manager of the Year is very good. The trades that brought in Callahan and Bishop. The drafting of the Triplets. The free agent signings of Anton Stralman and Brian Boyle. Credibility is there and the Lightning fans believe in the Yzer-plan.
Expect a move or two in the next couple of days. Also expect that should those moves be made, it is because Yzerman is convinced it will make the team better in the short term without risking the long term. He may even pull off a deal or two that will get Cooper to like his team just a little bit more.
Born in Chicago, Illinois. Grew up playing and loving sports. Spent most of my formative years playing, debating, arguing and talking sports. for the last couple of years I have written about hockey. I am currently a Tampa Bay Lightning contributor for The Hockey Writers. I know that I may not always be right, but I am passionate about hockey and it is damn hard to hide that passion in my writing.