The Isobel Cup Champion Boston Pride rounded out their roster Sunday evening, with commitments to sign coming from a number of national team players, including NWHL MVP Brianna Decker, NWHL Defenseman of the Year Gigi Marvin, Kacey Bellamy, Amanda Pelkey and Zoe Hickel.
Decker, Bellamy and Marvin have all agreed to $20,000 deals, the same as 2015-16's leading scorer Hilary Knight and Meghan Duggan, the captain of the U.S. National Team, who will be joining the Pride this coming season. For Decker, she's earning $2,000 less than last season, just like Knight. Bellamy also takes a $2,000 pay cut from last season, while Marvin will make the same amount she did last year.
Pelkey has been inked to a $17,000 deal ($3,500 more than last season), and Hickel has a deal carrying a value of $16,000. Hickel played on a deal of the same value last season.
"Amanda is a dynamic player who learned great patience last season, which has made her speed and skill even more deadly to her opponents," said general manager Hayley Moore. "And Zoe battled back from injury that gave her a new level of mental toughness and has elevated her game. These two will add another level of depth to our offensive lineup we are very excited to put together."
We made it! 💛💛💛 https://t.co/riSgFvYWqS

— Boston Pride (@TheBostonPride) August 1, 2016
There are definitely players taking a little less here to stick with the Isobel Cup champions and make another run. Particularly Knight and Decker, with the incredible season they had last year, could have gone north of $20,000, though it may have jeopardized the team's ability to make big signings again this season. Currently, Amanda Kessel of the New York Riveters and Kelli Stack of the Connecticut Whale have the league's biggest contracts at $26,000.
Decker skated in all 16 regular season contests last year, potting 14 goals and 29 points, including the league's first hat trick. She also put in another nine points in four postseason contests. That was enough to get her named MVP of the Isobel Cup Playoffs.
We look forward to signing our contracts this week and helping advance the league to new heights in our second season

— Brianna Decker (@Bdecker14) August 1, 2016
Bellamy played 13 games during the regular season, scoring two goals and 14 points. She also contributed four assists during the postseason. The defender saw lots of top competition last year and was a pivotal piece of a blue line that has gotten stronger over the summer.
Marvin scored five goals and 14 points in 16 games. The Warrod, Minn. native also posted two goals and seven points during four postseason contests. She had indicated over the summer that there was little doubt she would return for another season in the NWHL.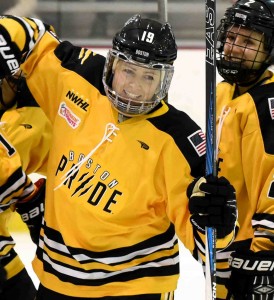 "Gigi came up big in some crucial moments in our quest for the Isobel Cup," Moore said. "She is strong, poised, and quietly dangerous on the blue line. Her passion is felt by her teammates and is truly contagious. She will continue to deepen our defensive unit and adds leadership to this group."
Hickel put up three goals and seven points in 15 games last year, while Pelkey had seven goals and 10 points through 16 contests. Both scored a goal and four points for the Pride in the postseason.
The Pride's roster entered July 31, the final day of free agency, as the least filled-out of the league's teams. That was largely because they have so many U.S. National Team players on the roster. That led to a flood of late signing announcements Sunday.
None of those signings are official as of the deadline, but are commitments to sign in the coming week. National Team players negotiate their deals collectively, which undoubtedly slowed down the process some, causing the league to make the announcements without ink on paper in order to meet a self-imposed deadline.