Taylor Hall's Oiler career is officially in the rear view mirror. The team, and the fans (I think) have moved on, and it's time to look ahead to life without the dynamic winger. Although the trade is over and done with, you can be certain that his former teammates will be asked about Hall when the opportunity arises. During a recent interview on a Swedish website, Oilers defenceman Oscar Klefbom shared some interesting comments about Taylor, which at first glance were not very flattering.
Lost in Translation?
The interview was done in Swedish, so obviously every quote must be taken with a grain of salt. The translation isn't always 100% flawless, and the context might be lost. Having said that, I do think there is some truth that foreign language players will blame the language-barrier to get away with stuff that they shouldn't have said. So we can't always assume their quotes have been misunderstood. Originally, Klefbom was quoted as saying the following:
"Taylor [Hall] has been our best player in recent years, but it's also hard to tell what he contributed," suggested Klefbom. "He never played his best games against the tougher teams, which was when we really needed it. However, he was fantastic when we met inferior teams." [Todays Slapshot]
First things first, because the Oilers have been so dreadful over the past few years, its hard to find a handful of teams that could really be considered "inferior". I understand what he's getting at, so let's look at the stats. Last season, Hall had a 0.66 points per game average against the Western Conference playoff teams, and a 0.95 ppg against non-playoff teams. The Oilers as a whole were predictably brutal when facing playoff teams, posting a 6-20-3 record against them.
Now obviously, when you're on a bad team, you're more than likely to have a tough time against skilled clubs. Klefbom acknowledged this, because once the crap hit the fan, he was forced to clarify his comments, and the damage control sounded like this:
"It's not that it was only Taylor, but everyone, including myself. The reason we have not taken us to the playoffs is that there are too many players who have underperformed when it is really needed." [Cult of Hockey]
He's not wrong. The Oilers failure has been a full team effort, and you certainly can't pin it on any one player alone, especially a guy who has scored 20+ goals in four of the last six seasons. But, successful teams rely on their best players to be their best players, so of course there was added pressure on Hall. (If the Oilers should take a big step forward this season, I hope that Hall won't end up being labelled as the reason they sucked. I'm sure someone out there is going to say that though).
Does This Further the Narrative on Hall?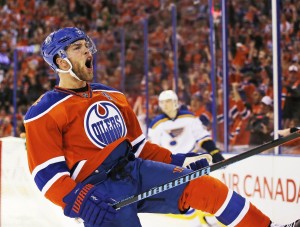 Similar to the P.K Subban saga in Montreal, there will always be those question as to how certain players are perceived in the dressing room. Klefbom essentially throwing Hall on the bus doesn't exactly alleviate those rumors. Do I think that this whole ordeal makes the "bad guy" narrative on Hall seem more legitimate? No, actually I don't. If Klefbom's original comments are accurate, I find they make Oscar look like the bad one rather than Hall. Klefbom hasn't been the solution in Edmonton any more than Hall has.
Oscar has never played a full 82-game season. His career high in goals is four. He was a -21 player in the 2014-15 season. He has a total of five powerplay points in parts of three seasons. Although Kelfbom is seen as a big part of the Oilers future, he has barely had time to establish himself as an NHL player. But that makes his comments worse. He really has no right to dig into Hall, who has been a good solider through the worst times in Edmonton, and never complained. He never requested a trade (at least not publicly), and never actually did anything (that we know of) to perpetuate the "character issues" we hear so much about.
I don't think Klefbom's comments are an indictment on Hall's character. Its possible those two guys didn't get along. Maybe Klefbom is trying to make his buddy Adam Larsson look like the hero. Or maybe, it's the dog days of summer, and Klefbom is just talking too much. If his second phase of comments is actually what he meant, then its no big deal. But why mention Taylor Hall's name, and no one else's? Why not comment on Jordan Eberle, or Ryan Nugent-Hopkins, or all of the defencemen?
To suggest Hall isn't clutch probably isn't a fair assessment, because let's face it, who among the Oilers has actually been clutch over the past few years? Was this a way of questioning work effort, or heart? I don't speak Swedish, so I'm not going to read that much into it. In any case, naming a player who was shipped out-of-town isn't the best move, especially for a guy who hasn't done much of anything in this league. Was Klefbom baited into making those assertions or did he offer them freely? For the kid's sake, he should probably worry about his own game and say "no comment" on players who no longer wear the jersey.
Marcy, a former hockey player, is a hockey correspondent on CTV News and TSN radio. She began her career as a Sports Journalist in 2009 and has been part of The Hockey Writers since 2010, where she is currently a senior writer and editor.