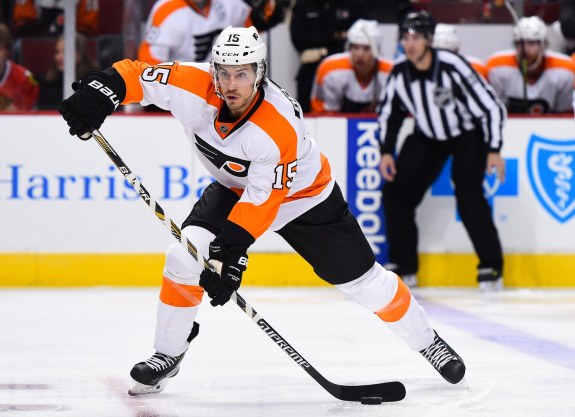 Raise your hand if you had Michael Del Zotto as one of the Flyers' most consistent defensemen before the season began?
Right, I didn't think so. However, Del Zotto has been just that for the Flyers through the first 16 games of the season, and tonight the former Ranger makes his return to Madison Square Garden for the first time since he was unceremoniously dealt to the Nashville Predators for Kevin Klein.
With the rash of injuries sustained to the blue line in the early going, Del Zotto was thrust into a bigger role, and after a bumpy start, the 24-year-old has stood out along Philadelphia's blue line.
Coming into the campaign, the book on Del Zotto read that he moved the puck well out of his zone and he had a good sense of when to join the rush, but he had trouble defending in his own end — especially without a stay-at-home partner to shoulder most of the defensive responsibility.
The first two observations are true — Del Zotto excels in the offensive end of the rink and has been one of the Flyers most consistent defenseman when it comes to the first pass out of the zone. While he's run the point of the second power-play unit, he's been a force at even strength. Seven of his eight points recorded this season have come at even-strength play, and as evidence by this goal, he's making smart decisions on when to creep in from the blue line.
Del Zotto's play has inspired a lot of confidence with coach Craig Berube, and it shows when you look at some of the numbers.
Among Flyer skaters, Del Zotto ranks third in ice time behind Mark Streit and Claude Giroux.  His defensive-zone starts are now at a career high, meaning he's being less sheltered and taking on a bigger role at that end of the ice. You can see it in his play out in that end too, Del Zotto uses more physicality than he did in the past, and he's become more consistent with his positioning.
It's a tough comparison to live up to, but instead of the Flyers replacing the injured Kimmo Timmonen by committee, Del Zotto is beginning to emulate Timmonen's impact on the ice all on his own — which is nothing but good things for Philadelphia moving forward this season.
Entering tonight's tilt, Del Zotto will be paired with Brayden Cobourn on the team's top defensive pairing for the first time this season. And just like Scott Hartnell's return to Philadelphia, it could be an emotional night for Del Zotto.
"When I get there, it will hit me a little bit and bring back some memories," Del Zotto told CSN's Tim Panaccio. "Like I said, it's just another game. It's a big game, those are two points that we need. We need to get back to playing some consistent hockey."