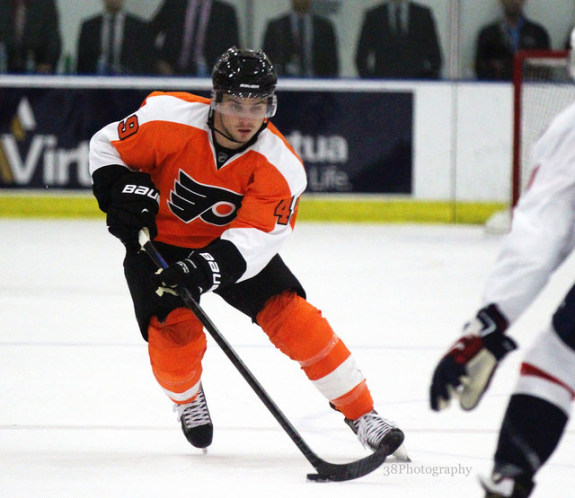 When Scott Laughton took the ice for his first professional game on Jan. 19, 2013, the center was a wide-eyed 18-year-old making his NHL debut against the Pittsburgh Penguins.
It made sense at the time — Laughton had been playing in the OHL while most of the NHLers were just returning from the lockout. His stint in the NHL would be a short one, as Laughton was sent back to the Oshawa Generals in the Ontario Hockey League after five games with the big club. Now the 20-year-old makes his return, and he hopes its for good.
Laughton's call-up comes after general manager Ron Hextall announced that captain Claude Giroux will miss at least the next two games with a "lower-body injury."
It's no secret that losing Giroux to an injury for any period of time during the campaign will be a big blow to the Flyers, and fans will need to temper expectations for the 2012 first-round pick in his season debut.
No one should expect Laughton to replace Giroux's production, but it appears coach Craig Berube won't ease the rookie into his first NHL action in almost two years. Early line rushes from morning skate show that Laughton will center Pierre-Edouard Bellemare and Vincent Lecavlier to make up the team's third line.
Laughton centering Bellemare and Vinny.

— Sam Carchidi (@BroadStBull) November 19, 2014
"Laughton's been down (in the AHL), playing well, and I really like his speed," Berube said after morning skate. "The Rangers are a fast team. I think it makes sense to get a quicker guy in there and someone who has been playing."
Berube's right — Laughton has played and performed well during his limited stint in Leigh Valley. The 20-year-old potted six goals and recorded 11 points through his first 13 contests. earning the AHL's Player of the Week during the first week of competition.
"I always thought of myself as an offensive guy," Laughton said to Dave Issac of the Courier-Post. "I think my defensive game kind of took over during the draft and stuff like that and people thought I was only defense. I think I bring a little offense to the table. I'm definitely gonna try and show that. It's a 200-foot game and I'm gonna try and show that."
It's undetermined whether Laughton's call-up will be a temporary one or if he'll play his way onto the team, but his season debut at the Garden should give an indication to Flyers fans where the 2012 first-round pick is currently at in his development.