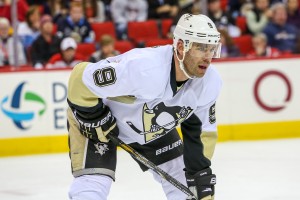 When it comes to serious health injuries, hardly any other teams have had to face as many cases as the Pittsburgh Penguins. The latest news of Pascal Dupuis, 35, having a blood clot in his lungs is another story to take in. Dupuis just returned this season after suffering from an ACL injury last year. Moments like these, yet again, remind us that there's more to life than hockey.
This Monday, he complained of having pain in his chest and according to the Penguins website, "Pascal had a blood clot in his leg that traveled to his lung," said the Penguins team physician Dr. Dharmesh Vyas. "In medical terms, that is a deep vein thrombosis resulting in a pulmonary embolism. This is the second such incident that we know of for Pascal. The treatment is at least six months of blood thinners, during which time he will not be able to play hockey. Other than that, his condition is stable."
Dupuis is seen as an inspirational leader on the team. His presence is undeniably strong, both on the ice and in the locker room. He is the guy that all of the players look up to. To have a great person face a life-threatening health situation is something that stops you in your tracks and really makes you think. You start to think about your loved ones and how precious life is. You start to think about the what if's and why's. Why do bad things happen to such great people? That is the question that hits us all when we hear of news like this.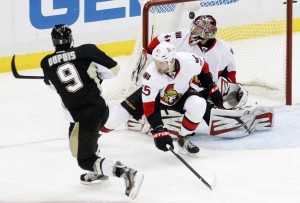 Triumph in the Pens Locker Room
The Penguins are unfortunately familiar with the news of serious health issues in the past couple of years. From Kris Letang's stroke, to Sidney Crosby's concussions, and more recently, Tomas Vokoun's blood clot issue, Olli Maatta's tumor, Pascal Dupuis' news is yet another heartbreaking story for Pittsburgh.
However, throughout all of these players' cases, the team has remained strong, stable, and yet are still one of the top teams in the league. Even with these injuries, they still have been able to power through and continue to play as a team and triumph these adversities. The Penguins are ranked 3rd in the NHL currently with a record of 13-3-1 (27 points) and are ranked 1st in the league in power play percentage, goals for, and shutouts.
For a team with the amount of injuries that the Penguins have had to endure, there is, undeniably, a lot of very good things happening, in that locker room and offices, if they continue to put up numbers year after year despite these unfortunate health issues. With tremendous support from the team, front office staff, management, fans, and family, all of these men have been able to overcome their health issues. Pittsburgh will continue to stay strong throughout this time and support the team more than ever. With a very dedicated fan base, staff, and players, there's nothing that can stop the Penguins.
Days like today are sad for the hockey community and really put things into perspective. We are all praying for him to have a quick recovery and hope that this is the last news of serious health issues for the NHL and the Penguins.