The Toronto Maple Leafs put winger Matt Frattin on waivers Wednesday, presumably with the intention of sending him to AHL Toronto. The soon-to-be 27-year-old forward has had his share of ups and downs in his career, showing immense promise as a young player who was drafted in the fourth round by the Leafs and once considered one of their top prospects, then getting bounced around following the conclusion of the 2012-13 season.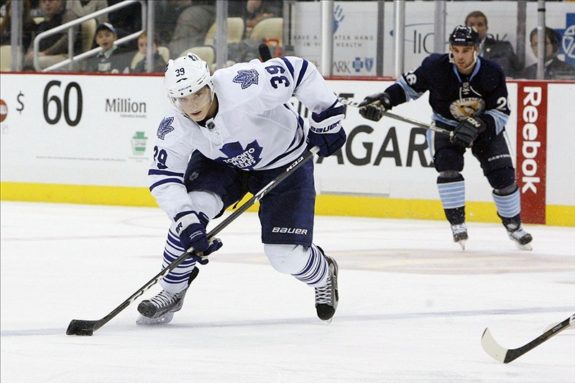 He was sent to Los Angeles in a trade that sent Jonathan Bernier to Toronto in exchange for Frattin and Ben Scrivens. Then he was a pivotal piece in a trade that sent Marian Gaborik to Los Angeles from Columbus. Then in July the Maple Leafs traded Jerry D'Amigo to the Blue Jackets in order to re-acquire Frattin. Through all these trades he was considered to have solid upside and wasn't a "thrown-in" piece of the deal. Teams have seen the potential in Frattin repeatedly, with good hands, nice wall work, and a goal-scorer's instincts.
So, here we are, 19 games into the season and the struggling Maple Leafs have only had Frattin in the lineup six times and now they've waived him.
Leafs put Matt Frattin on waivers; Red Wings place Andrej Nestrasil on waivers as well

— Pierre LeBrun (@Real_ESPNLeBrun) November 19, 2014
That gives other NHL teams 24 hours to acquire the winger who is in the first year of a one-way, two-year deal that pays him $800,000 per year. Is he worth the cost?
Comparisons
Frattin hasn't had an offensive explosion the way some of his contemporaries have, but let's take a look at how he compares to other forwards around his age and experience level.
Below is a grouping of forwards who have played in parts of 4 to 5 seasons since 2010-11, have played between 100-150 total games in that span, and have scored at least 20 points total in that time. (Though I'm including Mark Scheifele who has played 94 total games and will cross the threshold this season quite easily.)
With the requirements placed here you're looking at a group that emerged young and tapered off or started slow and has picked started blooming a few years into their career.
Size metric on the chart is average time on ice and all stats are 5-on-5. You'll find Frattin in the center right clump there.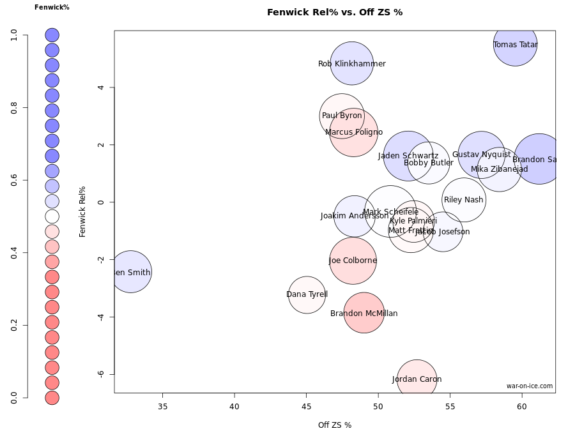 To make this a little more readable, let's remove the lower left players including Dana Tyrell, Jordan Caron, and Ben Smith (who had a huge year last season, but for the sake of this graph we'll exclude).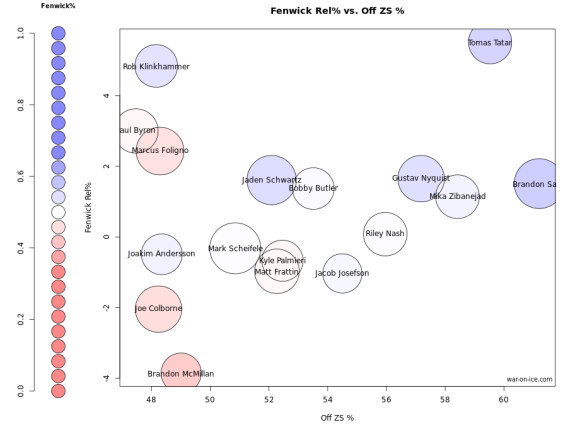 Frattin's numbers don't stand out here and when you start breaking it down. He's been given favorable zone starts and maintains a negative Fenwick Relative throughout his five seasons.
As mentioned, it's a group that has some uneven play over their first season, but lots are breaking out — Ben Smith, Brandon Saad, Gustav Nyquist — while others will start to recede unless their play improves.
His Progression
That sounds pretty negative, but the truth is there's been reason to be excited about Frattin in the past. It's been a tumultuous couple years for Frattin and he's seen a solid 1.24 P/60 at 5-on-5 in his first season (2011-12) grow to 2.33 the following season and then nosedive to .63 last year when he split time between LA and Columbus. Worth noting there that the nosedive coincided not only with a couple of trades, but with the first negative relative zone starts of his career.
He has no points through six games this year, but with the limited number of games and limited time on ice — just 7:52 per game — it's not entirely surprising that he's had struggles.
Nonetheless, looking at what he's been capable of in very limited time — he's never averaged over 13 minutes per game — he could be a player that continues to develop into a decent top six winger in the right situation. But it'd take the right team to claim him. His possession numbers aren't strong unless he's seeing sheltered zone starts and that indicates that he might not thrive in a bottom six role despite having good size and a physical aspect to his game. It'd need to be a team that has the ability to let Frattin work his way into a top six role.
In that way he compares nicely with Cory Conacher. They are forwards who have shown great offensive potential, struggled after going through a couple trades, produced nice offense with sheltered zone starts and limited ice time, but have struggled with possession. Conacher did find a deal like we're talking about here. He got a contract with the Islanders where there was space for him to climb into a top six role. So far that experiment has seen Conacher play 14 of the team's games while being a healthy scratch at times. He has one goal and two assists.
Is Frattin worth the risk? It's a favorable contract if you get him performing at the NHL level, but it's a hefty price tag at the AHL level. It'd have to be the right situation, offering some lineup stability and the ability to take risks with his game without getting minutes immediately cut. With that maybe too ideal situation, Frattin might be able to bloom into an interesting player for an offensively starved team that's planning for the future.
On the other hand, if he doesn't get claimed maybe the Marlies will be a great spot for Frattin's development. With limited minutes and a terrible team in the NHL, a stint in the AHL playing lots of minutes, power play, and working on two-way game again will get Frattin back on track to become a valuable piece of the Leafs' NHL puzzle.
Dustin Nelson writes about news and the Minnesota Wild for The Hockey Writers.