Injuries and suspensions are a frustration for most teams during the course of the season. For the Windsor Spitfires, though, they've become just another speed bump on the way to hosting the Memorial Cup.
When the Spitfires opened the 2016-17 season, they knew they would have to wait a bit for players to return from NHL camps. By late October, though, the roster seemed ready to go.
They got defencemen Logan Stanley and Mikhail Sergachev back from Winnipeg and Montreal while forwards Logan Brown and Jeremiah Addison were primed for big seasons after returning from Ottawa and Montreal, respectively. There was just one problem – it was too good to be true.
Injuries Pile Up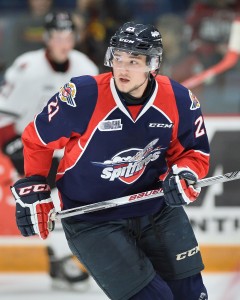 A rash of injuries and suspensions put a wrench into Windsor's plans. On Nov. 12, Brown (pictured left) was playing against the Flint Firebirds when he took a hit near center ice.
While it looked harmless, it ended up being the opposite. He suffered a tendon injury in his wrist and it has kept him out of the lineup ever since. He's expected to be out until mid-December, if not after Christmas.
A week later, forward Gabriel Vilardi, a top 2017 NHL Draft prospect who was among the team leaders in scoring, had to have an Appendectomy and is out of the lineup indefinitely. He was out before the season started with an injury but had come back ready to maintain his spot near the top of the draft rankings.
Two weeks later, on Nov. 24 in Peterborough, Addison was hit into the boards by the Petes' Cole Fraser. Addison left the game with a shoulder injury and was out for two weeks. They also lost forward Cole Carter to a shoulder injury on Dec. 8 in a game in Barrie and his return is up in the air.
Injuries haven't been the only issue, though. Forward Cristiano DiGiacinto was given a five-game suspension by the league for an incident against Sarnia on November 18. While he has since returned to the lineup, his absence was clearly felt with line juggling and the team playing just three lines.
This means five of the top nine forwards for the Spitfires have been on the shelf for various reasons. Yet, somehow, they've pulled through. Since Brown's injury, the team has gone 10-1-2 with their lone regulation loss coming up north in Sault Ste Marie on Nov. 30.
Depth Comes Into Play
When you're building for a Memorial Cup appearance, you create a veteran-laden team who can score and defend with the best of them. Windsor has been well on their way to that. It has helped them with the rash of scratches, too.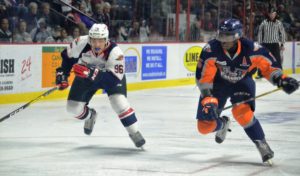 Several players have stepped up in their absence. Forward Julius Nattinen, an Anaheim prospect, has 21 points in 22 games. Veteran forward Aaron Luchuk has 28 points in 30 games. Since his suspension, DiGiacinto (pictured right, #96) has seven points in five games in December.
The youngsters are helping out, too. Second-year forward Luke Boka had four points in three games from Dec. 8-11 to give him 18 points in 30 games after four points last season.The defence has stepped up as well. Sean Day scored a natural hat trick against Saginaw on Dec. 4 while goaltender Michael DiPietro had three shutouts in three games from Dec. 8-11.
Here's a video of the Windsor/Saginaw game from Joe Louis Arena in Detroit where Day scored his hat trick:
With multiple forwards out, the team has relied on a few defencemen to takes roles on the third-and-fourth lines. Rookie Connor Corcoran has filled in along with veterans Tyler Nother and Andrew Burns, giving the Spitfires some options. It's not ideal but Corcoran and Burns have played up front before which has made the adjustment tolerable, if not acceptable.
Focus on Task at Hand
It hasn't been just the increased effort from players, though, but a total team effort. When you're down significant talent, it takes a special attitude to not back down. Windsor has found that approach and taken care of business. The team boasts the league's best powerplay at 27.4 percent and the best penalty kill at 91.7 percent.
Windsor is in the middle of 13 consecutive games on the road and, while they have Addison back, it's tough to say how long they will be without guys like Brown, Vilardi and Carter. They've proven that they're resilient, though, and have the depth to make up some of the lost players.
With the trade deadline a month away, Windsor has plenty of time to get their players healthy so the roster can be assessed. Once mid-January hits, the roster is likely to look somewhat different than it does now. Fortunately, for the Spitfires, their players are showing that, if times get tough, they're more than capable of stepping up and doing what it takes to get the points.
These points will go a long way towards the final standings. While the team and its fans hope the injured forwards return sooner rather than later, especially on this road trip, there is a sense of calm knowing the replacements have been more than able to hold their own.