The New York Rangers are at a significant moment in their franchise's history. One of the premier players to ever wear Rangers blue, Henrik Lundqvist, is getting towards the tail end of his Hall of Fame career, and his chance to raise the Stanley Cup for the first time is getting smaller and smaller.
While he is still a productive goaltender, the team has gone through two early exists from the Playoffs — at the hands of the Pittsburgh Penguins in the first round last season, and this year at the hands of the surprising Ottawa Senators.
The need for change is apparent on Broadway after these two frustrating exits, but one name that should be safe, barring a deal way too good to pass up, is Derek Stepan — even though losing his contract would give the Rangers much needed cap relief.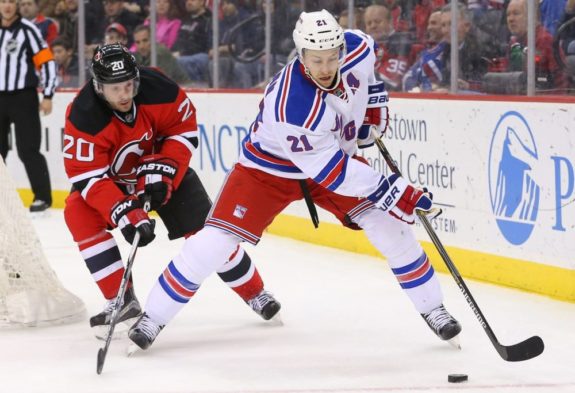 Bad Offensive Luck
Stepan has been a mainstay in the Rangers forward group since he debuted with a hat-trick on Oct. 9, 2010. He was an impact player as a rookie, and has been incredibly consistent since then — he has only failed to reach 50 points in a season twice, once being his rookie year (45 points) and once in 48 games in the strike-shortened season of 2012-13 (44 points). The desire by some to trade Stepan can be boiled down to a few things: his believed regression from 2015-16 to 2016-17, and his playoff performance this past season.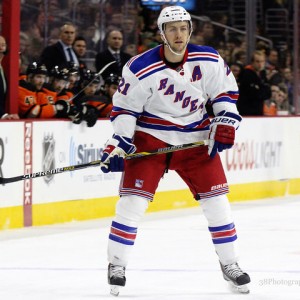 Stepan, on paper, looked like he took a bit of a step back this year. After a 2015-16 campaign that saw him net 22 goals in 72 games, Stepan only scored 17 goals in 81 games this season. Derek Stepan is unlikely to ever light the lamp with the best of them; his career-high in goals is those 22 goals in 2015-16, and he only topped the 20 goal plateau one other time in his seven year career, when he netted 21 as a rookie. Goal scoring just is not his game.
Stepan shot 8.1 percent this season, a career-low, and down quite a bit from his 2015-16 total of 11.8 percent — he absolutely took a step back from his typical goal-scoring abilities. The only other time he shot below 10 percent was in 2013-14 when he shot 8.5 percent and, again, scored 17 goals. It is rare, but not unheard of, for Stepan to struggle with his shot.
Despite his low shooting percentage, he was still third on the Rangers in points, and was one of four Rangers to top 50 points. Even when he is not putting the puck in the back of the net as often as he would like, he is still netting over 50 points and is a driving factor in the Rangers offense, as evidenced by this chart below: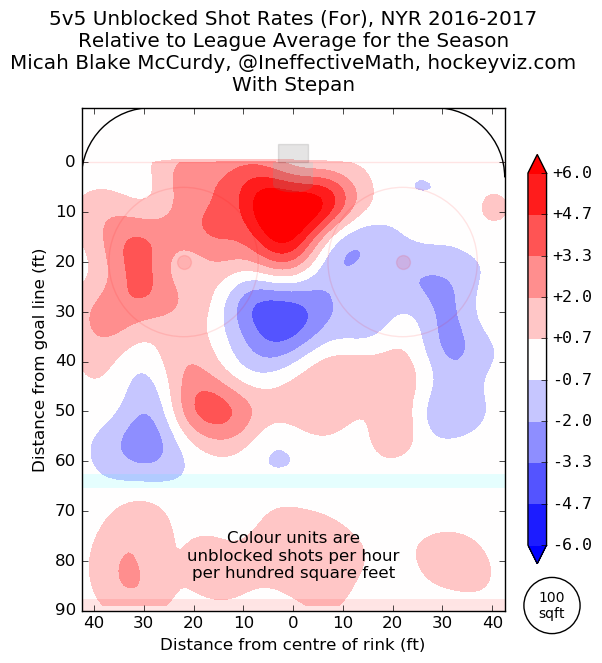 Even with Stepan's rough shooting display this season, he was still on the ice for some serious offensive pressure by the Rangers. He does not necessarily have to score all that much to be a very valuable player. His 55 points are still 55 points whether he is setting up a teammate or scoring himself.
Stepan did not improve much for the postseason, and in some ways got worse. He ended their short run for the Cup tied for fourth in points with six and shot an abysmal 6.1 percent in the tournament. Stepan himself discussed how poor he was in the playoffs. Despite that, trading him based off of a sample size of 13 games is shortsighted.
A Strong Defensive Game
One of the reasons for trading Stepan is the idea that he can bring in a desirable piece (read: a sorely needed younger defenseman), and the Rangers can be replace Stepan in-house — but the fact is, no center on the Rangers effects the game in a defensive way than Stepan does. Below are two graphs: the first showing five-on-five shots allowed without Stepan on the ice, and five-on-five shots allowed with Stepan on the ice: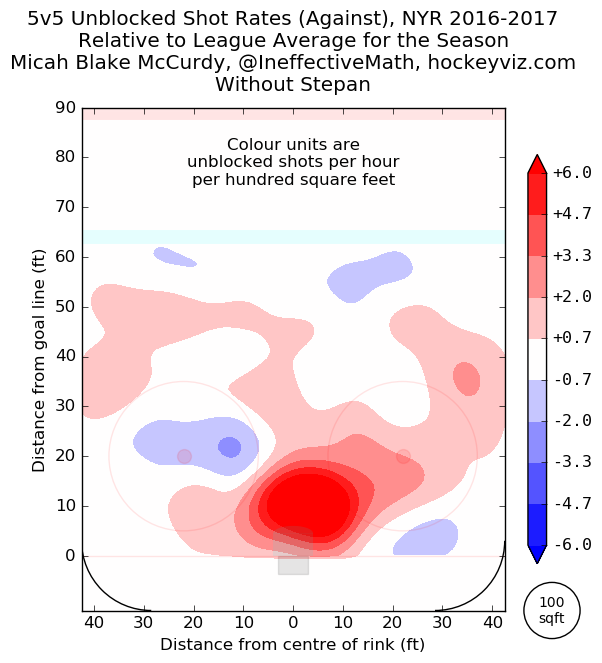 ---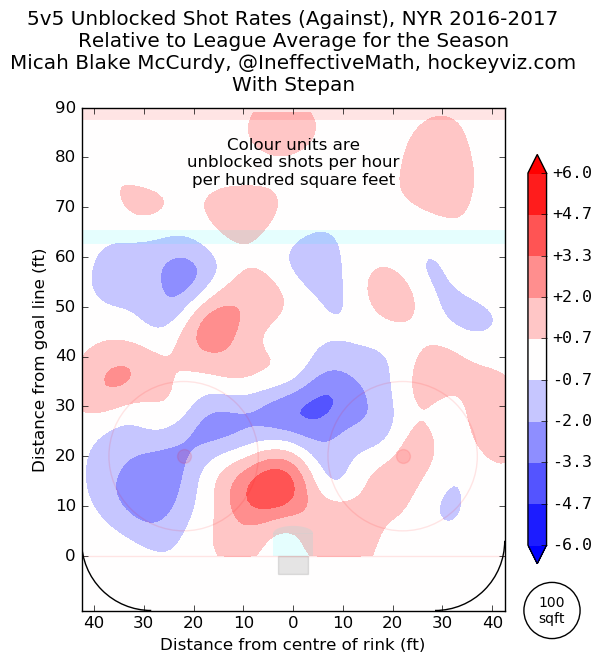 As you can see in the graphs above, the Rangers are far and away better in their own zone when Stepan is on the ice, as opposed to when he is not on the ice. While the extremely high-danger shots are still a big problem either way (and that is more on the shoulders of the defensemen than on Stepan, or any of the forwards). The blue zones (the zones that are above the league average) are still abundant when Stepan is on the ice, and nearly non-existent when he is not. He is simply one of the best defensive forwards the Rangers have.
Top Competition
He also takes the lion's share of the defensive zone face-offs, as evidenced by this chart:

Stepan was about 50 percent on defensive zone faceoffs this season, and he took the most on the Rangers — while Lindberg and Zibanejad had better success winning faceoffs, they also did not face nearly as many — it is hard to assume that they will carry this success with 100 or 200 more faceoffs. On top of that, he has a high level of competition, as shown by the chart below: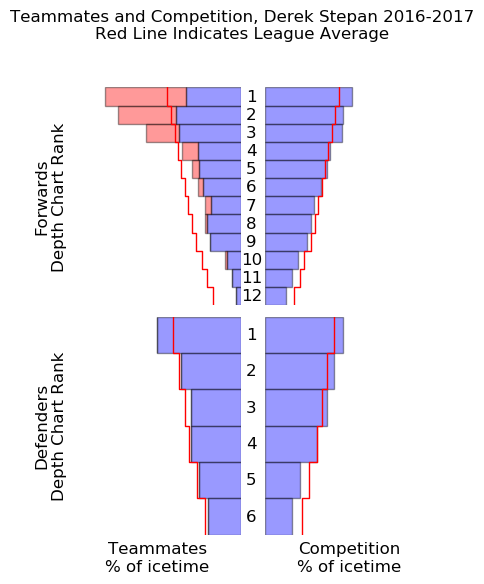 The majority of Stepan's competition on the ice was the opposing team's top line and he is heavily deployed at the top of the Rangers depth chart. Not to mention he takes responsibility for the majority of the Rangers' time in their own zone. That is a lot to ask from the remaining centers if he were moved.
Overall Derek Stepan plays a very quiet game — he is not a big goal scorer, but he supplies an ample amount of assists for his teammates and a strong defensive game. It is not a flashy game, but it is an effective one. While the Rangers can certainly use the cap relief, and the money tied up in the defensemen is tough to swallow, trading Stepan for that reason would be a misstep. His strong defensive play against the best the other team has to offer is too hard to let go off . That is, unless another team decides to make the Rangers an offer they cannot refuse. The Rangers should look for cap relief elsewhere on their roster.
Turned his Bachelors of Arts in English to write about baseball and hockey. Passionate New York Rangers fan who just wants to see Henrik Lundqvist win a Stanley Cup. Believer in sabermetrics and advanced statistics to give us a better understanding of incredibly intricate games. Follow him on twitter @ThomasHendo52 for sports opinions and live-tweeting.