It's really no secret that the Toronto Maple Leafs will be looking to add some defence this offseason. Whether it's through free agency or drafting and development, it seems to be an understanding among hockey people that the Leafs need some kind of big blueliner to play a top-four or, even better, a top pairing role with the club.
While that won't happen right away if they choose to go the route of drafting and development, this may be a good time for the Leafs to pick a solid defenceman in the first round of the NHL Draft.
There will be a number of defensemen that will go in the first 31 picks of the upcoming draft and a few of them will even go in the top 10. That being said, the Leafs have the 17th overall pick and should have their eyes on a few back end pieces when their pick is called.
Talking with a few of the top defensive prospects in the draft at this weekend's NHL Combine, you got the feeling that even the Leafs know what they need when the draft hits Chicago. So, here's a closer look at some of the prospect the Leafs met with over week at the Combine in Buffalo.
Miro Heiskanen
After a year with HIFK in the Liiga, Miro Heiskanen is projected to go in the top 10 at this year's draft. While his numbers didn't exactly amaze anyone this season offensively, remember that he was just 17 years old playing against the men.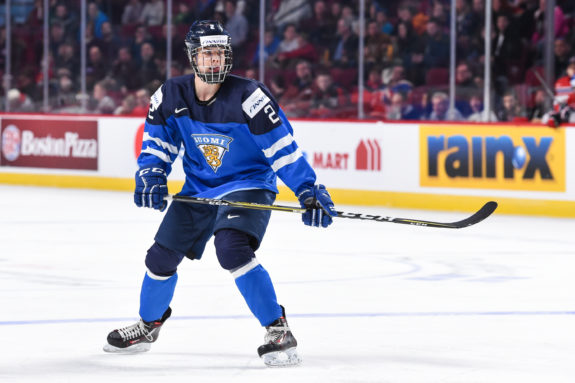 He's easily the most complete defender in the draft and if the Leafs even want a chance at him they would have to find a way to move up in the draft. And if the Leafs want him that bad, Heiskanen will certainly be happy to end up in Toronto.
"I want a team to pick me that wants me most," he said after his physical testing at the Combine. "I don't think about it too much. I do everything my best and will try to play as soon as possible. It might be possible to play next year or I'll play in Finland and then come."
Heiskanen spoke to 28 teams over the week – including Toronto.
Urho Vaakanainen
While he might not be the first choice for many, Finnish defenceman Urho Vaakanainen is a player that might be flying under the radar more so than other blueliners in the draft. He's a big, defensively minded, stay-at-home defenceman that could allow players like Jake Gardiner and Morgan Rielly to rush up the ice if he were to come to a team like the Leafs.
He's poised in his own end and isn't afraid to use his size to dominate along the boards. While Vaakanainen wouldn't exactly describe his own game as a physical type of game, he does agree that his focus is on the defensive end.
"My style is not to play so physical," he said, "but I can be physical if I need to. I like to defend with my stick and take the puck away."
Over the week, he spoke to 29 teams with Arizona and the New York Islanders being the two that passed on the young defender.
Cale Makar
One of the smaller defensemen in the draft, Cale Makar stands at just 5-foot-11 and just under 180 pounds. Still, it didn't stop him from having an incredible season for the Brooks Bandits of the AJHL. He finished the year with 75 points in 54 games which is just unheard of for a defenceman. But he did it.
"It's not often you have a defenceman who is one of the top scorers and the MVP of the league," said Dan Marr, head of NHL Central Scouting. "So that causes you to take notice."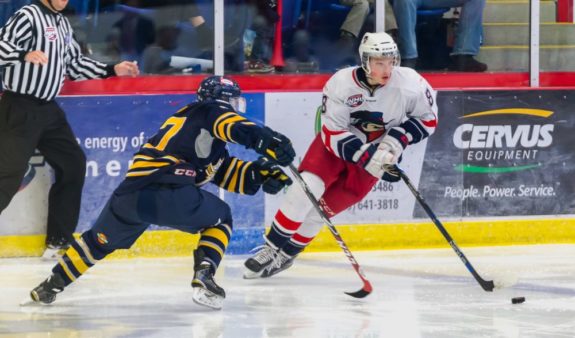 And, of course, a number of teams did. Makar spoke to 27 teams over the week and was humbled by the comparisons that were being made to his game.
"I get compared to Erik Karlsson quite a bit and it's very humbling to be compared to a guy like that," he said. "It's pretty special. I don't think I'm ready to make the jump to the NHL or AHL. I think one or two years of NCAA before that happens."
Makar admitted to trying to focus on his offensive skill and hockey sense as today's game moves more towards those types of players.
While the Leafs would likely have to move up to take the young defenceman, Makar did mention that he met with Toronto earlier in the week.
Eemeli Rasanen
From skill to physicality, Eemeli Rasanen is a big body that loves to play the physical game. He made the jump to North America playing with the Kingston Frontenacs of the OHL. While throwing his body around is clearly his calling – standing at 6-foot-7 and over 200 pounds – Rasanen has a massive shot from the point as well.
Best quote of the day so far: Rasanen asked about his strengths, why he chose North America? "I like to hit people."

— Scott Wheeler (@scottcwheeler) June 3, 2017
He scored six goals last season with the Frontenacs, but also recorded 33 assists in just 66 games. He did explain that while he needs to work on his skating, he does model his game after another Finnish defenceman already playing in the NHL.
"[Ristolainen] is actually my favourite player," he said to the delight of some Buffalo reporters. "I look up to him a lot. I love the way he plays. The physicality. He plays big minutes – penalty kill, power play, everything. That's how I want to play."
Rasanen only interviewed with 16 of the 31 teams over the week, but admitted the Leafs were one of them.
Cale Fleury
Another player that most won't expect the Leafs to use their 17th overall pick on is Cale Fleury. A defenceman out of Kootenay, he notched a respectable 38 points in 70 games this season for the WHL's Ice.
While he doesn't refer to himself as an offensive defenceman, he did recognize how successful his draft year was as an individual promotion to NHL clubs.
"I'm more a two-way guy, but I just had a lot of opportunity on my team this year and they needed me to pitch in offensively so I did," he said.
Fleury only talked to 12 teams over the week, but mentioned that Toronto was one of them. He also said that he had met with the Leafs a number of times over the season – saying that each of them were good meetings in his mind.
Nicolas Hague
One guy that could slip to 17th overall is Nic Hague. At 6-foo-6 and well over 200 pounds, he's a solid defenceman with a knack for laying the big hit. While his skating is still a cause for concern, his all-around game should be something that teams are looking at – especially the Leafs who need a strong, physical defender.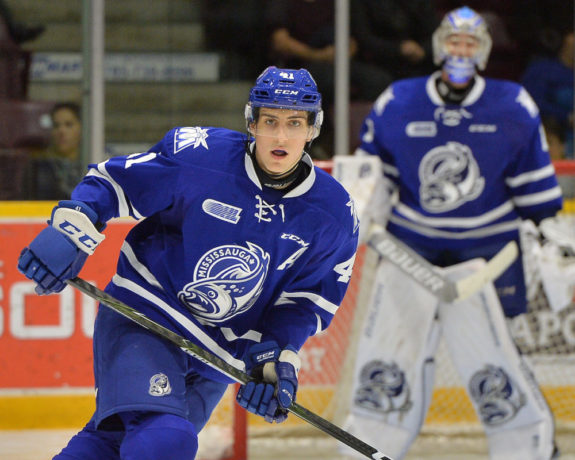 He racked up 18 goals and 46 points in 65 regular season games for the Mississauga Steelheads in 2016-17 and added 12 points in 18 playoff games for his OHL club. Over the past season he did manage to develop better habits when it comes to gap control and does possess a high ceiling in terms of his development.
While being a fan of a particular club has no bearing on where a player ends up, Hague admitted to growing up as a Leafs fan. And fan or not, Hague met with the Leafs during the week and felt that his interview went quite well with his childhood team.
Whether they move up in the draft or not, there's somewhat of an expectation that the Leafs will take a defenceman with their first-round pick. Having sat down with these six blueliners, as well as others like Cal Foote, it wouldn't be surprising if the grabbed one of them at 17th overall.
Then again, there are some defensemen that could slip tot he second round or further. While the Leafs would be wise to select one of these skilled players in the first round, anything can happen as most of the prospects would tell you. And it's possible that Toronto could bolster their front end even more. That being said, if the interviews are any indication, I'd familiarize myself with the names of the top defenders when it comes to the upcoming draft.