Over the last five NHL entry drafts, the Los Angeles Kings haven't had a whole lot of first round picks. In 2014, they got left-winger Adrian Kempe at No. 29 and in 2012, they drafted right-winger Tanner Pearson at No. 30. In three weeks though, they're going to draft a first round pick and they're going to get him at No. 11. With all their recent management changes, who knows who'll they'll end up with but one thing is for certain, they're going to get someone who can score up front.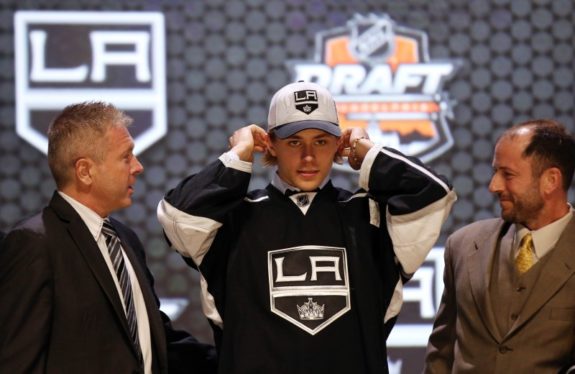 This past week was the 2017 NHL Scouting Combine and this event allows NHL general managers and scouts to meet with and interview many of the draft's eligible prospects. Yesterday was the day these players endured vigorous physical testing and repetitive interviews with media personnel. Somewhere amongst all the fast-paced yet well-organized slew of activities was the mysterious No. 11 pick.
LA Kings & Prospect Criteria
Kings fans have a good understanding of what the club looks for in potential draftees. They prefer big boys with high compete levels who play a physical game and possess an insatiable hunger for puck battles. Equally as important to these tangible aspects are the intangibles not so easily identified. They want quality character and that means their player interviews hold considerably more weight to their final decision than they probably do for other teams. Teams like the New York Islanders for instance, who certainly didn't utilize their opportunities for player interviews in the same way.
1. Size
Many of the Combine's players are quite massive, some even standing six and a half feet tall and completely jacked. Even though they're just boys, they're the size of men with rock solid plans to move forward in their careers. Their futures are top of mind and their maturity levels are well beyond their years. Yes, these kinds of players stand tall but they also stand out. That was the case for Isaac Ratcliffe, a 6-foot-6 left-winger who's been playing for the OHL's Guelph Storm for the last two seasons.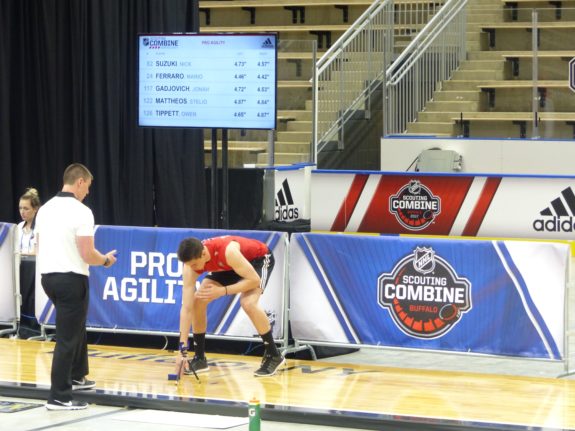 "With my size, with my talent, I could be a power forward and I could be a playmaker," he told reporters after his round of physical tests at the NHL Combine yesterday. "With my skill set, I think I could play well along the perimeter but right now, I'm a guy that finds the net well and I like to mark my territory in those dirty areas. If I bring that game to the next level, it could definitely open up a lot of avenues for me and allow me to play a lot of different positions and situations."
Ratcliffe is undeniably a big boy with a whole lot of potential but like everyone else, he too has areas of improvement to work out between now and the day he cracks an NHL roster.
"I need to get stronger and definitely need to work on my speed," he continued. "I mean, over time, as I mature, as I grow into my body, those things will come but in the offseason and during the season as well, those are two big things that I'm working on and focusing on to get to that next level."
2. Puck Battlers
The crowd of reporters surrounding Ratcliffe post-testing time was well-versed with his game. Some had been watching him for years and they knew his strengths. They discussed his physicality and knack for winning puck battles, drawing out explanations to why strength conditioning had become a priority component to his already strong game.
"Going to that next level, it's going to be bigger, stronger guys and it's going to get harder from here, so as long as I get stronger, get faster, I mean, those things will come and I'll definitely be able to battle at that next level."
Talk about a serious need to battle for pucks. He's already thinking about getting bigger so he can battle at the next level.
A clear benefit to his interviews last week was the feedback he'd received from NHL clubs. Out of 31 teams, Ratcliffe spoke with 30, the only one he didn't speak to being the Islanders.
"Those are opportunities for me to figure out what kind of player I could be and the type of player they see me to be in the future," he said. "… seeing where I'm at now and seeing where I could be at in the future is a big step and I think I have a lot of progress coming my way and a lot of things ahead of me in the future."
Going into the combine, the main message these players received was that an emphasis should be placed on their effort, rather than their results. "It's not all about the results," Ratcliffe explained to reporters. "It's about how hard you push yourself and that's what people in the stands are going to be looking for and that's what I tried to show."
Yesterday may not have been a day where each player's season and athletic development would reveal career-ending or career-beginning impacts but scouts are looking for key building blocks, whether they're rebuilding or not, in players expected to go during the first round.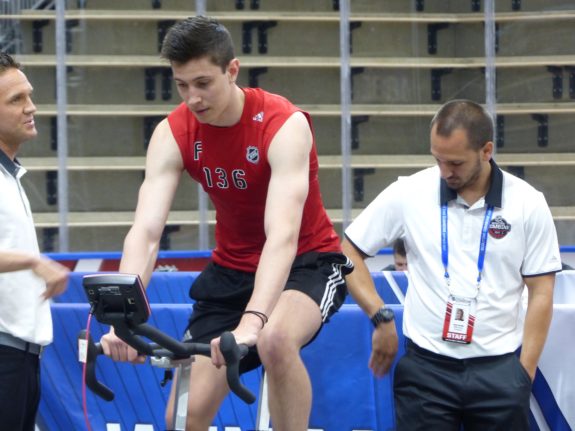 That means an ability to play on special teams will influence the round and position players are drafted at. For Ratcliffe, he did play on both the power play and the penalty kill this year. "I think I got fair exposure to both those positions, playing on the power play, a little bit in front of the net," he said. "I'm kind of marking my territory there in front of the goalie's eyes and batting away those second chance opportunities. At the same time, I think I take up a lot of space on the penalty kill, taking up lanes and taking away shooting lanes to expose my opposition early on and make the play they don't really want me to make."
3. Character
Regardless of who's asking the questions, Ratcliffe looked at everyone when he spoke. Starting from the guy on his right, he looked each reporter in the eye, one by one until he was finished talking. Admittedly, the NHL team interviews earlier that week made him more comfortable with interviewing.
Going to talk to people of that high stature and people that could definitely be running the show for me next year — going into those, and talking to that high-end scout there, trying to find that high role and that high position has definitely got me a lot more comfortable. — Ratcliffe
What Does Ratcliffe Want?
Ratcliffe sure sounds like a kid the LA Kings would love to have on their team but the real question is, would Ratcliffe love to be on theirs? He admitted to never really having a favorite team growing up but when asked which team he liked the most in terms of the interview process, the Kings had clearly left him with the best impression.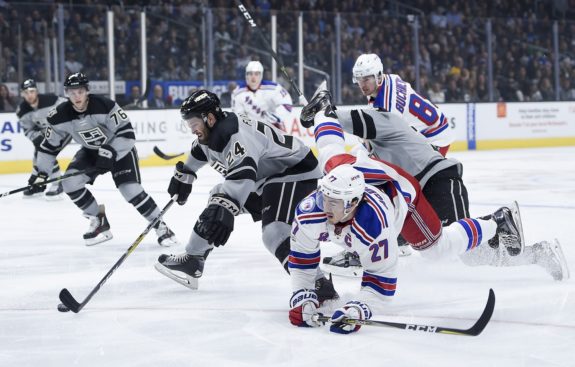 "I think possibly a team like LA," he answered. "I think definitely. They got that background, they made sure we were open and honest. They really made sure they were interviewing the person they wanted to interview. A team like that or even a team like Washington who kept it open and loose and allowed you to enjoy the experience and kind of let you let loose a little bit and kinda talked to you about your year and about where you see yourself in the future."
A team like Washington could only have made the next best impression after the Kings. But now the question becomes whether or not Ratcliffe can actually get drafted at No. 11. After all, McKeen's Hockey has him ranked at No. 18 (May), Sportsnet has him at No. 27 (May), ISS has him at No. 22 (May) and Future Considerations has him at No. 23 (preliminary).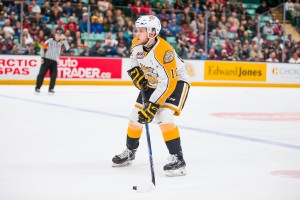 As things stand right now, the LA Kings will get the No. 11, as well as the No. 41 (second round). If you were to look back at the Kings' draft history, specifically their first few picks from more recent classes, you'd notice a lot of scouting service organizations aren't even close to predicting their selection spot. They tend to project Kings' picks to go a lot sooner than they actually do, which is why Ratcliffe could get drafted in the second round if he's still available at the 41st spot.