Derick Brassard came to the Rangers in the middle of the 2012-2013 season as part of a four-player deal that sent Marian Gaborik to the Blue Jackets. The Rangers got Brassard knowing that he never really found success in Columbus despite being a sixth-overall-pick in 2006. When he arrived, he was slotted in on the third-line,  with an opportunity to show off his abilities. He was able to for-fill his responsibilities and has worked his way into being a key cog in the offense. Fast forward to 2015 and he's a key part of the Rangers, lining up on their top unit on most nights.
Opening Up
It isn't easy for a young player drafted high, to join a struggling team. It seemed like the forward being moved helped him relax and just play without worrying about having to be a big point producer. Brassard looked comfortable in the big city by notching four points in his first game as a Ranger against the Pittsburgh Penguins. He kept up his solid play and finished the regular season by posting 11 points in 13 games.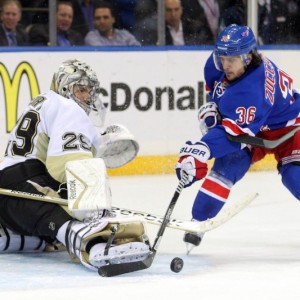 Brassard really saw his game take off the following year, when Head Coach Alain Vigneault essentially made him and Mats Zuccarello forward partners. The duo had instant chemistry and they helped one another become offensive threats; as Zuccarello was another player who had lost some ground with the organization. Brassard told Pat Pickens of the New York Times about him and Zuccarello and what they try to do even when they have a different winger beside them, "Me and Zukes, we're play-makers, and we try to play with the puck as much as we can."
Zuccarello explained that they have been compatible, "We get along really well outside the ice, and it just carries over to the ice," The chemistry here is undeniable, both guys have superb vision, and work tirelessly, but the key for me is that they think the game the same way. For Brassard to find another player so similar in style has allowed him to play without worrying about meshing.
This year Brassard is off to another terrific start having posted 15 points in 22 games, and ESPN projects him to finish the year with 55 points, which would be his second highest regular-season total.
Playoff Success
A big part of the centers acceptance in New York has come from his ability to produce in the playoffs. In his first post-season with the club the forward was able to produce 12 points in 12 games. That performance set him up to be viewed as a guy who could play under some pressure. Since arriving in New York he hasn't been criticized much for having off-nights during the most crucial point of the year; in 54 playoff games he has 40 points. Brassard also seems to have a way of scoring big goals, and that will get any fan base to love you.
Doing the Little Things
From the day he was drafted, everyone knew that Brassard had a special skill set. What his impressed me during his stint in New York is his improved defensive play. He's under-appreciated as a checker, and has the right attitude when it comes to getting back to help the defense. An improvement that jumps out to me this year is his ability in the face-off circle. Last season Brassard finished the year with a face-off percentage of 48.8, but this year he's made the jump to 55 percent. The Rangers finished last season 28th in the NHL in face-off percentage, so it's clear that his work in the area can be critical to the team.
What It Means
The way this team has handled Brassard tells me that this organization knows how to groom players and make them successful. As I mentioned earlier, in Columbus he was becoming a whipping boy and falling into the category of players who never tap into their potential. Then he comes to New York and suddenly realizes that he has incredible skill. Now of course it helps to play with a solid core of defensemen, and Henrik Lundqvist backing you up; but it still takes strong direction to help these project-players find their game. The Rangers are building quite a reputation as a team that can help players find themselves, they have done it with Anton Stralman, Benoit Pouliot, Brian Boyle, and now Derick Brassard.
The good news for the Rangers is that they have him locked-up until 2018-2019 at a cap hit of 5 million per season, and he seems like he's only getting better.