Off to an 0-2 start,  the Edmonton Oilers are an enigma. Connor McDavid is yet to record a point and the team is in their customary basement position. They lost to the St. Louis Blues, but that game could have gone either way, and last night they were shut out by a Pekka Rinna. Taylor Hall had two plays where Rinne absolutely robbed him; plays that he is going to score on nearly 100 percent of the time. There are lots of positives to be found.
Sure, the team is off to its usual start, but there are so many reasons to like this team that I can't see how they'll end up missing the playoffs.
Here's five reasons the Oilers will make it this year.
Connor McDavid and Nail Yakupov 
It doesn't matter if McDavid is off to a pointless start to his NHL career, anyone who's seen even just the highlights of those first two games knows he's something special. Watching him play, the fact that he doesn't have any points seems more like an improbable fluke than a rookie who needs some adjustment time to make it in the NHL.
Just take a look at this play where he goes through three Blues and almost scores. Honestly, how many players in the NHL can make that play, let alone in their first game? (It's at 1:40).
As for Yakupov, all evidence points towards him finally breaking out for the Oilers this year. Not only will a player of his talent have an unprecedented amount of space on the ice, thanks to the need of other teams to put their best defensive players on Taylor Hall, Ryan Nugent-Hopkins and McDavid, but there isn't a more talented player in the NHL with less hype surrounding him.
Two games into the season and the best possession player the Oilers have had so far is Yakupov, with seven more shot attempts for than against. His ice time rose by four minutes in Game 2 and he saw time with McDavid in the third period – and both of their Corsi stats improved once paired together. I believe that he is just too talented to fail, and that he is going to act like a secret weapon for the Oilers, in that they have to many highly skilled guys to fully cover and he has a chance to exploit that to great effect.
2. Un-Tapped Talent
The Oilers are filthy rich with it. I can almost guarantee that both Darnell Nurse and Leon Draisaitl will be in the NHL eventually this year, and  once they are, the Oilers lineup will have more pure (albeit raw) talent than anyone in the NHL, and I don't think that's hyperbole at all.
Eventually the Oilers – should they want to – will be able to ice three lines with two players each who possess the kind of talent that makes Olympic teams and wins postseason awards. For example, they could go with Nugent-Hopkins/Eberle,  Draisaitl/Hall, McDavid/Yakupov.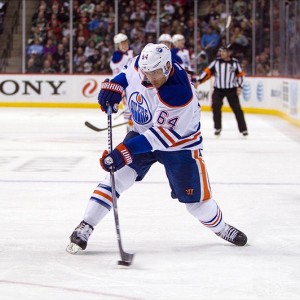 I really can't wait to see how opposing coaches react to that, since no matter what they do, the Oilers – even on the road – should be able to get favorable line match-ups and put first-line level talent against the bottom-six and bottom-pairing defensemen of the opposition.
Furthermore, they have a defense that, while raw, has so much talent that it's scary. Oscar Klefbom looks to be a potentially elite player, and no one can argue that his development has been excellent and unheralded.  Griffin Reinhart appears to be an excellent pick-up, Nurse has Shea Weber potential, and Justin Schulz – despite whatever defensive deficiencies he may have – moves the puck and skates in a way that can dominate games.  Add in Andrej Sekera and it isn't long before the Oilers have one of the most talented defenses in hockey. The only question is how long will it be before that talent translates to NHL success?
The Oilers showed they can compete with two of the best teams in hockey this week, and they have Jordan Eberle, Nurse and Draisaitl who can all be added to the lineup eventually. No team in hockey has that level of NHL talent just sitting by and waiting to be inserted into the lineup. I think if you look at what they have now and what they can be in a couple months, it's scary how good they might be.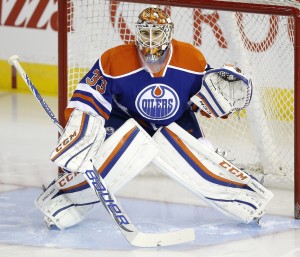 4. Cam Talbot
I know that people are skeptical of players who lack pedigree and seem to come out of nowhere, but Talbot is the real deal. In the first two games of the season, he has gone toe-to-toe with goalies who put on excellent performances and he looked their equal.
But so what, right? It's just two games!  I know, but go back to last year and look at how he did on the Rangers. He matched future first-ballot Hall of Famer Henrik Lundqvist game-for-game and combined to make an average defensive team appear to be the best defense in the league.  I think he is for sure the real deal and I have no qualms about saying that with his high-level of goaltending, and what should be the best offense in the NHL bar-none, that the Oilers will make the playoffs this year.
5. The Ability to Add
The Oilers have between $4.5 and $9.5 million in cap-space (depending on where you look) and no reason to want to use their first-round picks in the next two years to actually draft players. Those picks should be used as currency to acquire the pieces they need to compete now.
I would say those pieces are another defenseman and a forward who can play in the top six and be a strong defensive/possession player.  Obviously, teams aren't lining up to give you these players, but with cap space and draft picks to deal, it shouldn't be too difficult to do so.
You have to figure that after an 0-2 start, another GM might salivate at the thought of the Oilers first rounder for next season being available. How much value might such a pick have and is there a potential top-pairing defenseman out there they could land with it? It's impossible for me to know, but I see no reason that the Oilers can't get creative here and add a very good player to their roster before the end of the season.
In conclusion, after seeing the Oilers play two games in which they could have won, and seeing the crazy amount of untapped potential they have at their disposal, in addition to their cap space and ability to add, I am confident that this is the year we've all been waiting for – the one in which the team breaks out, lives up to expectations and makes the playoffs.