Here's what you may have missed from a busy weekend for hockey fans:
The Connecticut Whale won the first ever NWHL game. [Sports Illustrated] It was a loud, sellout crowd for the first NWHL game. [Collinsville Press] There is a much bigger picture here and the players know it. [New York Times]
Enter the Whale #NWHL pic.twitter.com/YxYzpexhso

— Greg Wyshynski (@wyshynski) October 11, 2015
In the Blues' loss to the Wild on Saturday, young forward Robby Fabbri was injured. [Today's Slapshot]
The Sharks' play, among other things, has surprised league pundits in the first week of NHL action. [USA Today] Here's what you can take away from the start of the season. [Bleacher Report]
The save of the year could have been in Week 1, thanks to Henrik Lundqvist. [Hockey Feed]
Dmitry Orlov is back in the NHL after 18 months. [NHL.com]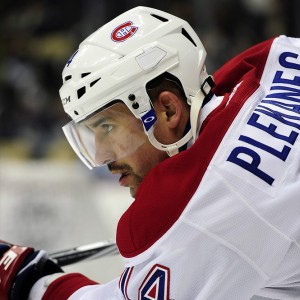 Tomas Plekanec's two goals helped Mike Condon earn his first NHL win in Sunday's lone game. [Puck Daddy]
Bobby Ryan laid out a massive hit on David Desharnais. [The Score]
The 3-on-3 may be exciting, but it still doesn't beat 4-on-4. [Denver Post]
Harvard standout Jimmy Vesey will have a slew of takers when he hits the open market. [SportsNet]
There are still rumors that the Sabres are in the market for a goaltender. [Hockey Buzz]
Claude Julien lost his first coach's challenge. [Boston Globe]
The bruins dropped their second game to the Habs. [The Pink Puck]
Bruins prospect Colin Miller looked good in his first NHL action. [NESN]
Zac Rinaldo says the NHL "isn't messing around" with Torres suspension. [CSNNE]
I am a former NHL media member and reporter for the St. Louis Blues, working for various media outlets. Currently, I am an NHL News Writer and Editor for The Hockey Writers. I live in St. Louis and work as a freelance copywriter in numerous industries.