With Sunday's overtime win over the St. Louis Blues, the Detroit Red Wings have continued their dominance over the Central Division.
Marek Zidlicky took a shot from the point and Justin Abdelkader tucked in the rebound just 24 seconds into the extra frame on a controversial goal that saw him score with a breaking stick.
It was Abdelkader's 20th tally of the season as he continued to build on a career year (20 G, 19 A in 64 GP) and added the primary assist on Erik Cole's 21st of the year.
[RELATED: Abdelkader Ascends Into Top Six Role for Red Wings]
Zidlicky and Cole continued their stellar performance since coming over to Detroit just hours before the March 2nd trade deadline.
[RELATED: Deadline Acquisitions Paying Dividends for Detroit]
"It was a battle out there; it was a great win, great 3rd period for us, finding a way to get 2 points." – Justin Abdelkader

— Detroit Red Wings (@DetroitRedWings) March 22, 2015
But if history is any indication, the battle was in Detroit's favor from the start as it was Detroit's 11th win in 13 games against the Central Division, where they have gone 11-0-2 against their former Western Conference foes.
That means Detroit has taken 24 out of a possible 26 points against the Central Division and at least one point in every game played against them.
The two losses came at the hands of the Colorado Avalanche and Winnipeg Jets, each in a shootout, which has been Detroit's kryptonite all season long.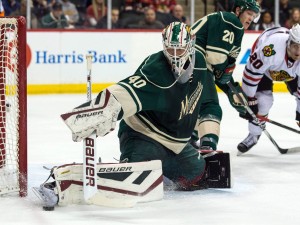 The Wings did manage to pull off a shootout victory against the Central Division on January 20th when they beat the Minnesota Wild. Detroit will take on Minnesota again when they face Devan Dubnyk on April 4th for their 14th and final game against the Central Division.
"Our guys really dug in and really competed hard," coach Mike Babcock said. "Howie has had two good games in a row which is important for us, we need him to be good every game if we're going to have any success."
Competing hard is something the Wings tend to save for the third period. They've been almost notorious for their slow starts this season and have put themselves in the difficult position to come from behind.
"We've been doing a lot of good things," Abdelkader said of the team's recent effort.
It's about time the Wings turn those "good things" into great things, as Detroit (4-6 in its last 10) sits just five points ahead of its new division rival, Boston, for the third spot in the Atlantic Division.
Babcock said Howard will start Tuesday against Arizona.

— Ansar Khan (@AnsarKhanMLive) March 22, 2015
Tuesday is the start of a three game home stand for Detroit, who will take on San Jose, Thursday and Atlantic Division rival Tampa Bay, Saturday for a 2pm matinee game.
Statistics compiled from ESPN and TSN.
I offer opinions and insight on the Detroit Red Wings organization and its prospects.